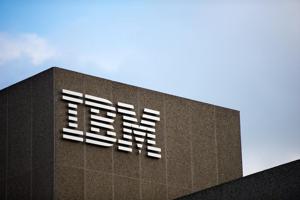 At first glance, IBM's (NYSE:IBM) earnings largely revealed more of the same. The company's revenue churned lower as it sold off lower-margin businesses (along with dealing with negative currency movements), EPS declined, and strategic imperatives grew while other business segment revenues decreased. The only two unique aspects were that free cash flow grew in 2015 (positive), and guidance disappointing (negative).
Therefore, what makes this earnings release valuable for investors is the current price of IBM's stock. The stock has already declined greatly in the past few months, having fallen from as high as $175 a share in May to $130 a share before the release, and then declining to a bit above $120 a share after hours. It traded for $122.06 late Wednesday morning in New York. The fundamental facts of the business have not changed though; sentiment has just gotten worse. This is saying something, given that IBM has suffered under negative sentiment for years, largely viewed by people as primarily a declining legacy software vendor.
The best example of this negative sentiment can be seen from comparing IBM's cloud business to Amazon's (NASDAQ:AMZN) cloud business, AWS. AWS has been valued at around $70 billion on the low end, with some even giving it a valuation as high as $160 billion. It's clear that the market greatly values Amazon's cloud business, given that its stock price has risen greatly since it first started disclosing cloud revenue. IBM's total market cap is a mere $120 billion. AWS produces around $8 billion of revenue a year, and is growing at an impressive 78% a year. However, during the earnings call, the management revealed that its cloud business produced $10 billion in revenue (compared to around $80 billion of total revenue for 2015), and grew 57% in 2015. Given these results, IBM's cloud business is comparable to AWS on a revenue/growth basis.
A few caveats of course; IBM's cloud business consists of multiple different types, including as-a-Service, hybrids or private cloud management while Amazon's is primarily a public cloud provider. IBM also does not reveal the operating margin for just its cloud business, unlike Amazon, but IBM's margins in general have been rising as its cloud revenue grows. The businesses may not be an exact match, but given the extent of the disconnect in the two valuations (AWS valued at between $70 billion and $160 billion alone while IBM is worth $120 billion in its entirety), it's fair to say that either IBM's cloud business is horribly undervalued, Amazon's is terribly overvalued, or some combination of the two. The sentiment surrounding AMZN is a great deal more positive, and the actual operational differences between their cloud businesses don't justify how much more negative the sentiment surrounding IBM is.
IBM's strategic imperative businesses in general are largely ignored by the market, with investors focusing on how it's a legacy IT company, rather than on these more exciting business segments. The company as a whole is also dirt cheap by conventional measures, sporting a P/E of 8.5. Its free cash flow is also rising now, which allows it to pay a generous yield of 4%, along with buying back a great deal of shares. It isn't burdened by debt (for investors new to IBM, most of its debt comes from its global financing division, which produces a profit for it). It is declining as a whole, but only at around 2% once you factor out currency, and 9% once you factor currency in. As strategic imperatives continue to grow, this decline should also be much less pronounced, even once you factor in currency.
Despite all of this, I don't expect the company to be properly valued for a long while. All of these facts about its valuation and shareholder-friendly policies have been true for a while; its most recent price decline has just emphasized them even more. Management has been trying to bring attention to and foster excitement around its strategic imperative businesses for years, and has consistently failed. Even in the most recent earnings call, this was a large deal of what it talked about. The stock needs a catalyst to start rising; sentiment needs to change. However, it's impossible to predict what would cause the sentiment to shift, and I don't see any significant catalysts in the future. I'm sure management will continue to talk about these strategic imperatives during earnings calls and analyst days, but the market doesn't seem to care. One thing that could help IBM's stock would be a C-Suite change, but there's no indication that such a change is in the works. Past evidence can be seen from Microsoft (NASDAQ:MSFT) as its stock started rapidly climbing after Satya Nadella was appointed as CEO despite its reputation as a legacy IT company.
Of course, for long-term-minded investors, IBM's sluggishness is a godsend. The company can continue to buy back shares cheaply, given how high its free cash flow remains, and the yield is rather generous. I would recommend these investors buy IBM now, though I can't guarantee that this is the lowest price the stock will ever be at. For investors with a more short- or mid-length time frame, I would recommend avoiding the stock until you see the sentiment surrounding the company change.
Disclosure: I/we have no positions in any stocks mentioned, and no plans to initiate any positions within the next 72 hours.
I wrote this article myself, and it expresses my own opinions. I am not receiving compensation for it (other than from Seeking Alpha). I have no business relationship with any company whose stock is mentioned in this article.