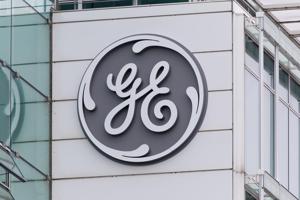 If I were to ask you which company you would have preferred to be investing in prior to the recession - General Electric (NYSE:GE) or Procter & Gamble (NYSE:PG) - which would you choose? Naturally I cannot easily poll the reading audience prior to publication, but I'll provide you with a bit background information.
Procter & Gamble is probably best known in the investing world, at least among income investors, for its exceptional dividend history. The company has been in business for 178 years, has paid a dividend for 125 years since incorporation and has increased this payout for the last 59 years. If you had bought shares anytime in the last half century, each and every subsequent year you would have received an income raise. That's consistency. That's the sort of thing that makes P&G a bedrock holding for many income portfolios.
Then you have General Electric. For a while General Electric had a strong and reliable dividend history as well. That all changed in mid-2009 when the company cut its dividend from $0.31 per quarter to just $0.10. That's the sort of thing that doesn't exactly give you a warm and fuzzy feeling that your investments are going to be alright. Indeed, many investors swore off this security as a result. Since that drastic slash, the dividend has been increasing but even today - over six years later - the current payout is still far below where it was.
Here's a look at the per share dividend history of General Electric and Procter & Gamble over the last few years: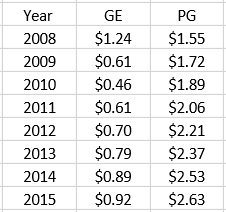 If you have a penchant for increasing income, it appears obvious which security you would have preferred over this period.
Of course dividends are only part of the story. Next you could look at where earnings are, compared to where they were, for both companies. As compared to 2007, Procter & Gamble's earnings-per-share are now about 30% greater - not spectacular performance, but nonetheless positive. On the other hand, General Electric's earnings-per-share are still 40% below what they were back in 2007. It's been eight years and an investor's earnings claim is still below what it was. Share price is another good one. General Electric's share price is still below what it was at the end of 2007, whereas Procter & Gamble's is now higher.
Let's review. With Procter & Gamble you have a strong and increasing dividend, higher earnings-per-share and a higher share price. Alternatively, with General Electric you have a materially reduced payout, much lower earnings-per-share and a share price that has not yet reached its pre-recession mark. And basic stock charts would supply a similar sentiment.
Using this information, I'd contend that a portion of investors would have preferred to be investing in Procter & Gamble rather than General Electric. Yet it's important to think about the process and not simply assume that one security should work out better than another. Certainly if you were to allocate capital just once prior to 2008, you would have preferred Procter & Gamble. Yet that's not the way most people invest. Instead, you allocate funds regularly and over a great deal of time.
Here's a look at the year-end share price for each company from 2007 through 2015: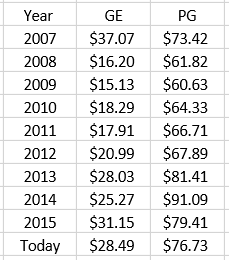 As you can see, General Electric's share price is still below what it was in 2007 whereas Procter & Gamble's share price is now higher - to go along with the other stuff related to dividends and earnings. Yet here's the thing: Procter & Gamble's share price dropped noticeably during the recession, but it was nothing compared to General Electric's massive decline. In fact, the table above doesn''t truly show the extent of it as General Electric's share price dropped below $10.
Many people fear this type of volatility, especially when its to the downside. Yet if you have a consistent investment program, its lower prices - not higher - that ultimately provide the benefit in the long-term. Due to the much lower share price, the upcoming recovery allowed shares purchased in 2008, 2009, 2010, 2011, etc. to have an outsized effect on your overall returns.
Had you invested $1,000 at the end of years 2007 through 2014 - a $8,000 total commitment - in Procter & Gamble, today those funds would have a value of about $10,000, including dividends. On the other hand, had you made the same $1,000 year-end investments in General Electric today that investment, including dividends, would be worth about $12,500.
This isn't inherently obvious, but it makes sense when you start to look a bit deeper. It is true that your original investment in General Electric would still be "under water." Yet your subsequent investments clearly turned out to be better. Buying at $15 or $16 and going to $28 easily provides a higher return than buying at $60 and going to $76.
The real shocker is that you actually would have collected more dividends from General Electric during this period as well. That's even less obvious. Yet once again it makes sense if you take a closer look. Even when shares of P&G were trading in the $60's this still only equated to a dividend yield in the 2.5% to 3% range. On the other hand, with a share price around $15, you only need a $0.60 dividend to equate to a 4% yield - something that GE started achieving and growing rather quickly.
This is the sort of thing that makes the investing world fun. A lot of people immediately shun investments like General Electric in favor of more "secure" securities or "better" performing businesses. Yet as demonstrated above, just because a dividend or business is performing better this doesn't simultaneously indicate that investing in the security will as well. In the case of General Electric with consistent investments the "investing bar" got low enough to offset the material decline in payouts and share price. For those that immediately gave up, it would have been a bummer of an investment. For those that kept investing, outsized and not intuitively obvious gains began to formulate.
Disclosure: I am/we are long GE, PG.
I wrote this article myself, and it expresses my own opinions. I am not receiving compensation for it (other than from Seeking Alpha). I have no business relationship with any company whose stock is mentioned in this article.