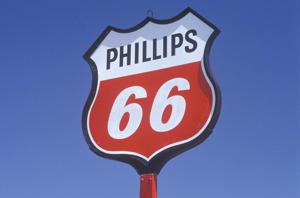 According to various reports, Berkshire Hathaway (NYSE:BRK.A) (NYSE:BRK.B) has been steadily building up a sizable position in Phillips 66 (NYSE:PSX). During the past week or so, Berkshire has purchased almost 6 million shares of the refiner at an average price of ~$76.64 per share. As of 1/11/2016, Berkshire now owns 66.584 million shares of Phillips 66, good for a 12.5% stake.
Why is Berkshire Hathaway buying?
As I noted when Berkshire first starting accumulating shares of Phillips 66, the market is seeing this as a bet on oil head higher. However, this is hardly the case. Phillips 66's earnings power is not tied to oil prices. Rather, it makes money on the wide price differentials between various sources of crude oil and demand for gasoline.
Phillips 66's refining business, by far the key driver of earnings, has been seeing very high profits. For example, during Q3 2015, the refining segment posted over $1.0 billion in adjusted earnings, 88% higher versus 2014 despite much weaker oil prices. This was driven by higher global refining margins and much strong refinery utilization.
Combined, all of Phillips 66's segments posted adjusted earnings of $1.6 billion in Q3 and $3.5 billion YTD, 44% and 21% high versus prior year level. On a per share basis, Phillips 66 posted earnings of $3.02 for Q3 and $6.34 YTD, 49% and 27% higher from the prior year level.
For the year, if Phillips 66's earnings remain inline with prior quarters, the company is on track to post EPS of ~$8.45, giving it a PE ratio of just over 9x. For 2016, analysts have full year EPS dropping to ~$7.13, so a 11x PE ratio. Though, keep in mind that these same analysts have consistently missed the mark, with Phillips 66 beating Q3 earnings by a massive $0.78 per share.
In other words, Phillips 66 is a stock that grew earnings at a 27% annualized rate trading for 9x earnings and 6.7x EV/EBITDA. Given that Berkshire is known for value investing, buying this stock is a no-brainer.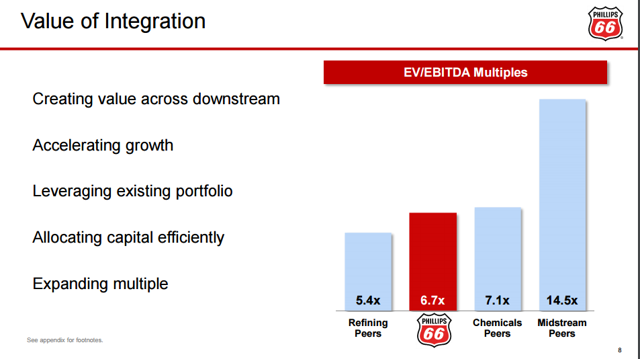 Click to enlarge
Outlook looks promising
While oil prices are low, Phillips 66 is not slowing down investing in its core business. The capex budget for 2016 is for $3.88 billion, with $2.0 billion of that coming from the fast growing midstream segment.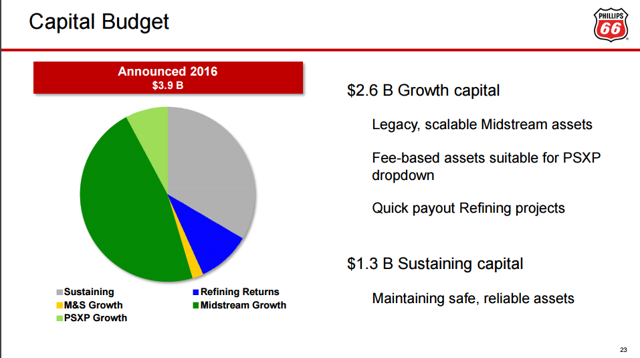 Click to enlarge
Also worth mention is Phillips 66's growing Chemicals business CPChem which is a 50/50 joint venture with Chevron (NYSE:CVX). CPChem is on slate to invest $6 billion into ethane cracker and related polyethylene facilities along the gulf coast, taking advantage of extremely low prices of natural gas and its components in the US. When these projects come online, CPChem is expected to boost EBITDA by $1.5 billion by 2018.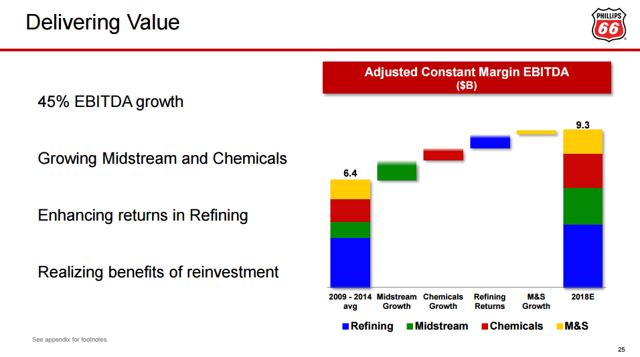 Click to enlarge
Conclusion: Phillips 66 remains a bargain
While Phillips 66 is no slouch when it comes to earnings, I also like the company's ability to generate cash flow. The stock is trading for under 8.5x its TTM operating cash flow (7x using only the Q3 numbers) and is investing most of that back into the business.
Phillips 66 is also great when it comes to shareholder returns. The dividend yield is nearly 3% while the payout ratio based on EPS is a paltry 27%. The buyback is also impressive, with the recent $2 billion authorization good enough to repurchase ~5% of the float. Since spinning out of ConocoPhillips, Phillips 66 has repurchased 15% of its shares outstanding and increased its dividend by 180%.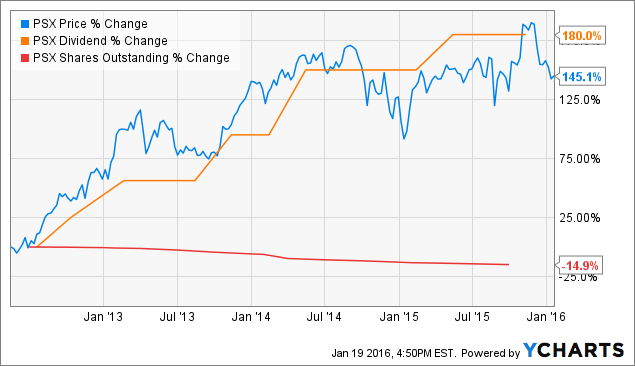 I see Phillips 66 as one of the winners in the energy patch for 2016. The stock is cheap based on numerous metrics and will likely continue to generate large profits. While falling crack spreads are a concern, remember that Phillips 66's other units are also expected to grow earnings.
Disclaimer: The opinions in this article are for informational purposes only and should not be construed as a recommendation to buy or sell the stocks mentioned. Please do your own due diligence before making any investment decision.
Disclosure: I am/we are long PSX.
I wrote this article myself, and it expresses my own opinions. I am not receiving compensation for it (other than from Seeking Alpha). I have no business relationship with any company whose stock is mentioned in this article.