Nutrisystem (NASDAQ:NTRI) has had an interesting and tumultuous past. Founded in 1972 by Harold Katz under the name Shape-Up, the company was originally a brick-and-mortar business with hundreds of locations that offered in-person counseling and weight loss products. Eventually, the business was sold, with corporate results continuing to flourish. Annual revenue peaked above $1B, but lawsuits and a FTC investigation led to a bankruptcy in the early 1990s. Taken private out of bankruptcy, the company was nurtured in the background. The advent of the Internet and online sales provided a new catalyst for growth, and the company was taken public in 1999.
Struggles soon began again, until a white knight by the name of Michael Hagan appeared to save the company. As a key investor and acting CEO, Michael Hagan led the company back towards annual revenue of $1B, with company results peaking at approximately $750M in 2008. Unfortunately for Nutrisystem, Michael Hagan moved on to greener pastures, and without his leadership, the company faltered again. Quarterly sales fell to a recent all-time low of just $62M in Q4 2012. Things looked bleak.
Not wanting to let his prior employer fall to the wayside, Michael Hagan rejoined the Board of Directors in 2012 to aid in the search for a new CEO. The Board settled on Dawn Zier, and ever since, year/year quarterly comps have been on a tear. She quickly developed a reputation of both candor and business focus, which was attractive to both current Nutrisystem employees and investors alike.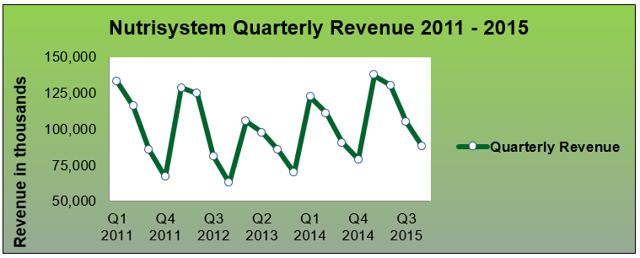 Click to enlarge
Source: Nutrisystem 10-Q and 10-K reporting. Author-created graphic.
Since her appointment in 2012, Nutrisystem's shares have more than doubled, strongly outperforming the market. What was once a stock that could be counted on to underperform both peers and the broader index now has become a darling of Wall Street. But is there more to the story?
What Exactly Is Nutrisystem?
Nutrisystem is a provider of weight loss programs shipped right to the customer's door. The foundation of the program is portion control to prevent the stereotypical overeating of the average American, along with a focus on low-glycemic foods. The concept isn't unique; mail order food is provided by a variety of competitors, from Jenny Craig to HelloFresh to BistroMD.
Typically, customers purchase monthly food packages for a set price, starting at approximately $270/month. In return, customers get pre-packaged breakfasts, lunches, dinners, and snacks, with an example being the below-pictured meatloaf and mashed potatoes (apparently much-maligned by Nutrisystem customers given its rating):

Click to enlarge
All your meals for a month starting at around $270? Sounds like a deal.

I also fresh fruits and vegetables? Awesome!
Unfortunately, those fresh fruit and vegetables Nutrisystem advises customers to eat will have to be paid for out of their own pockets - Nutrisystem only provides the core part of the meal, and customers need to purchase all the fresh fruits, vegetables, and dairy that is suggested in their plan. There goes my idea of cutting my grocery bill.
By only supplying that core part of the meal, which is easily frozen and pre-prepared, the company is able to turn a profit. Frozen lasagna, chicken pot pie, and pizza is all cheap to produce, saves well, and is easy to ship.
But the cost savings go even further than that, and investors need to keep in mind that Nutrisystem runs an asset-light business model. With just a little over 400 employees, it does not produce any of the food in-house. It doesn't own the farms that produce the raw materials nor does it own the factories that prepare and package the goods. In my opinion, it does not even have the staff to really perform significant quality control on the tens of millions of pre-packaged meals it ships each month.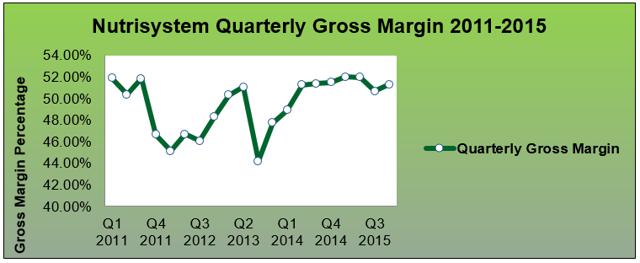 Click to enlarge
Source: Nutrisystem 10-Q and 10-K reporting. Author-created graphic.
This asset-light model has kept gross margins high, above 50%. The business isn't complicated; Nutrisystem simply buys a pre-packaged "meal" for $1.50 from a supplier and then sells it for $3.00 to a customer. Nutrisystem is simply a middle man, and all its value and cash flows rely on its brand and its ability to market and sell marked-up food to customers. The only value-add the company provides is fully structuring a customer's diet, along with health advice if they need it when they call company hotlines. There are no true barriers to entry to this business model, but as we'll see below, the business is not deeply profitable, which keeps deep-pocketed competitors away.
Excessive Costs Deaden Cash Flows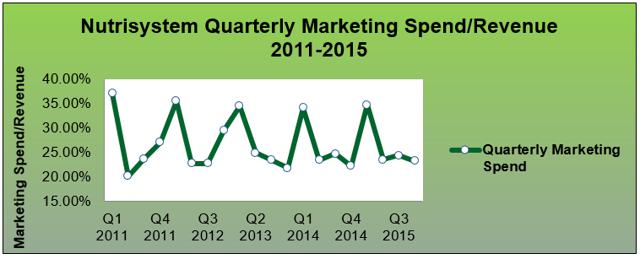 Click to enlarge
Source: Nutrisystem 10-Q and 10-K reporting. Author-created graphic.
The typical Nutrisystem customer stays on the program for just twelve weeks according to Nutrisystem. This creates a situation where the company has to spend a considerable amount of its earned revenue on marketing, as without a continuous stream of new customers, the business would unravel quickly. Nutrisystem consistently spends in excess of $100M/year on marketing spend alone, typically running around 26% of total revenue for the year. Marketing spend typically peaks in the first quarter of the year (chasing the "New Year's Resolution" crowd), the same quarter that quarterly revenue peaks. The rest of the year is a bleed of customers despite continued spending, until the next year.

Click to enlarge
Source: Nutrisystem 10-Q and 10-K reporting. Author-created graphic.
These excessive marketing costs (along with incredibly high SG&A) results in taking what looks like a strong business at the gross margin level to one that is barely lackluster at the operating income level. The result is a company that has generated just $175M in operational cash flow since 2011, despite generating nearly $2B in revenue. With what little free cash flow the company will generate in 2015 ($30M), most of this is going to be gobbled up by the dividend ($20M in annual obligations). Nutrisystem as a result treads a very fine line between being cash flow positive and entering a state of cash burn.
Q1 2016 will set the stage for 2016, and if year/year comps fall, so will Nutrisystem. All the momentum in the name is based on continued revenue growth and margin improvement for a variety of reasons.
Trends In Dieting
In the past, Nutrisystem has been able to adapt to changes in the dieting business model (with a bankruptcy and a few close calls thrown in along the way). However, recently there has been a fundamental shift in how Americans diet in my opinion. This shift is something that Nutrisystem simply can not react quickly to due to the foundation of its existing business model.
Within mainstream dieting, there is a renewed focus on fresh, locally-sourced foods. That shift is obvious every day that you step into a grocery store. Organic food sales growth has been exploding, and the results in that are readily apparent in the stocks of organic-focused companies like WhiteWave Foods (NYSE:WWAV), which has seen revenue explode from $2B in 2011 to a likely $3.9B in 2015. As a mail order program, Nutrisystem can not provide these goods as part of its meal plan.
Along with this shift to fresh fruits and vegetables, there has been a measured move towards low-carb diets (Paleo, Primal, Gluten-free, Atkins, and other Ketogenic diets) that lead dieters entirely away from pre-packaged and frozen foods. Ketogenic diets focus on shifting the body into ketosis, a state in which the body burns an extremely high amount of fat because no carbs are available to burn. The science behind ketosis is fairly proven, and a strategy once reserved for athletes and bodybuilders is gaining more widespread acceptance among the populace.
In order to enter ketosis, most people need to eat only between 20-30g of carbs per day. Any more, and the state is not reached. The resulting problem for Nutrisystem? 55% of the calories are produced from carbohydrates, not proteins or fats. Nutrisystem acknowledges itself it is not a low-carb diet - just low-glycemic. Remember that meatloaf and potatoes from earlier? No ketosis for that Nutrisystem customer given its carbohydrate content.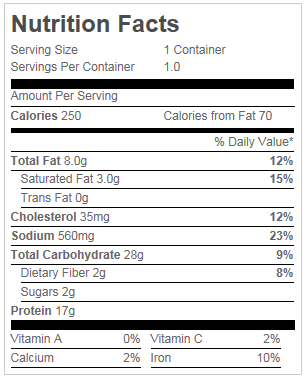 Nutrisystem can't change this easily. Carb-heavy foods (pastas, pizzas) are cheap to produce and easy to pre-package and ship. You can "heat-and-eat" a frozen chicken carbonara dinner from Nutrisystem pretty easily. Ribeye steak? Not so much.
Focus is again back on the label, with consumers putting renewed focus on all those hard to pronounce ingredients. Hopefully without making this an article about diets, we can revisit our old meatloaf from above to see some of these triggers: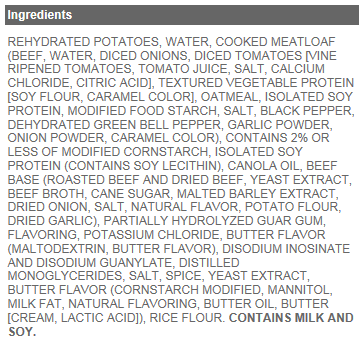 Disodium Inosinate/Disodium Guanylate = a MSG replacement. MSG is used as a satiating agent in foods to make food taste better and feel more fulfilling, but got a bad reputation from consumers who began to avoid the product. As a low-calorie diet, Nutrisystem uses this instead as a means to make consumers feel more full when eating less, all while avoiding the stigma associated with MSG.
Also, present in this list are modified food starches, including corn. While modified starches now a bad word among many diet-conscious consumers, Nutrisystem can't avoid using this ingredient. Regular starches simply cannot stand up to extreme temperature changes (freezing, microwaving) and have shorter shelf-lives. Excluding these ingredients from its products would make its food products less appetizing to consumers once prepared at home.
Dan Marino Versus Oprah Winfrey
While Weight Watchers (NYSE:WTW) does not ship food like Nutrisystem, they are direct competitors in that they attract dieters looking for the guidance and structure of someone advising them.

Click to enlarge
Source: Nutrisystem 10-Q and 10-K reporting. Author-created graphic.
It isn't coincidence in my opinion that Nutrisystem's recent rise coincided with Weight Watchers' fall from grace. And as much as I hate to jump on the Oprah Winfrey bandwagon, there is a reason why the market is so excited about Oprah's ability to change Weight Watchers' fortunes.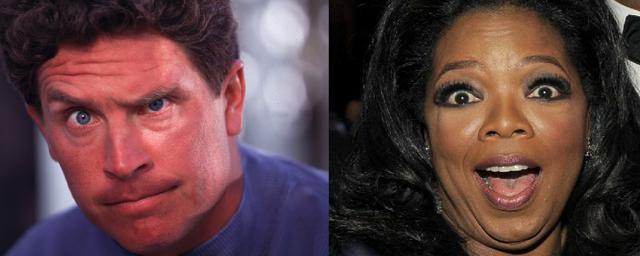 Click to enlarge
We already know that what keeps these businesses in power is primarily their brand and their advertising. Part of creating that brand is celebrity endorsements. Nutrisystem has Marie Osmond, Dan Marino, and Melissa Hart, while Weight Watchers typically has been able to attract slightly higher tier spokespeople like Jessica Simpson and Jennifer Hudson.
However, Weight Watchers recently landing Oprah Winfrey changes the game altogether. As much as I loved the 1990s Miami Dolphins growing up, Dan Marino simply doesn't have the clout that Oprah Winfrey will have in drawing and attracting new consumers. The pickup of Oprah Winfrey is expected to finally reverse the long-standing downtrend in Weight Watchers revenue, with the company expected to post minor (1%-2%) increases in revenue over expected 2015 levels. Analysts are thus far still cautious on the "Oprah Effect" but I don't think her brand power can be underestimated. We already know how Q1 results tend to set the trend for the year, and this Oprah partnership could not have come for a worse time for Nutrisystem. All the press is focused on Weight Watchers, not Nutrisystem, no matter how much money the company throws into marketing heading into a key time for the company.
Analysts covering Nutrisystem are expecting continued sales growth of 10% in 2016 for Nutrisystem as well. In the past five years, there has not been a single year where both companies were able to post revenue gains together, and I don't see a reason why that would start in 2016, especially given what I believe to be a declining addressable market for these two companies given American dieting trends. Oprah has the power to sway people one way or the other, but I don't think she has the power to dramatically increase the addressable market that these two companies appear to share.
Conclusion
I expect a revenue fall of 5% for Nutrisystem in 2016 to $437M in 2016. At 9% operating margins, 2016 EBITDA will come in at approximately $47M. Based on this, and at a 35% tax rate, earnings per share will come in at $0.91/share for the full year, significantly below current expectations of $1.12/share.
Shares will likely trade in the 8-9x EV/EBITDA range if momentum shifts, putting a fair enterprise value of $376-423M assuming cash and debt levels stay the same. This marks 16-25% downside from current share price levels achieved during the current market swoon, with added pressure likely from a change in momentum.
There are risks to my analysis:
Nutrisystem's move to retail channels could help buffer against losses in the core business.
I could be completely wrong about trends in diets among the older age group Nutrisystem targets. Anecdotal and analytical research suggests otherwise, but part of the thesis relies on a shift away from traditional low-calorie dieting.
Weight Watchers, despite Oprah, will falter in continuing their momentum and their ability to take market share back from Nutrisystem.
Overall, I find the risk/reward compelling. Nutrisystem's shares currently have no borrow cost, and I'm looking to pick up shares to sell short once the market bounces off its recent capitulation lows.