One of my goals for 2016 on Seeking Alpha, is to increase my circle of competence. In order to do this, I plan on researching, more so, complex companies. Chesapeake Energy Corporation (NYSE:CHK) is a company that is complex, at least for me. For CHK, there are numerous complexities in their in their SEC filings such as; derivatives, multiple debt obligations, spin-offs, and corporate restructuring. Not to mention, the industry in which CHK serves has a significant amount of moving pieces, plus going through a severe downturn. However, I have decided to write a research report on CHK, in order to increase my circle of competence and more importantly, improve my research ability.
Summary
Turnarounds happen when you learn to survive despite the adversity- Jamelle Sanders
By the time I stepped down as Xerox's CEO in 2009, Xerox had become vibrant, profitable and revitalized company that it still is today. What made the difference was a strong turnaround plan, dedicated people and a firm commitment from company leaders- Anne M. Mulcahy
On the corporate level, CHK is a holding company. Moreover, within their holdings, they are the second largest producer of natural gas and 12th largest producer of oil and natural gas liquids (NYSE:NGL), in the US. Currently, CHK owns interest in 43,300 oil and natural gas wells. Finally, CHK has some of the biggest leading positions in Eagle Ford, The Utica Shale, The Anadarko Basin, and Niobrara Shale.
A thesis for an investment in CHK is a pure turnaround. A turnaround doesn't just involve the reversion of commodities either (although that would be very helpful). To successfully turnaround, CHK will need to do the following. First, they will need to balance their forward capex budget with cash flows. The more negative cash flows are going forward, the more rickety the common stock will become.
Secondly, the company will need to continually focus upon liquidity concerns. Thus far, the company has managed to address their liquidity concerns in a positive fashion. In the past year, CHK has amended a revolving credit facility, eliminated their quarterly dividend, and has sold some key assets. Going forward, the company plans to continue to disinvest assets, which will continue to strengthen their balance sheet.
Finally, the company also recently did a very large scale note exchange offer. There were very mixed feeling about this exchange offer (which will be talked about later). However, it shows that management is continually trying to address the overall state of liquidity.
CHK needs to continue to buy time. The more time that is on their balance sheet, the more probable it will be for CHK to survive this downturn. Hypothetically, if CHK continues to focus on liquidity, addresses their burn rate in a positive fashion and survives this downturn, this could be a huge turnaround story. The turnaround is based on time. The more time CHK can buy, the higher probability this could be a multi-bagger, instead of a total loss.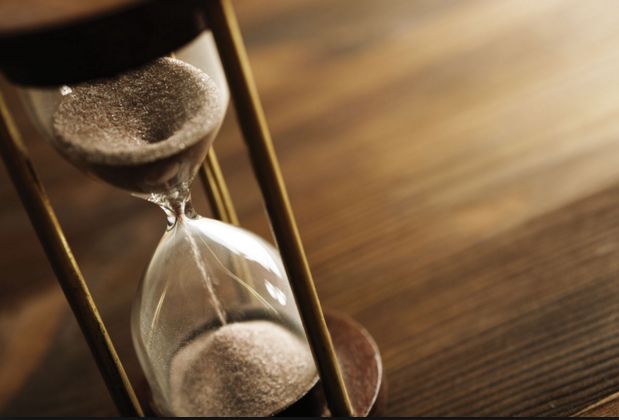 Source: The Road Less Written
Headwinds
The hero is not fed on sweets, daily his own heart he eats; chambers of the great are jails and headwinds right for royal sails- Ralph Waldo Emerson
If you did not know there are headwinds in the energy market, then you must be living under a rock…or maybe you are a hermit. However, since I am sure the majority of the readers on SA know of the energy headwinds, I do not plan on boring you with redundancy. But I have noted a few of my favorite articles on the downturn in the energy sector below for the curious reader:
Now that we can put aside the whole commodity issue, let's talk about the headwinds CHK has been facing due to the low commodity environment.
One of CHK's most pressing issues and cause of concern for an investment in the security is the high fixed costs coupled with high operational costs. High fixed costs combined with high operational costs are like a double edged sword.
Before the New Year turned, CHK organized a tender, or exchange offer for new 8.00% Senior Secured Second Lien Notes due 2022 for some of their outstanding senior unsecured notes. At the expiration date of this exchange, $3.8bn or 41.5% of their existing notes were tendered. The below table represents the exchange.

Click to enlarge
Source: Final Tender Results
Some investors would say that the exchange tender was good for the company as a whole. Others would oppose the former. Opposition from the tender is derived from high overall fixed costs (from higher interest rates). Positives come from lower payments/maturities in the near-term. Overall, the company bought itself some time at the cost of higher fixed costs in the future. In my opinion, buying near-term time at the cost of higher fixed costs was an important step in the right direction.
High operational costs are one of CHK's biggest problems going forward. When commodities were trading at high levels, CHK profited due to lower overall operational costs. Due to the cyclical nature of the energy market, high prices do not last forever. When energy prices crash, operating costs go up. You could say that energy prices and CHK's operating costs are negatively correlated. For those who have not studied finance or statistics before, I will let Investopedia explain what negative correlation means:
A relationship between two variables in which one variable increases as the other decreases, and vice versa. In statistics, a perfect negative correlation is represented by the value -1.00, while a 0.00 indicates no correlation and a +1.00 indicates a perfect positive correlation. A perfect negative correlation means that the relationship that appears to exist between two variables is negative 100% of the time. It is also possible that two variables may be negatively correlated in some, but not all, cases.
Another example of how low commodity prices can rack up operational costs are from the following examples. First, assume Q3 production levels without any consideration to derivatives. A $1.00 dollar increase or decrease per barrel of oil sold, results in a $10mm increase or decrease in revenues and cash flow. Going further, any $0.10 cent per mcf of natural gas sold results in an increase or decrease of $26mm in revenues and cash flow. Finally, a $1.00 change in per barrel of NGL sold results in an increase or decrease of $7mm.
As you can see, the significant adversity in the energy market has hit CHK, in a very negative fashion. CHK does have hedges present to help offset the downside, however, these hedges are not as aggressive as some would like them to be. Due to the reports already written about CHK's hedges, I will not bore you with monotony. Investors who would like to learn more about CHK's hedging techniques in 2016 should read the following article.
One of the final causes for concern in the near-term in regards to operations is their drilling contracts. With energy prices at basement levels, CHK is operating at a significant loss to uphold these contracts. In the current period, CHK took a $7mm hit for the termination of drilling contracts. Going forward, we will most likely see continual one-time charges from the termination of drilling contracts. This will help fuel further a burn rate of their cash position, which is not bullish at all.
Things are beginning to change…
The one year price chart for CHK is horrible: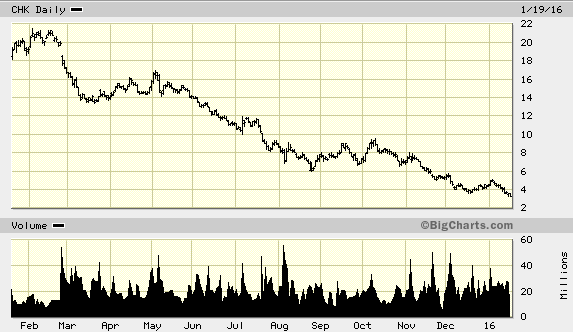 An investment in CHK is contrarian as it gets. As intelligent investors, we must quantify the risks and rewards of an investment in CHK, without having a confirmation bias. We must also try to figure out if CHK is a clear turnaround or if it is a value trap. This section of the report will help to quantify risks and more importantly decide if CHK is a value trap or turnaround story.
Let's start with the good. After reading CHK's filings, one of the more bullish factors that stood out to me was the amendment of the revolving credit facility. On September 30th, 2015, CHK amended their senior revolving credit facility. With the amendment, their borrowing base increased to $4bn and as of the Q3 report, they had zero borrowings under this facility.
What is interesting and benefits CHK is that when they choose to tap into the facility, they will get to pick the interest rates on the loan themselves. I have lifted the terms of the facility from the Q3 report and threw them below for the interested investor.

Click to enlarge
Source: 3Q15 Report
This untapped facility with relatively low potential interest rates is a huge benefit to CHK. With minimal amount of debt due in 2016 and 2017, this will buy CHK the valuable time it needs to weather the downturn.
A second thing the company did to help buy time was cutting the common dividend. Below is a table of the common dividends paid to shareholder in 2014, 2013 and 2012.
| | | | |
| --- | --- | --- | --- |
| | 2014 | 2013 | 2012 |
| Dividends Paid | 405 | 404 | 398 |
In millions
With the cut of the common dividend in Q3, CHK will save ~$400mm annually. This money can be put to better use such as repayment of debt or interest.
CHK does have some preferred stock on its balance sheet which is a sort of headwind for cash flows and common stock holders. However, on their 5.00% Cumulative Convertible Preferred Stock (Series 2005B) and their 4.50% Cumulative Convertible Preferred Stock, they can use cash, common stock or a combination of both to pay for the quarterly dividend. I would expect the company to pay the preferred dividends in common stock going forward in order to maintain liquidity. This may have a tendency to dilute common holders, however, maintaining liquidity is the main cause of concern right now.
Investors should take note that the company's 5.75% Cumulative Convertible Non-Voting Preferred Stock are payable only in cash.
Another positive aspect that management did recently was in regards to its CHK C-T assets. These assets were oil and natural gas properties that they sold to Four Point Energy, LLC. After the sale to Four Point Energy, CHK used the cash to repurchase all of the outstanding preferred shares of CHK C-T. This was 1.25bn shares of preferred taken care of which had an interest rate of 3.75%. With these taken care of, CHK lowered their fixed costs and helped to de-lever its balance sheet.
CHK has also been on an asset selling spree.
Sold non-core lease holds in Q2 with regards to their Marcellus Shale holdings to Rice Drilling (NYSE:RICE). Net proceeds were $233mm.
Sold in Q2, 61 wellhead compressors and other producing properties in South Texas to Hilcorp Energy for net proceeds of $133.
During current period and Q2, CHK sold interests in leaseholds to their joint venture partners for $30mm and $24mm, respectively. These interests were located in Marcellus, Barnett, Utica, Eagle Ford, and Mid-Continent.
CHK also sold their ownership in Chaparral Energy (a private independent oil and natural gas company). This happened in Q2 with proceeds of $209mm and a gain of $73mm.
Recently sold equity interests in a natural gas trading company for proceeds of $30mm, however, they recorded a loss of $6mm from this sale. This transpired in Q2.
Selling assets will help free up some much needed cash for CHK going forward. Furthermore, the company has $94mm of land and buildings that they plan on selling in the near-term. These assets are located in Oklahoma, West Virginia, and the Fort Worth, Texas area. The $94mm in assets are also net of accumulated depreciation.
Investors should note that further asset sales may be drawn out, complex and may not transpire due to the low energy price environment. Furthermore, CHK may have to continue to sell assets below cost which is exactly opposite of what value investors do. However, we do know that CHK will need to continue selling assets in order to buy itself more time.
Finally, the company recently reduced their workforce by 15% as of September 30th, 2015. This will help cut down G&A expenses going forward. The negative aspect about a workforce reduction was that CHK took a one-time $55mm termination cost with the 15% reduction. However, G&A expenses should further reduce going into the future. Remember, in Q3, G&A expenses fell to $4.88/boe compared to $5.37/boe YOY. Finally, CHK plans to end the year with 14 operating rigs compared to 65, YOY. This really shows how much CHK is trying to cut back on expenses.

Click to enlarge
Source: 3Q15 Report
With a decent amount of cash on the balance sheet ($1.76bn), an untapped $4bn credit facility and manageable long-term debt through 2017 (disregarding the exchange offer and operational costs), CHK is in a controllable position.
The Potential Forward Postmortem
I don't think anyone has a good way of finding the cost of an event. Most companies don't really do the proper postmortem, or, if they do, they have no idea what to include in the analysis. - Peter Firstbrook
Let's call it quits now and disregard all potential postmortem events that could happen to CHK. Actually, that sounds like a very bad idea and would make my research bias toward the upside (something I do not want).
There are plenty of reasons to avoid CHK. One of the main reasons is the negative FCF. Check out the five year history of FCF compared to net income.
| | | | | | | |
| --- | --- | --- | --- | --- | --- | --- |
| | TTM | 2014 | 2013 | 2012 | 2011 | 2010 |
| Net Income | -11,860 | 1,917 | 724 | -769 | 1,742 | 1,774 |
| FCF | -3,068 | -1,984 | -2,994 | -11,905 | -8,547 | -8,396 |
In millions
As you can see, net income for CHK compared to FCF seems to be negatively correlated. Thus, when net income is high, FCF is low. In most cases, I avoid companies that have negative correlations to their net income and FCF. This is because, a company that is not able to self-fund is not worth my time or money.
The reason why FCF stayed negative from the 2010-TTM is due to an overly aggressive capex program…
| | | | | | | |
| --- | --- | --- | --- | --- | --- | --- |
| | TTM | 2014 | 2013 | 2012 | 2011 | 2010 |
| Operating Cash Flow | 1,884 | 4,634 | 4,614 | 2,837 | 5,903 | 5,117 |
| Capex | -4,952 | -6,618 | -7,608 | -14,742 | -14,450 | -13,513 |
In millions
What is interesting and that should have put concern on shareholders is that CHK's OCF did not improve from an overly aggressive capex spending program. I bet you anything shareholders were captivated by CHK's substantially growing topline and decent dividend payments that they disregarded what was happening to the bottom line.
| | | | | | | |
| --- | --- | --- | --- | --- | --- | --- |
| | TTM | 2014 | 2013 | 2012 | 2011 | 2010 |
| Revenues | 13,736 | 20,951 | 17,506 | 12,316 | 11,635 | 9,366 |
| Dividend Per Share | 0.26 | 0.35 | 0.35 | 0.35 | 0.25 | 0.30 |
In millions
I can really see where investors got sold on the CHK train due to the expanding top line and stable dividend. Not to mention, there was the abundant and very shallow Motley Fool and other freelance articles that touted CHK without the deep, proper, fundamental analysis.

Source: Is Chesapeake Energy Destined for Greatness?
There was also an abundance of governance issues in regards to the former management of CHK…
Click to enlarge
Source: 2014 Proxy

Click to enlarge
Source: 2012 Proxy
"If options aren't a form of compensation, what are they? If compensation isn't an expense, what is it? And if expenses should not go into the calculation of earnings, where in the world should they go?"- Warren Buffett
When the CEO is taking an $18-20mm total salary based almost all on stock awards, that screams out to me governance issues. In theory, some finance professionals believe that stock awards help align executives with shareholders. I disagree though. I believe that stock awards will make executives focus on the short term, so they can maximize their year-end bonus.
I could go on about stock based compensation and how it is potentially harmful to long-term shareholders. However, I will not bore you. But, if you want to read more into stock based compensation, you should read Aswath Damodaran blog titled Stock-based Employee Compensation: Value and Pricing Effects.
I know, I know, I just provided you guys with a ton of backward looking financials and have not dug into what CHK will do going forward, to avoid a postmortem. However, I believe that looking in the past can help us understand what the future could bring. I mean even George Orwell agrees with me to an extent…
"He who controls the present, controls the past. He who controls the past, controls the future"
So where do I see CHK in the future. Well, that depends on a few things. First, capex needs to be reduced dramatically going forward. If the company can align capex to be under or even equal to operating cash flows, the company will be able to maintain its cash position longer. But, I believe that this may be a problem due to legacy midstream contracts and overall high operating costs.
The cash burn rate needs to be controlled. I have highlighted CHK's potential cash burning rate in a table below to help investors understand the importance of this.
| | | | | |
| --- | --- | --- | --- | --- |
| Cash | 5.76bn | 5.76bn | 5.76bn | 5.76bn |
| FCF Burn Rate Per Year | 1.00bn | 2.00bn | 3.00bn | 4.00bn |
| Years Cash Will Last | 5.76 yrs. | 2.88 yrs. | 1.92 yrs. | 1.44 yrs. |
Cash includes the revolving $4bn credit facility as well.
The table above really show how important it is for CHK to start realizing positive FCF or at least reduce the burn rate of their FCF. Investors should note that this table also does not include the upcoming debt payments and interest payments on their bonds/notes. An inclusion of the former fixed costs will increase the burn rate.
If CHK can only burn $2bn in cash going forward, they will be able to make it through 2016, with the current energy environment. However, if the energy environment does not improve after 2016 is over, CHK may run into some serious trouble.
Further near-term trouble is if energy prices continue to push new lows…

Click to enlarge
Source: EIA Natural Gas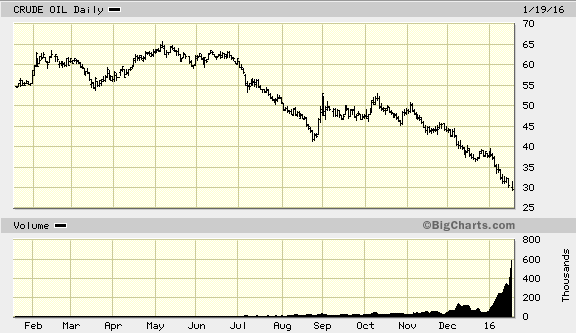 If energy prices continue to push new lows, operating costs will continue to rise (remember the negative correlation?). Higher operating costs will lead to a faster cash flow burn rate, which will lead to a higher chance of insolvency. The company has hedges, however they are not plentiful for the full year of 2016 (read the article I linked earlier explaining CHK's hedges).
I can't call bottoms and neither can the majority of professionals…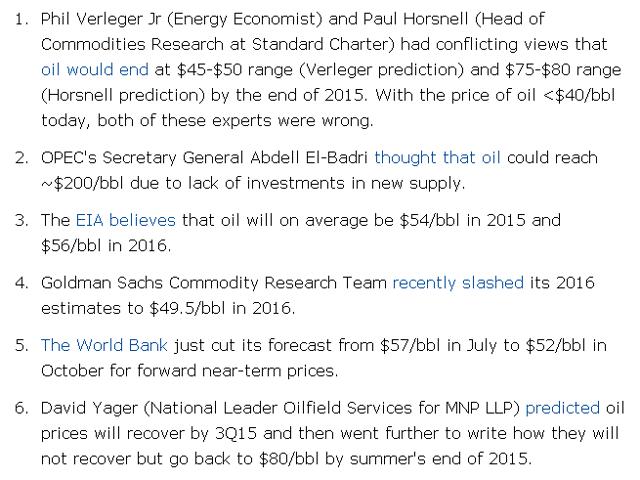 Click to enlarge
Source: Everything On Energy: M&As, Resources, Short Selling, Expert Opinion And Potential Investment Candidates
However, if we are at a bottom in this cycle, there could be real upside. But, if we are not at a bottom, there could be further downside. Its risky business to say the least when you have an investment thesis that could make or break due to the price of a commodity.
What to do…the million dollar question
Do you invest in CHK or not, that's the question. The answer to this question depends on how risk-adverse you are. If you are very risk-adverse and want to preserve your capital, investing in CHK makes zero sense. Yes the company is trading at low multiples. Yes the company could turnaround and make an investor a small fortune. However, a thesis based upon cash preservation and commodities turning around isn't really the best bet for an investor looking to protect their downside.
If you can handle risk and more importantly can financially handle losing 100% of your capital, investing in CHK may be something you are interested in. CHK has potential to turn themselves around if they continue to focus on cash flow, liquidity and cutting operating/fixed expenses. If the company makes it through this downturn, CHK is a classic multi-bagger turnaround.
Because I believe that there is a lot of risk associated with an investment in CHK there are a few things investors should think about before making an investment. The first is portfolio allocation. CHK should not represent any more than 1% of your portfolio (at least in my opinion). Secondly, investors may want to try to hedge the potential downside. One way to protect your downside with an investment in CHK would be going long CHK and consequently buying put options. Yes, your upside will be less if CHK rises, however, you will help protect yourself if the downside continues. You could do other pair trades as well such as going long CHK and shorting a related energy commodity. Hedging techniques should only be used by advanced investors who know what they are doing.
In my honest opinion, I believe that CHK has a good chance of surviving this downward cycle. An investment in CHK is not riskless to say the least and poises for decent downside if my thesis turns sour. However, a small bet may be warranted if an investor can handle the risks.
Conclusion
If CHK can continue to buy time by selling assets and cutting operating expenses, the company has real potential to make it through this downturn. However, if the prices of natural gas and oil do not start appreciating in price after 2016, there could be very real trouble on the line. On the flip side, if we are at a bottom, an increase in the price of these commodities will have very real upside for CHK (remember a $0.10 increase in natural gas increases revenues by $26mm). Yes, the clock is winding down for CHK. However, there is still enough time for a turnaround. Which side of the trade will you be on?
Disclosure: I/we have no positions in any stocks mentioned, and no plans to initiate any positions within the next 72 hours.
I wrote this article myself, and it expresses my own opinions. I am not receiving compensation for it (other than from Seeking Alpha). I have no business relationship with any company whose stock is mentioned in this article.