In 2015, it could be said that currency markets were caught in a state of flux where the majority of the trading community was not prepared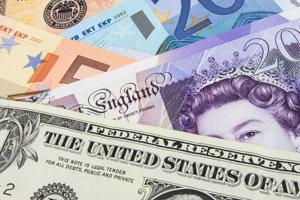 (or was flat-out unwilling) to take a definitive stance on the greenback. To some, it might have appeared as though prices experienced extreme volatility, as we did see EUR/USD price declines of nearly 1,000 in both February and November.
But the reality is that these short-term moves created nothing more than a broad sideways range that developed as most of the currency markets waited on the sidelines. This assertion is made most clear by the fact that prices in the EUR/USD closed roughly 600 points away from where they started at the beginning of the year. There are several reasons for why this turned out to be the case. But, more important, there are critical reasons for why this is unlikely to happen again in 2016.
Chart Perspective: EUR/USD
As is generally the case, trend assessment in the US Dollar is best accomplished by viewing activity in the EUR/USD currency pair. In the chart below, we can see that markets are now headed back toward the key psychological marker at 1.10 that has defined "bullishness" or "bearish" for most traders in recent months.

Click to enlarge
Source: FiboGroup
It will continue to be important for traders to monitor activity in the pair as we approach these areas because the Federal Reserve has reached a clear inflection point in its policy cycle. At this stage, the market is looking for the Fed to either "put up or shut up" with respect to the normalization of its interest rate policy and if we start to see the central bank good on its stated intentions to raise interest rates we would see the EUR/USD fall towards parity in relatively short order.
At the same time, we continue to see stalling economic reports in several significant portions of the Eurozone. If this isn't enough to signal caution to Euro bulls, we are also hearing the European Central Bank (ECB) suggest that quantitative easing measures would actually benefit the region and bring renewed growth in areas like exports and manufacturing. Quantitative easing programs bring weight to a currency in almost all scenarios, so any justification that has been made to explain the recent rise in the Euro back toward 1.10 is simply irrational. More than likely, these moves have come as a result of short-covering that forex traders have initiated after witnessing insufficient momentum to push prices convincingly below the 1.05 level.
Most critical here for investors is the fact that we are seeing diverging policy intentions at the Fed and at the ECB. In 2015, the Fed failed to make good on its early statements on the need to raise interest rates as a means for reducing inflationary pressures. If you remember, there were actually forecasts that the Fed would raise rates by as much as 6.5% before the end of the year. Of course, this did not come to fruition but if we were to see interest rates in the US raised by even 3% in 2016 we will almost certainly end the year below parity in the EUR/USD -- and all of this point to much higher volatility levels in the coming months.
On a side note, this is my 100th article for Seeking Alpha. I would like to thank the editors for all their efforts and the readers for all of the spirited discussion. Here is to 100 more!
Disclosure: I/we have no positions in any stocks mentioned, and no plans to initiate any positions within the next 72 hours.
I wrote this article myself, and it expresses my own opinions. I am not receiving compensation for it (other than from Seeking Alpha). I have no business relationship with any company whose stock is mentioned in this article.