While 2016 has not gotten off to a great start for the markets, it is guaranteed that some stocks will continue to decline. One of the reasons for this market weakness has been concerns over slowing growth, and the high-growth names have been the hardest hit. When looking for a decent short idea, I've searched for names with slowing growth that trade at premium valuations. Today, I'm here to detail why health information service company WebMD (NASDAQ:WBMD) is my best short idea for 2016.
Recently, the company detailed that Q4 2015 revenues and adjusted EBITDA should come in above the high end of the company's previous guidance. That will lead to higher base numbers, which will make 2016 comparisons a little tougher. But in the filing linked above, I found the following statement that was troubling:
With respect to traffic, management expects to indicate that traffic to The WebMD Health Network during the fourth quarter reached an average of 201 million unique users per month generating 3.97 billion page views for the quarter, increases of 6% and 7%, respectively, from the prior year period, reflecting greater than typical seasonal weakness in traffic during the December holidays.
The thing that worries me is that this period of "greater than typical seasonal weakness" is not a one-time item. As you will see in the chart below, the percentage increase in both unique users and page views has been declining for some time. Sluggish traffic trends are not a good sign for a company that has around three-quarters of its revenues coming from advertising and sponsorship sales.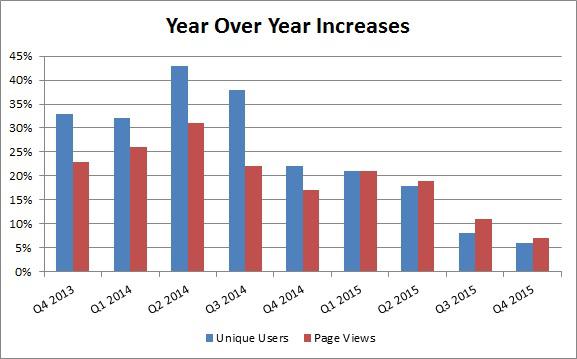 (Source: Earnings reports on company's news releases page)
In Q4 2014, the respective increases for unique users and page views were 22% and 17%. To fall to the mid-to-high single digits this quickly is concerning, even if you take into account the law of larger numbers. We've seen the impact of sluggish user base growth for social media giant Twitter (NYSE:TWTR), so advertisers might be watching WebMD closely over the next couple of quarters.
The other thing that concerns me is that earnings per share growth is slowing quite substantially. After a loss in 2012, the company returned to profits, and it's grown in recent years. This year, analysts are calling for EPS of $1.46, growth of more than 50%, after 213% growth in 2014. However, as seen in the chart below, this growth is forecast to come down to the teens in 2016.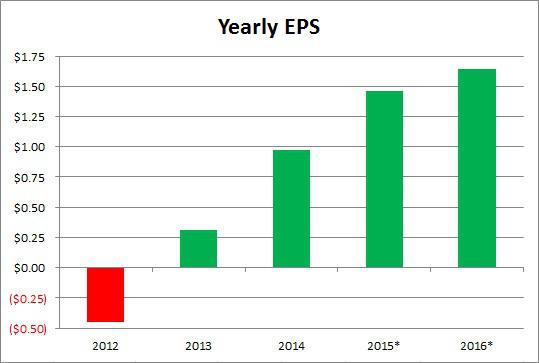 (Sources: Most recent 10-K filing and *current analyst estimates)
While the company did report some preliminary 2015 numbers already, we won't get the full details and the official 2016 guidance until the February 23rd earnings report. The company did provide some color on this year already, stating the following in the above linked preliminary results release:
Is pleased with advertising and sponsorship sales activity for its Public Portals, particularly with its biopharma customers, in the fourth quarter of 2015; and believes that its advertising and sponsorship revenue growth rate will accelerate slightly in 2016 (from approximately 10% in 2015);
expects revenue for its Private Portals to be approximately $110 million in 2016; and
expects revenue for its Information Services to be approximately $27 million in 2016.
The Private Portals and the Information Services segments are only projected to show about 1% growth over 2015 levels. The majority of the business, advertising and sponsorship sales, probably will grow in the low double digits. When you combine all of these figures, the company will likely guide to 2016 revenue growth in the high single digits or perhaps low double digits. Analysts currently are looking for about 9% growth, but estimates are likely to change before the actual report. Some analysts still are low on their 2015 figures given the company's preliminary report. Overall, there shouldn't be too many surprises in the 2016 guidance.
Slowing growth becomes a reason to short when you combine it with a high valuation. Yahoo Finance's competitors page points out two specific items to look at. WebMD has a trailing 12-month P/E that is about 6 points higher than the industry average while the five-year forward PEG ratio of 2.9 is well above the industry's 1.7. The company's growth is also shown as below average.
In the past, WebMD has been called the "future Google of healthcare". If that's the case, why not compare the name to Google, now known as Alphabet (NASDAQ:GOOG) (NASDAQ:GOOGL)? When converting earnings per share to a GAAP equivalent, the higher priced Alphabet Class A shares go for about 25 times expected 2016 EPS. WebMD's shares go for roughly 29 times expected 2016 EPS. Alphabet is projected to show more revenue and earnings growth, with its top- and bottom-line numbers expected to accelerate. So when comparing the two, WebMD has lower and slowing growth while trading at a premium valuation.
When combining all of this information, I can build what I think should be a fair valuation for WebMD. In the table below, I've compiled a price target table based on earnings multiples and EPS. With analysts currently expecting $1.64 for EPS, I've gone roughly a dime in each direction, and 5 points in each direction from Alphabet's current valuation. The yellow highlight shows prices below current levels: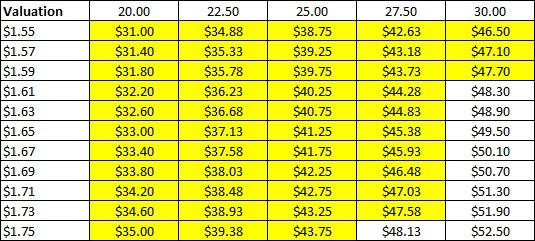 Analysts currently see the best-case scenario in 2016 as $1.74 in EPS, so let's give them an extra penny just to be safe. Even if the company hits that mark, it still would be showing a big slowdown, so why should it be worth more than Alphabet? That's 25 times, or a price of $43.75. If the company comes in around current expectations, let's say $1.65 for EPS, a valuation below Alphabet at 20 times equals $33 a share. Averaging the two gives us a fair value of $38.38 (rounded), or about 20% below current levels.
While I am making the short case for WebMD, it's important to discuss some of the risks involved. The obvious ones are that the company does better than expected, and that the Street continues to reward the name with an above-average valuation. But perhaps the biggest risk is that the company is acquired. Rumors of an acquisition have floated around recently, although the company did issue a denial. Major healthcare names like Walgreens Boots Alliance (NASDAQ:WBA) and UnitedHealth (NYSE:UNH) have been previously speculated as potential suitors.
In the end, slowing growth and a high valuation make WebMD my best short idea for 2016. User numbers and page views in Q4 2015 have shown dramatic growth slowdowns while earnings per share growth is also declining substantially. This name has been called the future Google of healthcare, yet it trades at a premium to Google/Alphabet despite lower and slowing growth. I see roughly 20% downside to shares from current levels.