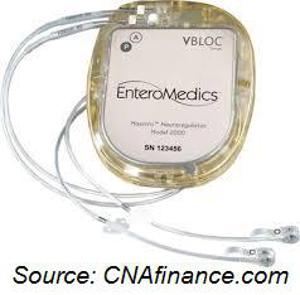 It was just about two weeks ago that Enteromedics (NASDAQ:ETRM) conducted a 1-for-15 share reverse split to take the stock price from $0.12 per share to $1.80 per share. The reverse split allowed for the company to re-gain NASDAQ compliance and allowed the company to borrow $25 million on a two year note. Now, less than 30 days later, Enteromedics is once again flirting with a NASDAQ compliance issue.
As I pen this article, the stock is trading at just $1.15. The devaluation of a stock on the heels of a reverse split is something that I tried to warn investors about months ago. I also suggested (strongly) that even if a product is good technology, it is the business and quality of the investment that investors need to look at.
In the last 8 trading sessions this stock has retreated 35%. The stock is on a daily roller-coaster that demonstrates a lack of stability and an equity dominated by short term traders looking to score 10% or 20% in a session. Enteromedics is a stock that has fundamental issues much bigger that NASDAQ compliance.
The vBloc Maestro device may be great technology, but it is currently held back by a management that can not really afford to effectively market it. It is held back by a market that has insurance companies excluding anti-obesity treatments instead of covering them. It is held back by an efficacy level that is not vastly superior to more simple and less invasive weight loss methods such as pills.
What investors need to think about is what it will take to turn this company around. What investors also need to think about is that this company can be swallowed up on the cheap by anyone at this stage, yet no-one is stepping up to the plate.
The market cap of Enteromedics is just $8.2 million. If the potential were as extreme as some would like to think, a controlling interest in this company could be had for less than $20 million. Simply stated, there does not seem to be any real serious interest in this company other than loaning it small dollars at decent interest with the company essentially on the hook.
In my opinion this company will be severely challenged in simply meeting debt obligations over the next year. Anything pointing to profits is miles away. Is it worth a spec play with minimal money? I question if that is even worth while at this point.
Investors need news of insurance coverage and vBloc procedures completed or scheduled. NASDAQ listing dangers less than a month after a reverse split that was supposed to solve the listing issues is not a good place to be. Stay Tuned!
Disclosure: I/we have no positions in any stocks mentioned, and no plans to initiate any positions within the next 72 hours.
I wrote this article myself, and it expresses my own opinions. I am not receiving compensation for it (other than from Seeking Alpha). I have no business relationship with any company whose stock is mentioned in this article.
Editor's Note: This article covers one or more stocks trading at less than $1 per share and/or with less than a $100 million market cap. Please be aware of the risks associated with these stocks.