While many investors hoped to see a traditional January Effect in the equity markets, this year began in the opposite direction. The January Effect hypothesis assumes that those who sold for capital loss at the end of the prior year would reinvest back in the markets after the new year, and that this will lead to a rally for the first month of the year. None of that materialized in 2016. The market correction, which started in mid-December, only accelerated through January.
When looking at the monthly performance of the S&P 500 index during the recent eight years, we can see that the January effect has actually weakened.
Here is the monthly performance of the S&P500 during January and February of each year represented by the SPDR S&P 500 Trust ETF (NYSEARCA: SPY):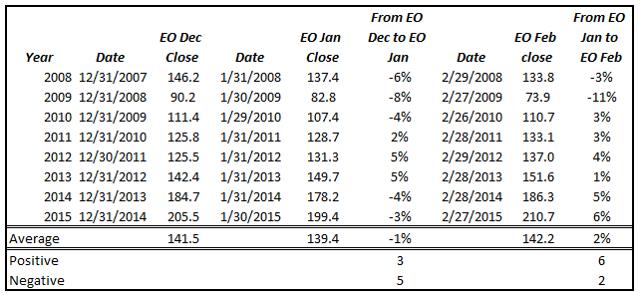 Click to enlarge
In five out of the recent eight years, January delivered negative results to investors. Even during the recent six-year bull market, the statistics for January were pretty poor -- it delivered a positive performance only 50% of the time.
February seems to be more promising for investors. Based on the same analysis, the performance of the markets was positive during six of the past eight years. The only two negative years were 2007-2009. This statistic cannot guarantee a sentiment change in the coming weeks, but it is a good indication that an investor should avoid thinking in a linear fashion. Things can change, and they always do.
Friday, January 15 was terrible for investors. The next picture taken from finviz.com is an indication of an irrational trading session. Most stocks across all sectors were dramatically lower throughout the day. Big corporate stocks dropped by more than two percent. This was my time to act.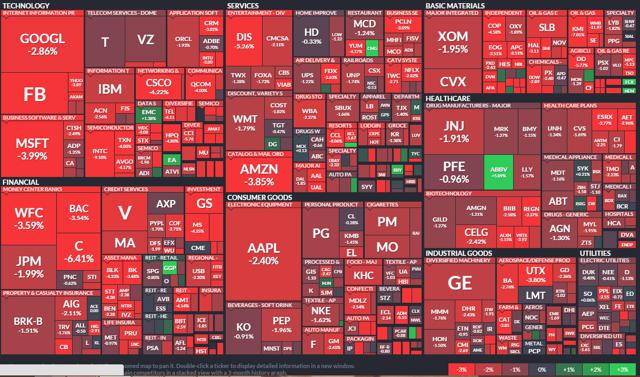 Click to enlarge
I initiated a position in the Schwab U.S. Dividend Equity ETF (NYSEARCA: SCHD). Just last week, I explained my rationale for investing in this ETF here. My buy-price was set on $36, and that materialized. The sell-off in the market did not skip the Dow Jones U.S. Dividend 100 Index, hence it handed me the opportunity to add this excellent ETF to my portfolio.
Before this purchase, my portfolio included 21 holdings: Avista Corp. (NYSE:AVA), BHP Billiton (NYSE:BBL), Baxalta (NYSE:BXLT), Cracker Barrel Old Country Store, Inc. (NASDAQ:CBRL), Care Capital Properties, Inc. (NYSE:CCP), Cummins Inc. (NYSE:CMI), Chevron (NYSE:CVX), ConocoPhillips (NYSE:COP), Deere & Company (NYSE:DE), Eaton (NYSE:ETN), Johnson & Johnson (NYSE:JNJ), HCP (NYSE:HCP), Main Street Capital (NYSE:MAIN), National Health Investors (NYSE:NHI), Realty Income (NYSE:O), Omega Healthcare Investors, Inc. (NYSE:OHI), Philip Morris International (NYSE:PM), AT&T (NYSE:T), Unilever (NYSE:UL), Ventas, Inc. (NYSE:VTR) and Wisconsin Energy (NYSE:WEC).
By adding SCHD, I would gain exposure to some sectors where my portfolio was previously underweight. The most significant one is the Technology Sector.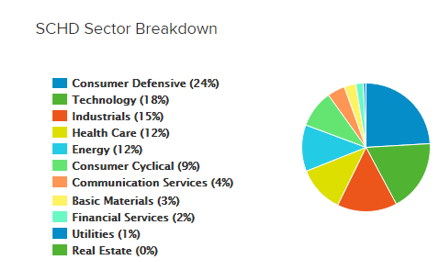 As expected, the portfolio is in the worst shape it's been since November 2014. I am currently down 15% from my original investment, but my quarterly dividend went up to $1,166 compared to November 2015. It is mainly the addition of SCHD that led to the dividend increase.
While I am happy about the expected increase, I do see some high risk in my portfolio. I'll gain clarity on BBL's decision to cut its dividend and the stability of dividends coming from CVX and COP from their earnings reports.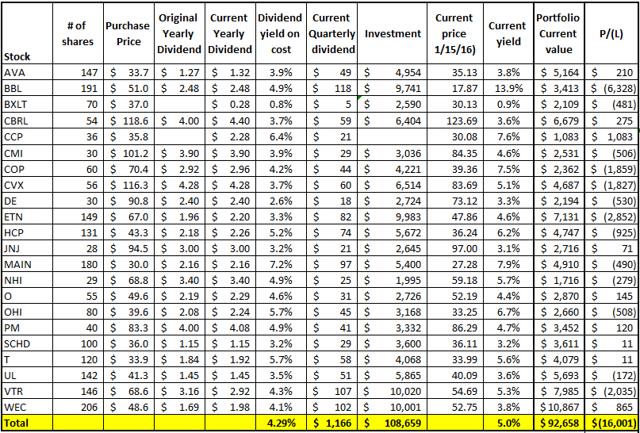 Click to enlarge
My next step:
As no one can tell when the sentiment will turn positive again, I suspect that there will be additional selling in the coming few weeks, therefore I'll closely track some of the stocks on my watchlist to see if they come close to my desired purchase price.
Vanguard REIT ETF (VNQ): One of the biggest ETFs in the U.S. REIT sector with an excellent track record and a low management fees (0.12%), in recent years VNQ increased its payout by 10% per year on average, making it a very attractive investment vehicle.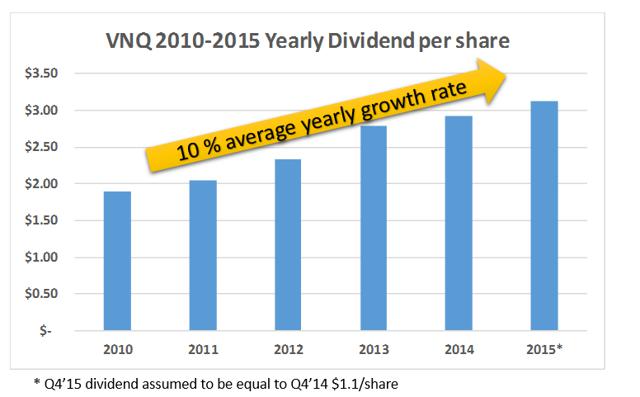 Click to enlarge
My buy price is set at $70, where the dividend rate would be at 4.5% based on 2015 distribution.
Southern Company (SO): This great utility company has a long track record of dividend payouts, which started back in 1972. The company never had a dividend cut and it has been steadily increasing its dividend since 2002.
The company's stock performance was pretty solid during the recent sell-off. I would prefer to buy it at lower levels, as close as possible to $40. If the markets move into panic mode, there is a chance it will get there.
Conclusions:
The negative sentiment in January this year is not that different from what we witnessed during the recent several years. The pullback in the markets opens up opportunities for long-term investors. I have added SCHD to increase my portfolio's diversification with relatively low managerial fees (only 0.07%) and increased my quarterly dividend.
My plan is to continue and buy more dividend paying ETFs and stocks that will serve me well in the long term. This is the time to remain focus and optimistic. These are the days for the long-term investor.
Happy investing.
Disclosure: I am/we are long AVA, BBL, CVX, SCHD, O, OHI, MAIN, NHI, HCP, T, PM, VTR, WEC, COP, DE, BXLT, CMI, ETN, CCP, UL, JNJ, CBRL.
I wrote this article myself, and it expresses my own opinions. I am not receiving compensation for it (other than from Seeking Alpha). I have no business relationship with any company whose stock is mentioned in this article.
Additional disclosure: The opinions of the author are not recommendations to either buy or sell any security. Please do your own research prior to making any investment decision.