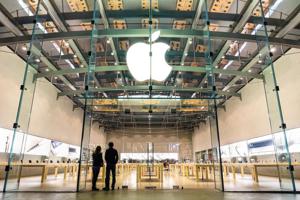 As each day passes, the panic regarding Apple (NASDAQ:AAPL) and weak iPhone sales continues to grow. While we don't know anything official just yet, analysts have become very bearish over the past five weeks. While revenue estimates continue to come down, I'm actually more surprised that EPS estimates are coming down even more. There's a growing disconnect here, one that needs to be examined further.
It all starts at the top, and less iPhone sales means less revenues. If the iPhone 6 line is selling more than the 6s line, Apple will generate less revenues per phone. We'll find out next week what the truth is, but analysts have already voiced their opinions. The following chart shows how much revenue estimates have come down since mid-December, when we first started getting some negative notes regarding the supply chain and iPhone production cuts.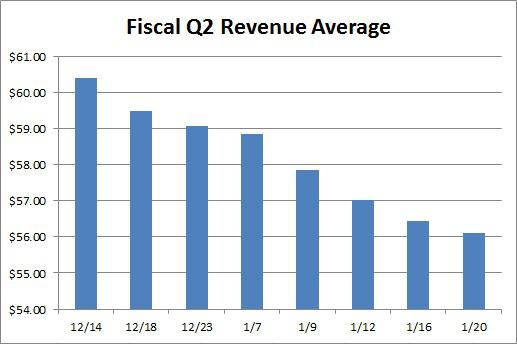 In five weeks, the average revenue estimate for the March ending fiscal Q2 has come down by about $4.3 billion. This is the most dramatic estimate reduction I've seen during a quarter, not counting movements right after earnings. In comparing the current estimate to the prior year period, analysts have gone from calling for 4.1% growth to now expecting a 3.3% decline. With almost a week left until earnings, it would not surprise me if estimates come down further. We've also seen some reductions to Q1 estimates, but not to the degree we've seen for Q2.
With the iPhone being a higher than corporate average gross margin product, investors might expect that earnings could be hit even harder thanks to a sales decline. While that seems logical to a point, one must also consider that the older phones that are still rumored to be selling well are much cheaper to manufacture. Also, Apple has done a good job pushing consumers to phones with higher storage capacity, which is good for selling prices and margins.
Another item to consider is that China has weakened the Yuan against the dollar in recent months, seen in the chart below. When Apple reported earnings back on October 27th, one dollar equaled about 6.34 Yuan. Now, the current market rate is about 6.58. There are some that believe China will continue to devalue its currency, perhaps sending the rate up toward 7.00 during this year.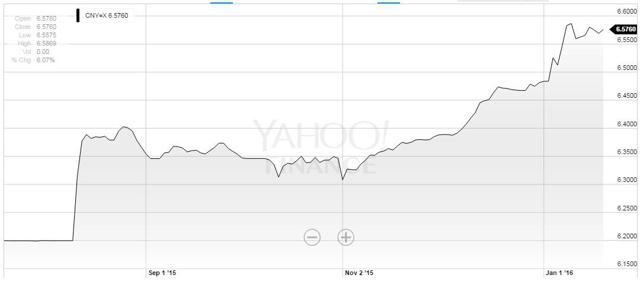 Click to enlarge
With Apple's gross margins around 40% currently, it means that the company's products/services cost 60 cents to make for every dollar of revenue earned. With a nearly 4% weakening in the Yuan, you would have to figure that the cost to manufacture products will see some benefit. Holding all else equal, and even using a lower than street average $55 billion for Q2 revenues, a 100 basis point tailwind to gross margins for the quarter should equal about 7 cents of EPS.
The other item to discuss with regard to Apple's bottom line number is the decline in share price. As seen in the chart below, Apple shares have fallen from $113 to $94 since we first started getting bearish analyst notes regarding the iPhone. While the company may have been blacked out from buying back stock during part of this fall, the company will be able to buy shares again once the earnings blackout period ends.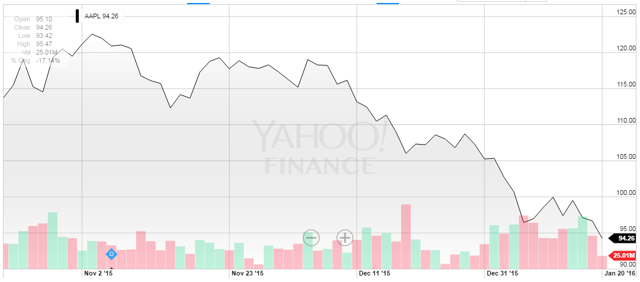 Click to enlarge
Additionally, if you are Apple management, wouldn't you be more willing to purchase shares in the mid $90s than you would be in the mid $110s? We've seen a number of accelerated share repurchases from the company in recent years, so it wouldn't surprise me if Apple stepped in again with another multi-billion dollar plan. Even if the company only averages the $5 billion or so it has been, the company is looking at around a 4% year over year decrease in the share count, good for about a 9 cent tailwind to EPS.
Also, market worries have sent US interest rates lower, so the cost of debt may not be as expensive as it was a month ago. The 30-Year US Treasury rate is down more than 30 basis points from its late December high. If interest rates are low enough, the company could realize a cash flow benefit by repurchasing shares whose dividend yield has surged to around 2.20% on an annual basis.
So why am I making such a big deal about all of these items related to earnings per share? Well, since December 14th, analysts have reduced their average revenue forecast for Q2 by 7.10% as of Wednesday. However, the average EPS reduction has been 8.54%, and that gap has widened a bit in 2016. Given the continued weakness in the Yuan plus Apple shares, I'm surprised that EPS estimates have come down faster than revenue figures. Analysts are usually quite conservative when it comes to Apple's bottom line, as seen in the table below.

In the end, the panic regarding Apple may not be over yet, but the growing disconnect between revenue and earnings estimates seems to be a bit misguided. With a lower stock price helping the buyback program and a weaker Yuan likely helping gross margins, why are analysts reducing EPS estimates at a much faster rate? Apple shares are close to their August flash crash lows. But if analysts get too weak, it will only be a matter of time before they rebound.
(Author note: All charts/tables derived from Yahoo Finance pages)
Disclosure: I/we have no positions in any stocks mentioned, and no plans to initiate any positions within the next 72 hours.
I wrote this article myself, and it expresses my own opinions. I am not receiving compensation for it (other than from Seeking Alpha). I have no business relationship with any company whose stock is mentioned in this article.
Additional disclosure: Investors are always reminded that before making any investment, you should do your own proper due diligence on any name directly or indirectly mentioned in this article. Investors should also consider seeking advice from a broker or financial adviser before making any investment decisions. Any material in this article should be considered general information, and not relied on as a formal investment recommendation.