Well, the 2016 sell-off just cannot catch a break. Headlines like "worst start in a decade", "worst start ever", and "oil crumbles" are getting all too common. Hope and fear aren't portfolio strategies. While long-term investors can perhaps sit back, relax, and accumulate meaningful number of shares through dividend reinvestment, new investors cannot afford as much to pass along buying opportunities.
While we believe in using the volatility, our focus always is on the long-term. Meaning many, many years if not decades. Dividends are often called "bear-market protectors" because of safety and compounding reasons. In the same vein, GARP stocks [Growth at Reasonable Price] could also act as return enhancers when purchased at the opportune time. No one can time the market but buying stocks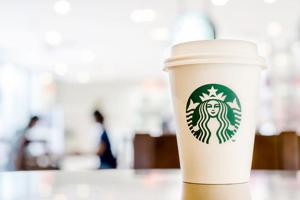 that are selling off for no particular reason is one way to achieve this. That brings us to the stock in question, Starbucks (NASDAQ:SBUX). This article explains why we just initiated our first position in this stock, with the stock down 5% as of this writing. Let us get into the details.
Yield and Dividend Growth: The current yield of almost 1.40% is one of the highest levels ever for this stock. Before you laugh that off as too low, quarterly the dividend has grown more than three folds from 6 cents/share to 20 cents per share in five years. The dividend increases are clearly backed by earnings as the trailing payout ratio stands at just 40%.

Click to enlarge Source: YCharts.com
The chart below shows the clock-like dividend increases in November of each year.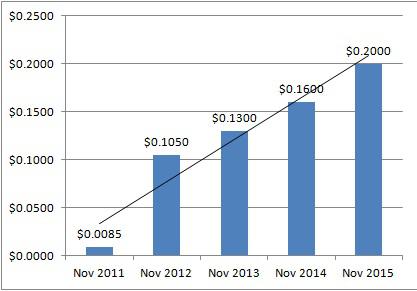 Source: Data from Yahoo Finance
Valuation: Hard to believe? Valuation in the simplest sense [PE] has rarely been in favor of Starbucks. However, the current forward multiple of 30 is one of the lowest levels for this stock as can be seen here. To put that number to perspective, earnings are expected to grow at nearly 18%/yr for the next five years. That gives the stock a very reasonable PEG ratio 1.70.
The word "reasonable" is context sensitive here as Starbucks is still viewed as one of the growth stocks in the market. Although the industries are different, other typical growth stocks like Amazon (NASDAQ:AMZN) and Netflix (NASDAQ:NFLX) have PEGs of 5 and 15 respectively. Again, this is not to compare those three companies or stocks directly but if you are looking for growth stocks that have some downside protection (in the form of dividends, strong cash flow) as well, Starbucks and Apple (NASDAQ:AAPL) are two names that come to our minds readily.
The stock is more than 10% off its 52 week highs. While this isn't a strong reason to buy any stock, market-leading stocks rarely provide too many chances to buy in.
Portfolio Reason: This is a personal reason, as we've been looking to add some GARP [Growth At Reasonable Price] stocks to our portfolio. Right now, about 90% of the stocks we have are typical dividend growth stocks, except perhaps Apple. In the interest of full disclosure, the position initiated today isn't a full position or substantial in dollar amount. Averaging in is the name of the game when the market is so volatile.
Future:
a) Dividend Front: The table below shows the potential yield on cost for long-term investors. The table assumes an annual dividend growth of 10%/yr for the first five years and 7%/yr for the last five years. This is way below what the company has managed in the last few years (20% plus dividend growth rate) but it's better to err on the side of caution. Not many stocks can sustain such dividend growth rates. The yield on cost more than doubles in this time span.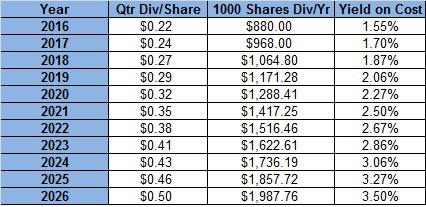 Keep in mind, this is still a growth stock and dividends are perhaps secondary. Another point to keep in mind is that when dividends are raised periodically, the stock price tends to catch up with it as well. Ever wondered why Coca-Cola's (NYSE:KO) average yield has always been around 3% in spite of 50 plus years of dividend increases?
b) Business Front: Without a strong business, none of the numbers discussed so far would pan out. Starbucks is on track to open hundreds of new stores in China. Yes, the same China that is hurting the world right now. But Starbucks showed 6% same-stores-sales growth even there in the most recent (reported) quarter.
If you are worried about a China collapse, keep in mind that Starbucks expands in clusters. The new stores will be added strategically over a five year period where the company can adjust its plans as the situation demands. Also, the products that Starbucks offers are likely to be well within the reach of the average Chinese consumer, irrespective of the predicted crash-landing. Plus, this company clearly understands China.
Starbucks is not all about its two largest markets, US and China. The company still has room to expand in other parts of the world, including the land of Espresso.
C) Leadership Front: Some stocks just are synonymous with their cult founders/leaders. As long as Howard Schultz is at the helm, expect this company and stock to keep rocking. This is not to say that there is no succession plan but the impact he has on the press is high to put it mildly. He almost always shows up on the list of most influential people. Not that this makes any fundamental differences to the company's balance sheet but you get the picture.
Conclusion: What do you think of Starbucks here and as an investment generally? Please leave your comments below.
Disclosure: I am/we are long AAPL, SBUX, KO.
I wrote this article myself, and it expresses my own opinions. I am not receiving compensation for it (other than from Seeking Alpha). I have no business relationship with any company whose stock is mentioned in this article.