DSR Quick Stats
Sector: Financial Services
5 Year Revenue Growth: 18.71%
5 Year EPS Growth: 24.84%
5 Year Dividend Growth: 19.86%
Current Dividend Yield: 2.86%
What Makes BlackRock (BLK) a Good Business?

BlackRock is the world's largest asset manager with over 4 trillion in assets under management (AUM), operating in 41 countries with over 1 billion each in assets to manage and serving clients in over 100 countries. BlackRock serves all kind of clients (from retail to its 4,000 institutional clients and pension plan managers) through its wide range of products (from mutual funds to ETFs).

Click to enlarge
Source: BLK 2014 Annual Report
The company's best move was certainly to purchase the iShares series from Barclays Global Investors in 2009. As of 2015, BlackRock is the largest ETF firm in terms of assets under management (source ETF.com).
The company also developed its own risk analysis platform called Aladdin. Aladdin helps to facilitate better decision-making, more effective risk management and more efficient trading on behalf of BlackRock's asset management clients. In addition, many institutions rely on Aladdin to analyze and manage their own assets.
Ratios
Price to Earnings: 15.65
Price to Free Cash Flow: 17.18
Price to Book: 1.797
Return on Equity: 11.97%
Revenue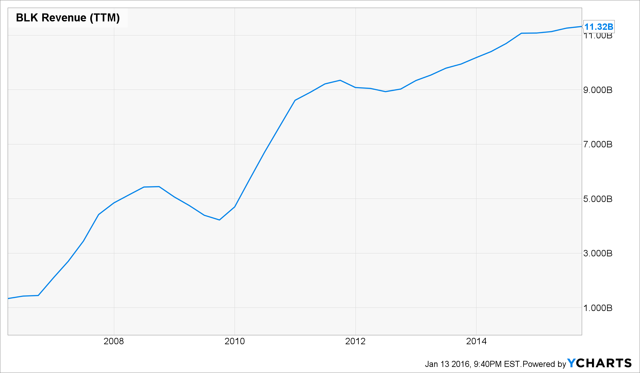 Click to enlarge
Revenue Graph from Ycharts
The company continues to see an increase in its revenue year after year. This is mainly due to its business model where most of its revenue comes from fees charged on its assets under management (AUM). As it grows, so do the fees, hence the company's revenue.
Since the company offers various investment products, it can serve investors when they are greedy with more equity related products or when they get scared and want to buy more fixed income. This is why current net inflows of funds kept coming in during 2015.
How BLK fares vs My 7 Principles of Investing
We all have our methods for analyzing a company. Over the years of trading, I've been through several stock research methodologies from various sources. This is how I came up with my 7 investing principles of dividend investing. Let's take a closer look at them.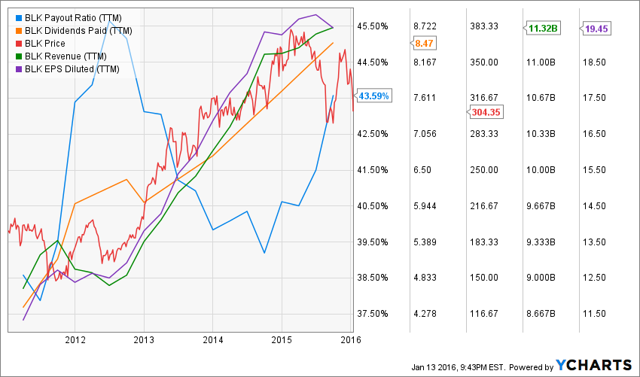 Click to enlarge
Source: Ycharts
Principle #1: High Dividend Yield Doesn't Equal High Returns
My first investment principle goes against many income seeking investors' rules: I try to avoid most companies with a dividend yield over 5%. Very few investments will be made in my case (you can read my case against high dividend yield here). The reason is simple; when a company pays a high dividend, it's because the market thinks it's a risky investment… or that the company has nothing to offer but a constant cash flow to its investors. However, the high yield rarely comes with dividend growth and this is what I am looking for most.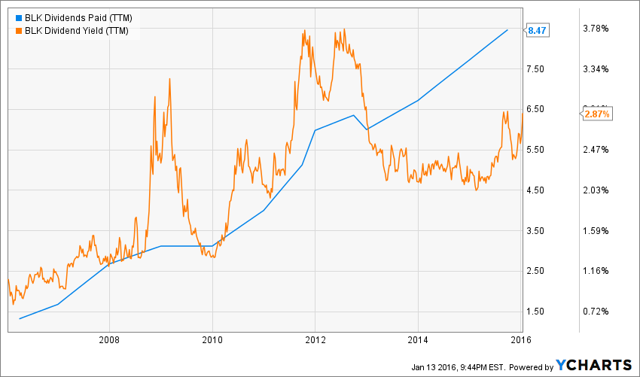 Click to enlarge
Source: data from Ycharts.
Since BlackRock's dividend yield has never exceeded 4%, BLK meets my first principle.
Principle#2: Focus on Dividend Growth
My second investing principle relates to dividend growth as being the most important metric of all. It doesn't only prove management's trust in the company's future but it is also a good sign of a sound business model. Over time, a dividend payment cannot be increased if the company is unable to increase its earnings. Steady earnings can't be derived from anything else but increasing revenue. Who doesn't want to own a company that shows rising revenues and earnings?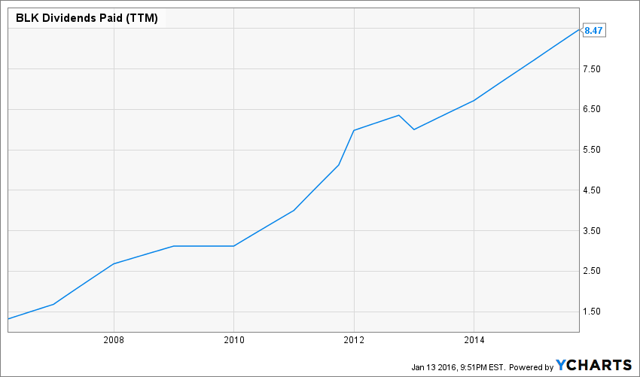 Click to enlarge
Source: Ycharts
BlackRock shows a 5 year CAGR dividend growth of 19%. BLK meets my second principle.
Principle #3: Find Sustainable Dividend Growth Stocks
Past dividend growth history is always interesting and tells you a lot about what happened with a company.As investors, we are more concerned about the future than the past. this is why it is important to find companies that will be able to sustain their dividend growth.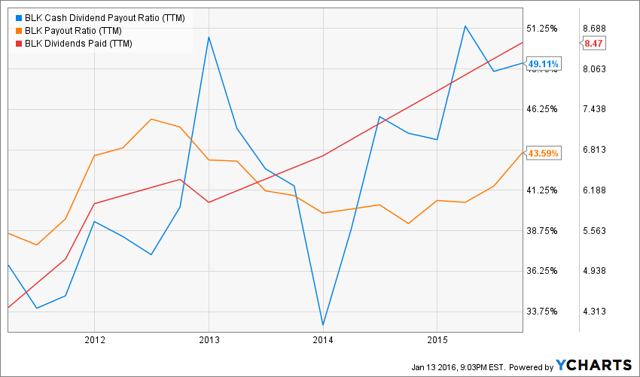 Click to enlarge
Source: data from Ycharts.
Over the past five years, the dividend payment kept increasing but the payout ratio remained relatively the same. We have a small fluctuation of roughly 8% between the lowest and highest payout ratios. The cash dividend payout ratio is also under 50% after a strong string of increases. BLK meets my third principle.
Principle #4: The Business Model Ensure Future Growth
There is something even more important than metrics and it's the business model itself. BLK's business model is built around the point they charge fees to manage assets. No matter if the performance is there or not, fees are collected and money is made by the asset manager. The key is to offer strong products across all types of investments. Slightly over 50% of BLK assets are invested in equities which generate higher fees than fixed income products:

Click to enlarge
Source: BLK 2014 Annual Report
The fact the company is the largest ETF manufacturer also helps to secure this long term trend compared to mutual fund companies that have seen their AUM at risk due to their high MERs.
What BlackRock does with its cash?
Since fees are earned by the company solely based on the fact the money is invested in their products, that makes BLK a real money making machine: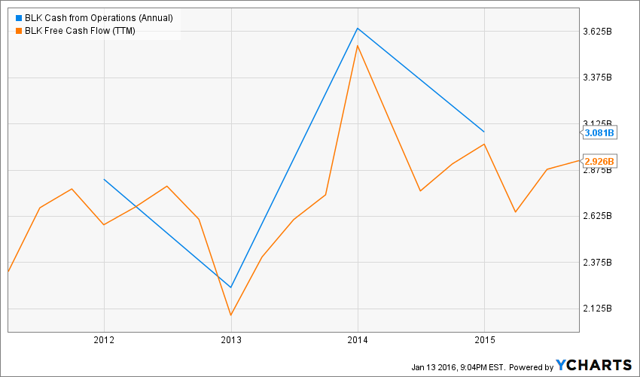 Click to enlarge
Graph Source: Ycharts
The money is used to manufacture new products, build strong risk analysis platforms (such as Aladdin), make acquisitions and, of course, share repurchases and dividend increases. For the first quarter of 2015, the board approved the purchase of an additional 6 million shares, pushing the total share buyback to 9.4 million.
The company definitely shows a business model that will lasts for several decades to come. BLK meets my fourth principle.
Principle #5: Buy When You Have Money in Hand - At The Right Valuation
I think the perfect time to buy stocks is when you have money. Idle money is always a bad investment. However, it doesn't mean that you should buy everything you see because you have some savings put aside. There is some valuation work to be done. In order to achieve this task, I will start by looking at how the stock market valued the stock over the past 10 years by looking at its PE ratio: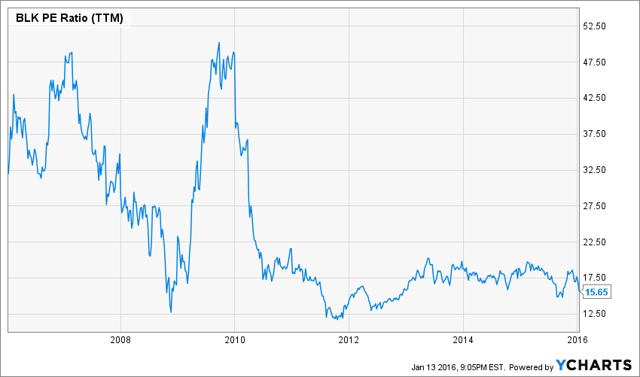 Click to enlarge
Source: data from Ycharts.
The recent dip in the stock market seems to be become a great entry point for any investor who had missed the previous opportunities (the stock doubled in value between January 2012 and January 2015). At a 15.65 PE ratio, the stock seems to be undervalued compared to post 2008 valuations.
As a dividend growth investor, I also like to consider the value of a company solely based on its dividend perspectives. I use the dividend discount model (DDM) with a double stage dividend growth. The double stage calculation enable me to select a 10% dividend rate for the first ten years (as I'm bullish for BLK's industry) and then reduce it to 8% for the following years. In terms of discount rate, I will use a relatively high rate of 11%. While BlackRock is a very strong company, I'm still doubtful about the financial industry. You never know when some Wall Street magician will pull a rabbit out of his hat. Here's my calculation:
Calculated Intrinsic Value OUTPUT 15-Cell Matrix

Discount Rate (Horizontal)

Margin of Safety

10.00%

11.00%

12.00%

20% Premium

$669.70

$443.70

$330.84

10% Premium

$613.89

$406.73

$303.27

Intrinsic Value

$558.08

$369.75

$275.70

10% Discount

$502.27

$332.78

$248.13

20% Discount

$446.46

$295.80

$220.56
Source: Dividend Monk Toolkit Excel Calculation Spreadsheet
However, I'm not sure I'm comfortable with these numbers. While I use a high discount rate (11%), I did new calculations with smaller dividend growth rate. You can see that the valuation drops if you use 8.5% and then 7.5% rates:
Calculated Intrinsic Value OUTPUT 15-Cell Matrix

Discount Rate (Horizontal)

Margin of Safety

10.00%

11.00%

12.00%

20% Premium

$489.33

$348.44

$270.21

10% Premium

$448.55

$319.40

$247.70

Intrinsic Value

$407.78

$290.36

$225.18

10% Discount

$367.00

$261.33

$202.66

20% Discount

$326.22

$232.29

$180.14
Source: Dividend Monk Toolkit Excel Calculation Spreadsheet
I think it's unfair to value the company solely based on its dividend growth perspective because the company has a lot more to offer than simply a dividend. This is a good example of a company that will provide investors with both: capital appreciation doubled with dividend growth. Therefore, the true value of BLK probably lies between $369 and $290. BLK meets my 5th principle.
Principle #6: The Rationale Used to Buy is Also Used to Sell
I've found one of the biggest investor struggles is to know when to buy and when to sell his holdings. I use a very simple, but very effective rule to overcome my emotions when it is the time to pull the trigger. My investment decisions are motivated by the fact that the company does or does not confirm my investment thesis. Once the reasons (my investment thesis) why I purchase shares of a company are not valid anymore, I sell and never look back.
Investment thesis
An investment in BlackRock is an investment in a leader in a flourishing market. Retirement planning is the financial issue of the century as many workers don't benefit from fully funded pension plans. When you are the largest ETF manufacturer, you can be sure to grab an enormous market share of those workers and institutional fund managers looking for new investment products.
Recent developments at the Department of Labor (DOL) new law project putting clients' interest upfront will benefit from BLK's large ETF product offering. The law puts more pressure on advisors to select products for their clients' benefit instead of their own pockets. Adios high MERs funds, hello iShares!
At the moment, BLK is a leader in a growing industry. They have both product and geographic diversification as well as a very strong management team and low levels of debt. The company shows all the requirements to become and stay a dividend powerhouse. BLK is also part of my top 20 dividend stock picks for 2016.
Risks
There are no risk-free investments. As we saw during the period of August and September 2015, BlackRock is vulnerable to market swings. When fear comes into the market, equity investment products are being sold for safer (and less profitable) investment vehicles. If I'm wrong about the overall stock market and we face a bear market, BLK will not be a great performer over a short period of time as investors will rather pay down their debts or do something else with their money than invest in the market.
Principle #7: Think Core, Think Growth
My investing strategy is divided into two segments: the core portfolio is built with strong & stable stocks meeting all our requirements. The second part is called the "dividend growth stock addition" where I may ignore one of the metrics mentioned in principles #1 to #5 for a greater upside potential (e.g. riskier pick as well).
Having both segment helps me to categorize my investments into a "conservative" or "core" section or into a "growth" section. I then know exactly what to expect from it; a steady dividend payment or higher fluctuations with a greater growth potential.
As previously mentioned, BLK is the perfect combination of a company that steadily pays its dividend due to its cash flow generating business model and also shows the potential to surge as it did during the latest bull market. BLK is suitable for both core and growth holdings.
Final Thoughts on BLK- Buy, Hold or Sell?
As you can guess by now, I own shares of BLK. This is a strong company with great upside potential. While investors may hit some road bumps, the increasing dividend payment will be there to help you wait. For me, BLK is a buy.
Disclaimer: I hold BLK in my DividendStocksRock portfolios.
Disclaimer: The opinions and the strategies of the author are not intended to be a recommendation to buy or sell a security. The strategy the author uses has worked for him and it is for you to decide if it could benefit your financial future. Please remember to do your own research and know your risk tolerance.
Disclosure: I am/we are long BLK.
I wrote this article myself, and it expresses my own opinions. I am not receiving compensation for it (other than from Seeking Alpha). I have no business relationship with any company whose stock is mentioned in this article.