In its earnings conference call Tuesday, AMD (NYSE:AMD) management claimed it would gain revenue sequentially in 2016 and be free cash flow positive for the year. The basis for these claims is share gain in PC clients, discrete GPUs, and a semi-custom win that kicks in the second half of 2016. When probed by analysts, AMD could provide little rational basis for the share gain expectations.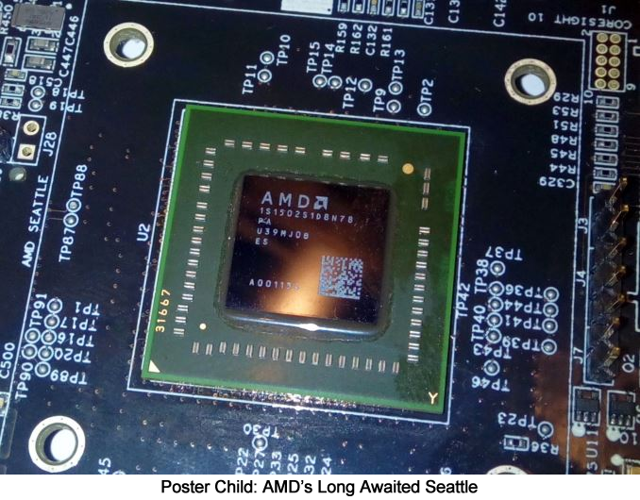 Click to enlarge
Source: Anandtech
Implosion
After the Q3 earnings report, I identified the death spiral that has come to characterize AMD's business. As AMD's revenue continues to shrink, cost reductions in the form of restructuring and asset sales have begun to impair its ability to execute competitively against its still profitable rivals, Intel (NASDAQ:INTC), and Nvidia (NASDAQ:NVDA).
The Q4 earnings report demonstrated this continuing revenue implosion. The Q4 revenue of $958 million represented a y/y decline of about 23%. In Q4, the Computing and Graphics (CG) segment posted a 29% y/y decline to $470 million in revenue. The Enterprise, Embedded and Semi-Custom (EES) segment also declined y/y but by a lesser amount of 15% to $488 million in revenue. While CG posted an even greater operating loss of $99 million for the quarter compared to the year ago loss of $56 million, EES is at least holding its own with a $59 million operating profit, down 46% y/y.
For the full year, total revenue was down about 28% to $3.99 billion, and AMD's operating loss has ballooned to $481 million from $155 million last year. CC full year revenue is down by 42% while operating loss has exploded to $502 million from last year's $76 million. Only EES is holding its own, but barely, with an 8% revenue decline for the year to $2.186 billion in revenue and an operating income decline of 46% to $215 million.
Given the continuing decline in the PC market (20% in 2015 according to IDC), it's obvious how Intel has been able to maintain roughly flat revenue in its PC client business: by taking share away from AMD.
Analyst Skepticism
Quite a bit of skepticism about AMD's growth projection for 2016 was voiced by analysts during the conference call. CLSA Securities analyst Srini Pajjuri put it very well:
Lisa just going back to your annual guidance for growth, if I start from down 14 [percent sequentially in Q1], I think you have to model double digit for the next three quarters, which is well above seasonal for you. So I am trying to understand, where the growth is coming from?
In addition to the long expected semi-custom win that is supposed to kick in the second half of the year, AMD expects to gain share in discrete GPUs and in PC clients. Bernstein Research analyst Stacy Rasgon probed further on the PC share gain expectation:
First I was wondering if you could elaborate a little more on how you plan to gain share on PCs for the year, especially since it looks like Zen isn't really launching until the tail end of the year and looks like you're starting Q1 already in a hole if I compare your guidance versus Intel.
CEO Lisa Su replied:
. . . in 2015 I think we did a concerted effort to clean up on some of our channel inventory both on the OEM side as well as in the DIY channel. So that factor will be gone in '16 relative to 2015. I think if you look at the product roadmap I think the product roadmap is stronger and I think if you look at our commercial business that is also stronger, so it's leading to a stronger product mix. So those are the key factors.
Missing Catalysts
The problem with AMD's expectation of PC market share gain in 2016 is that the key catalyst for that gain simply won't be there. If AMD has any hope of regaining share against Intel, that hope rests with the Zen architecture that AMD unveiled at its Financial Analyst Day back in May 2015. The Zen architecture is promised to be more powerful and be fabricated on a competitive 14-16 nm process.
If Zen were going into production this year, it might gain share against Intel. Only it's not, as we learned at the Q3 earnings report. AMD reiterated at the Q4 call that Zen will only be sampling to OEMs this year, with production start at the end of the year or beginning 2017. AMD was a little vague on a specific production start, probably because they aren't sure themselves.
The Q4 report also contained some disquieting news about the direction that Zen will take. CEO Lisa Su indicated that Zen would first be made available for desktops, and then servers in 2017. One would have thought that Zen would be the right processor for the most lucrative element of the remaining PC market, thin notebooks and 2-in-1s. Yet that doesn't seem to be happening.
Ideally, AMD should be moving all its products to 14-16 nm production. The fact that they aren't doing that highlights how resource constrained AMD has become.
AMD seems to place the greatest hope on its new Polaris GPU architecture, which will be fabricated on 14 nm. If the industry were standing still, this would be a master stroke and would lead to dominance of PC gaming, as well as VR. But Nvidia has had its Pascal architecture, also expected to be on 16 nm FinFET (from TSMC) in its GPU roadmap since 2014. Pascal will likely be equal or superior to Polaris, and come out about the same time, in the middle of 2016. The best that AMD can hope for with Polaris is that it won't lose any more market share to Nvidia.
Poster Child
And that brings us to the poster child for the AMD death spiral, the long awaited ARM based server processor, Seattle, now dubbed the Opteron A1100. AMD did finally announce that the A1100 is in production and shipping in limited quantities. Does anyone care anymore?
The roughly two-year delay in the arrival of Seattle means that it's completely obsolete. It's fabricated on a TSMC 28 nm process, and completely non-competitive with even the humblest Intel server offerings in performance or price. Seattle has become another demonstration of the downside of AMD's cutbacks. At the very least, Seattle should have been moved to a 14-16 nm FinFET node, either Samsung's or TSMCs. But AMD couldn't afford to do that.
Investor Takeaway
AMD presents investors with the spectacle of a management either incapable or unwilling to make the tough decisions that need to be made if AMD is to be profitable at any level of revenue. I'm convinced that trying to compete with Intel in x86 architecture processors, whether for PC clients or servers, will never be a winning strategy. Even with Zen, AMD is just playing catch up with where Intel has been technically for years. No one's going to be impressed by that.
AMD should give up competing with Intel, but it's not clear that abandoning the x86 processor business is even an option at this late stage. AMD doesn't even have enough revenue coming in to support its current operating expenses. Without the revenue stream from x86, it's not clear that it could support the staff it needs to design semi-custom processors based on x86.
As painful as it would be, jettisoning the PC processor business in order to refocus on GPUs and ARM architecture is the only way forward that I can see for AMD. Nvidia has proven that this is a viable approach, at least for one company. It's not clear that the approach can support two companies.
This leaves AMD rushing headlong into a dead end. When the end comes, it won't be pretty. I continue to maintain a sell rating on AMD.
Disclosure: I/we have no positions in any stocks mentioned, and no plans to initiate any positions within the next 72 hours.
I wrote this article myself, and it expresses my own opinions. I am not receiving compensation for it (other than from Seeking Alpha). I have no business relationship with any company whose stock is mentioned in this article.