Skullcandy (NASDAQ:SKUL) issued Q4 guidance recently which fell below prior guidance set by management and fell short of analysts' estimates. As a result of the weak holiday sales, the company shed one-fourth of its market capitalization and shares now hover just north of $3.
The recent dramatic sell-off has plunged SKUL into net-net territory (trading at a discount to its NCAV, or net current asset value), and this just doesn't make much sense to us. We do not believe a company with positive sales growth, double-digit earnings growth, a growing asset value, and significant cash flow potential should trade below its net current asset value. We think there is significant upside from these depressed levels, and that the net-net aspect gives investors a built-in and significant margin of safety.
Skullcandy Growth Story
We have previously issued bullish reports on SKUL, and maintain our arguments therein.
The headphone market will only continue to benefit from secular growth in smart device adoption driven by global urbanization. In 2014, roughly 54% of the world's population lived in urban areas, and the global urban mix is expected to increase to 66% by 2050. Urbanization, coupled with global population growth, will mean an extra 2.5 billion people living in urban areas by 2050. Roughly 90% of that growth will be attributed to Asia and Africa. China alone is expected to account for an additional 292 million urban residents by 2050 (more than 10% of global urban growth). Urbanization should have a positive flow-through effect on the headphone industry because it will increase consumer electronics demand, and this should have particular synergies with headphone companies with business in China. SKUL is one such company, and as SKUL transitions to a more direct model in China, the company should see improved sales performance.
The headphone industry, though, is tough, and subject to intense competitive pressures. While SKUL might have some brand staying power, we affirm Bose is the quality brand in the space, while Beats is the popular brand in the space. This leaves SKUL with somewhat of a not-so-high-quality, not-so-popular position in the growing headphone market. But the market is growing, and although SKUL might not have a popular niche or a high quality niche, they do dominate the mid-range-ASP band in the headphone space ($20 to $100). We believe SKUL will benefit in this overlap of quality and price, and think that while Beats and Bose battle over the high-end consumer, SKUL will remain a viable option for the mid-price-range consumer.
The company could also benefit from a rushed wireless upgrade cycle later this year when the iPhone 7 launches. The iPhone 7 is rumored to be getting rid of the headphone jack. If so, this would create an influx of demand for wireless headphones in the back-half of 2016. SKUL unveiled a new wireless product portfolio at CES in January 2016, and one of the products in the portfolio, the Skullcandy Crusher VRA, was named by TechHive as one of the 15 most promising headphones at CES. The company also announced Bluetooth upgrades to two of its more popular wired products, Ink'd and Grind. The company's Skullcandy product portfolio is now largely wireless (Ink'd Wireless, Grind Wireless, Crusher VRA, and Hesh 2 Wireless), and we believe this positions the company nicely for a potential boost in 2H16 when the headphone-jack-absent iPhone 7 launches.
Lastly, the Astro segment is a fast-growth business that has legs for continued double-digit Y/Y sales growth. This growth should continue with the gaming console cycle, and we do not see growth in this segment tailing off anytime soon.
Not A Typical Net-Net
Most net-net stocks are of the garbage variety. They have serious cash burn issues, are not profitable, have a rapidly eroding asset value, are unrecognizable beyond the stock ticker, and many times don't have an operating business or, if they do, that operating business has serious longevity issues.
Even so, net-nets do tend to provide solid returns for investors, and a portfolio of net-nets has been shown to outperform market returns.
With that said, we are particularly intrigued when a company with as good of growth prospects as SKUL falls into net-net territory. We do not believe SKUL has any of the aforementioned "normal" net-net company issues.
SKUL does not have cash burn issues. While LTM FCF is negative, that is attributable to a significant decrease in liabilities (a decrease in liabilities results in a decrease in cash flow). So despite negative free cash flow, asset value has actually increased because liabilities have decreased dramatically. NCAV is as high as it has ever been, including higher than when the business was netting almost a dollar in EPS in 2012.
More impressively, SKUL has shown an ability to grow asset value in multiple unprofitable situations. When accounting earnings (or EPS) were negative in 2013, NCAV still grew $7 million. When both free and net cash flow were negative last year, NCAV still grew almost $8 million. Operating, free, and net cash flow are all negative in the LTM window, but NCAV has still grown from 2014 levels by roughly $3 million.

Click to enlarge
Moreover, we have no reason to believe any of these unprofitable measures will continue. SKUL has significantly positive earnings, with EPS coming in at $0.27 last year and $0.25 this year. The company expects mid-teens EPS growth in 2016, so that puts 2016E EPS in the $0.29 range. Considering the short-term and long-term growth catalysts explained earlier, we see the company continuing to have earnings growth power. This is not an erratically profitable or unprofitable business like most net-nets.
Looking at the cash flows, current liabilities have decreased $21.7 million so far this year and there are only $34.9 million left on the balance sheet MRQ. We do not see significant decreases in liabilities weighing on cash flows into perpetuity, and believe they will only weigh in the short-term. We, therefore, believe the company can become free cash flow positive next fiscal year given revenue and earnings ramp.
SKUL is not the typical net-net. It is a growing business with a strong product portfolio that is particularly leveraged for growth in 2016. Earnings are positive and growing, free cash flow positive is a realizable scenario within the next 12 months, and asset value has consistently increased. Considering how well typical net-nets have performed relative to the market, we are particularly intrigued by the upside here with an atypical net-net stock.
Margin of Safety
It makes no sense to us that the stock is trading below $4, and we fully expect shares to head to that level with mitigated risk.
The stock is currently trading around 75% of MRQ NCAV and 55% MRQ book value. This provides a built-in margin of safety for investors. To us, the only major risk of the stock at this level is that NCAV and book value decrease significantly in value. As pointed out earlier, NCAV has only increased, and has even increased when earnings and cash flow were negative. Earnings are significantly positive and expected to grow, and cash flow should follow suit.
NCAVPS is currently $4.08. Considering earnings are positive and growing and asset value has only increased over the past 5 years, we do not see any reason why this stock trades below the $4 NCAV. Even giving inventories and accounts receivable a large haircut, net-net working capital is still $2 per share. A 1.5x multiple on NNWC is just too cheap for a stock with a $4 NCAV that is not looking to liquidate the business in fire-sale fashion.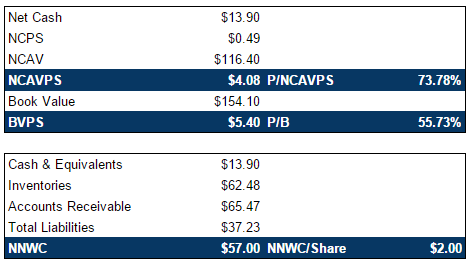 We believe buying at these levels guarantees an investor a built-in and significant margin of safety.
DCF Model
To appropriately value shares, we have employed a 10 year DCF model with unlevered free cash flows. We see sales growing in the low-to-high single digits into 2020, with FX headwinds easing driving higher single digit growth in 2017. We see sales slowing after 2020 to a 2% perpetuity growth rate. We model for steady LT operating margins around 5% and a 33% tax rate.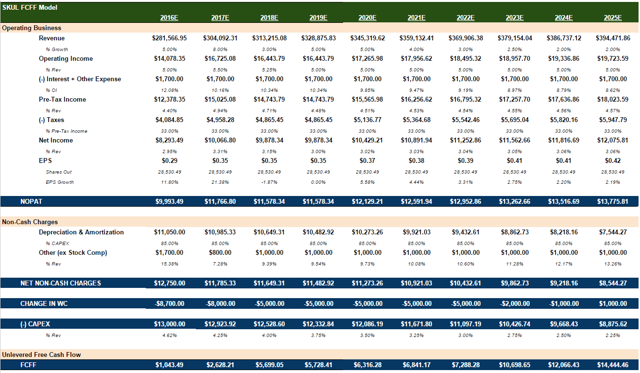 Click to enlarge
Due to the company having no debt, we use our 8% cost of equity as the WACC discount rate. We apply a 2.50% perpetuity rate to our FCFFs to arrive at an enterprise value of $168 million. Adding back in the company's MRQ net cash of $13.9 million, we arrive at an equity value of around $6.30 per share. That is more than double the current market value.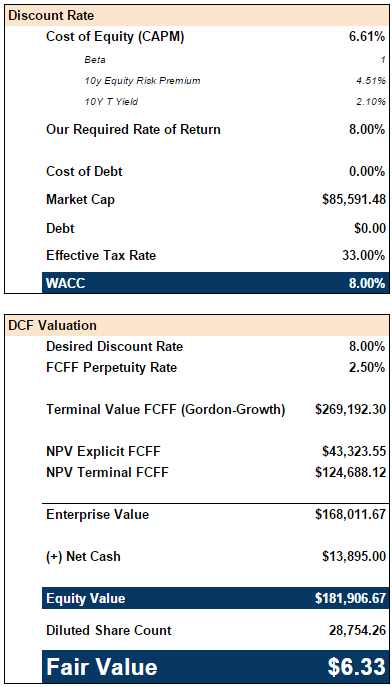 Final Remarks
SKUL is a company that is growing in multiple ways. Sales are growing, earnings are growing, products are growing, and asset value is growing. All things considered, there is no reason why this stock should be trading below its NCAV, which has done nothing but consistently grow over the past 5 years.
Nonetheless, the stock price continues to fall as asset value continues to increase and sales continue to grow. This discrepancy spells a strong buying opportunity. We believe there is more than doubling potential from these levels.
Disclosure: I am/we are long SKUL.
I wrote this article myself, and it expresses my own opinions. I am not receiving compensation for it (other than from Seeking Alpha). I have no business relationship with any company whose stock is mentioned in this article.
Editor's Note: This article covers one or more stocks trading at less than $1 per share and/or with less than a $100 million market cap. Please be aware of the risks associated with these stocks.