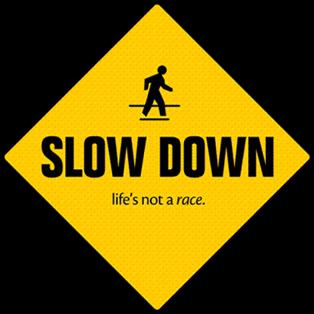 Let me cut to the chase here. The model Team Alpha Retirement Portfolio was created to generate a reliable stream of income and to grow each and every year. That is precisely what it is doing and thus far, nothing has changed (actually the income has gone up!).
Let me review just some of the issues the markets face that I believe will push the price of stocks down even further:
A rising interest rate environment created by the Fed.
Retail sales so weak that Wal-Mart (NYSE:WMT) is now going to close over 250 stores globally, 150 of them here in the USA.
The apparent slowdown in China. I say apparent because I can never be certain of the veracity of anything that is announced by the country. The numbers will be sure to show up in our mega-cap, global blue chips with large economic footprints within China, and this earnings season should show any negative impact if any.
The continued strong dollar will hamper the sales of our global mega-cap blue chip stocks that have significant positions outside of the USA.
Oil has not reached a bottom, as I thought it would months ago, and this could have far-reaching implications on our economy -- from weak earnings within the sector, to bankruptcy issues with the weakest links, to the labor force reductions and capex spending by the mega oil majors.
Iran will be pumping oil ASAP and that could erode prices even further and faster.
A cascade effect on the US economy simply by adding up all of the above, which could lead to a recession in 2016.
There has been nothing even remotely close to change the above issues, and I believe they are getting worse, not better.
A Look At Some Stocks That I STILL Won't Be Adding To:
As of now, the portfolio consists of the following stocks: Exxon Mobil (NYSE:XOM), Johnson & Johnson (NYSE:JNJ), AT&T (NYSE:T), Franklin Street Properties (NYSEMKT:FSP), Coca-Cola (NYSE:KO), Omega Healthcare (NYSE:OHI), Procter & Gamble (NYSE:PG), Realty Income (NYSE:O), General Motors (NYSE:GM), Ford (NYSE:F), Microsoft (NASDAQ:MSFT), Consolidated Edison (NYSE:ED), Altria (NYSE:MO), Main Street Capital (NYSE:MAIN), PetMed Express (NASDAQ:PETS), BGC Partners (NASDAQ:BGCP) , Ohio Valley Banc Corp. (NASDAQ:OVBC), HCP, Inc. (NYSE:HCP), Old Republic International Corp. (NYSE:ORI), Starwood Property Trust (NYSE:STWD), Mattel (NASDAQ:MAT) and Annaly Capital (NYSE:NLY).
There are also a plethora of TARP stocks that are well within my personal buy zone: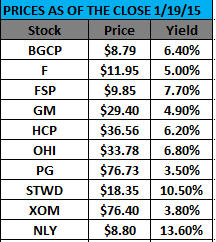 Why buy now when I believe they will go lower, and maybe a lot lower?
It Is All About Income, Right?
Yes, and as long as the income stream is sufficient to pay the bills and have a more secure retirement, there is no need to alter anything, unless the underlying assets MUST be sold for whatever personal reason you may have.
As long as these companies continue to pay and increase dividends, the income stream remains strong, but needs to be monitored, especially during this earnings season.
As I mentioned previously, I will not be buying any stocks nor selling any stocks, and anyone suggesting to keep buying hand over fist during the current climate is not doing you any favors.
Sure, if you had an unending supply of money that will never run out, you can take your shots - yet most of us, especially those of us near to, or already retired - do not have an endless cash reserve pile to keep buying as stocks continue to sink.
My Opinion
The exact opposite has been happening since the beginning of the year. Rallies are being sold into and dip buying is NOT pushing the market higher. While that could change today, the facts are the facts and if a retired investor keeps buying, they will eventually run out of cash and have stocks that are already underwater, and if their fundamentals change, could impact the income stream.
There is no need for me to rush into this particular "dip" to buy anything yet. I believe that I can wait it out and get even lower prices and higher yields as we move through a tenuous earnings season. That being said, I like the diversity of TARP and I believe the stocks to be quality, so there is simply no reason for me to eliminate them from the portfolio.
The income stream is intact.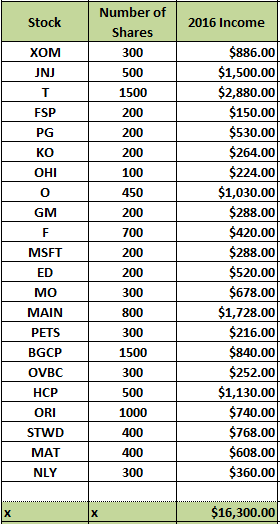 My Suggestion
Far be it from me to advise anyone what to do with their own portfolios, but if you ARE retired, or close to it, why not consider thinking before acting and taking the facts into account, not simply pursuing a lower share price and depleting your cash reserves more quickly?
I could be flat out wrong and the markets could soar, and maybe I will miss an opportunity. So what? If the income stream is intact, why not consider waiting it out until some of these enormous storm clouds clear up?
The stocks will still be there, and probably at lower prices.
What is YOUR take? The SA community would like to read your own opinion!
Why "Follow" Me?
The main reason for a subscriber to "Follow" me, especially for the model portfolios (TARP or otherwise), is to glean some knowledge to become a better investor and not simply place bets.
Money management is every bit as important as any other aspect of investing, and by following a portfolio and the actions taken, you can gain some insight into a somewhat higher level of investing acumen. There are no requirements, and this is not "rocket science" - it is simply a powerful way for you to put the money you have worked hard for to work even harder for you.
My message will be consistent, and my hope by doing this is to share my own experiences, illustrated in the model portfolios I build exclusively for Seeking Alpha.
Knowledge is power, and many folks shy away from the investing world because that very world makes it more confusing each and every day in an effort to sell you something: stock picks, technical strategies, books, videos, subscriptions with "secret ideas," gadgets, and even snake oil.
My promise to you is that my work here will remain free to all of my followers, with the hope of giving to you some of the things that took years for me to learn myself. That being said, let me reach out to you with my usual ending:
**One final note: The only favor I ask is that you click the "Follow" button so I can grow my Seeking Alpha friendships. That is my personal blessing in doing this, and how I can offer my experiences to as many regular folks as possible, who might not otherwise receive it.
Plus, it is free (and will continue to be) and does not cost one penny for anyone who reads me.
Disclaimer: The opinions and the strategies of the author are not intended to ever be a recommendation to buy or sell a security. The strategy the author uses has worked for him and it is for you to decide if it could benefit your financial future. Please remember to do your own research and know your risk tolerance.
Disclosure: I am/we are long BGCP, ED, F, FSP, GM, HCP, JNJ, KO, MAIN, MAT, MO, MSFT, NLY, O, OHI, ORI, OVBC, PETS, PG, STWD, T, XOM.
I wrote this article myself, and it expresses my own opinions. I am not receiving compensation for it (other than from Seeking Alpha). I have no business relationship with any company whose stock is mentioned in this article.
Editor's Note: This article covers one or more stocks trading at less than $1 per share and/or with less than a $100 million market cap. Please be aware of the risks associated with these stocks.