Hypothesis
Micron Technology, Inc. (NASDAQ:MU) has been subject in recent quarters to oversupply issues, soft PC demand and an ensuing price collapse. I believe the market has overreacted and beaten down MU to very inexpensive levels based on a fundamental analysis.
MU is poised to be the winner when the memory market inevitably recovers. Recovery catalysts will come in the form of cloud hardware, mobile computing and Internet of Things market growth. The stock is priced at a deep value at time of publication and represents significant upside potential when the semiconductor market recovers.
Investing in MU requires patience as the next several quarters pose significant challenges and flat to negative trending financials.
Qualitative Analysis
MU stock is down primarily due to huge DRAM oversupply generating fears of decreased profitability.
This fear is reflected in the overall share price which is at a new 52-week low.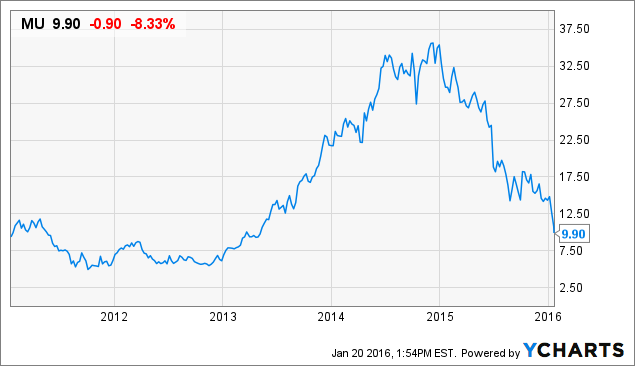 MU data by YCharts
Additionally, demand for PCs has been softer than expected, leading to a massively out of balance supply/demand curve and a resultant price crash of DRAM by ~40%. The PC market has historically represented 30% of demand for MU, but luckily most of the future growth is in cloud computing, Internet of Things, and mobile.
Gartner predicts the Internet of Things will support significant growth in hardware spending over the next several years, driving +20% YoY growth from 2015-2016 and accelerating growth thereafter. We are rapidly heading toward a future where every device purchased has a chip, and in this future the chipmaker is king.
(click to enlarge) - SOURCE

Cloud computing will continue its explosive growth with Amazon Web Services (AMZM), IBM (NYSE:IBM) and even Google (NASDAQ:GOOG) (NASDAQ:GOOGL) continuing to expand and purchase hardware. Micron will be a major beneficiary of cloud technology growth and they currently have some of the most valuable assets in the industry such as 3D XPoint (a hybrid that offers the speed of DRAM and the capacity of flash making it more economic than either). Micron is looking like the potential winner in the future where memory and logic chips are fused together.
Micron has the best technology among peers, and the competitive landscape is shrinking. The DRAM market is essentially an oligopoly with three major players (Samsung (OTC:SSNLF), SK Hynix and Micron) controlling 90% of the market. Samsung has been aggressively taking market share from Micron, but as the technical complexity increases and shifts to more cloud -based applications Micron has a distinct advantage over more commoditized lower-tech chips.
Another important asset for Micron is the company's "moat" against its competition. Typically this "moat" comes from things like IP, market share advantage, brand strength and other factors that a competitor cannot easily replicate. In this regard, Micron is a rock star as the only U.S. based DRAM manufacturer (with facilities in the U.S) and 35 years of experience making chips. Additionally, MU has a strong IP portfolio with over 16,000 US patents, thousands of international patents and huge investments in R&D and new facilities.
FY2016 will be a tough year based on the general consensus opinion, but the longer term view looks better. There has been a significant market over-reaction driving down chipmaker stocks, and MU looks like a good candidate to lead the recovery when the market turns back around.
Quantitative Analysis
(click to enlarge) - SOURCE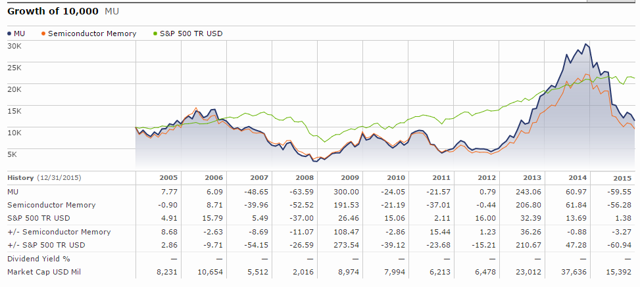 This graph plainly shows a company that rapidly grew from 2012-2014 and then lost more than half of its market cap. We can see that the collapse also occurred in the semiconductor sector as a whole, and MU trended with the sector (only trailing 3.27% behind the sector in 2015). This graph supports the earlier discussion related to sector specific headwinds.
Let's get into MU specific finances to see how the company has weathered the storm.
For operating margin percent, I like to see a positive to flat trend as this gives me a good indication as to how efficiently the company is operating and the health of their pricing strategy. MU has been able to weather the storm thus far reasonably well and has only lost about 5% of op margin during the sector collapse.
I also like to look at the trend in return on equity and return on invested capital to give me an idea of how effectively the company management is deploying their capital to generate returns.

Overall I'm happy with these metrics given sector pressure, but they do indicate a downward trend which will be very concerning if the next several quarters do not turn in the other direction. Another table which represents these metrics can be found here. I've copied the referenced table below and as you can see MU is looking decent from a profitability perspective and generally ranks in the top one-third percentile compared to its peers.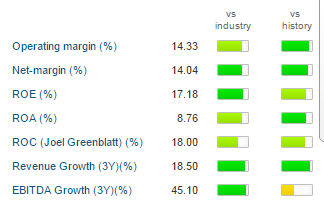 From a financial strength perspective, MU has several areas that are cause for concern to a prospective investor.
The debt/equity ratio is steadily increasing as the sector downturn takes a bite out of operating profits and debt load begins to increase. Additionally, as the debt picture begins to turn negative the interest coverage starts to look much worse. (Interest coverage is the ratio that determines how easily MU can pay interest expense on its debt.) Some of this debt was likely used for recent facilities expansion in hopes of future demand growth. Unfortunately, the demand growth did not occur.

Currently MU's operating income for Q3 was $232m and the interest expense was $96m leading to an interest coverage ratio of 2.42.
Another troubling set of graphs below paint the picture of decreasing revenues (and therefore income), reduced cash and increased debt, and decreasing operating and free cash flows. None of these graphs are moving in a positive direction.
(click to enlarge) - SOURCE

From a fair value perspective I really like the tool presented at gurufocus - here. Digging into the analysis we see that MU has a reasonable margin of safety built in at these price levels arriving at an estimated fair value of $22.60 per share. Take this number as a rough estimate of stock value as the predictability is low. This estimate should be incorporated in with the overall analysis.
(click to enlarge) - SOURCE

The share price has trended with the diluted EPS in a downward direction.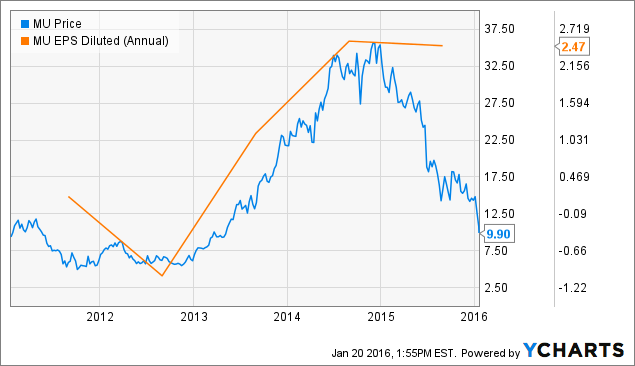 MU data by YCharts
The PE ratio of MU is incredibly low as is the PE ratio of the sector. Overall, MU performs on par with industry peers.

From a value perspective, MU is a highly desirable stock with significant margin of safety. This can be seen in this chart which indicates the following positive metrics: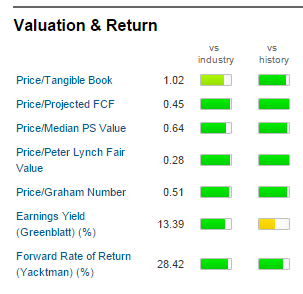 The current stock price is on par with book value.
The graham Number (which represents the upper bound a defensive investor should pay) sits at $21.73.
The projected free cash flow price of $24.60 represents a significant margin of safety built in at current pricing levels.
Conclusions
Based on my analysis, MU represents a good buying opportunity at current levels with a 30-40% upside potential in the long term. The next several quarters may be bumpy, but I believe most of the negative outlook is priced into the stock. Larger market bear trends could drive the stock lower in the near term.
There are longer term growth catalysts for the sector, and MU trends closely with overall sector performance. I'm comfortable recommending a position in MU at these levels with a time horizon in the 18-36 month range and a $18-22 target price. I believe that the next few quarters have some downside potential, but the longer term upside potential outweighs the risks.
Counterargument/Risks
The counterargument for this analysis is presented below.
The chipmaking sector could be in for a much longer and more protracted sector downturn which will result in a continuation of the negative trends. I believe this scenario has a low likelihood, as the future of chipmaking is not in the declining PC market.
If a protracted downturn occurs, MU is situated quite well to survive for at least another year or two. If the sector downtrend continues beyond this timeline, then I have concerns over the cash/debt situation and MU's ability to service its debt load with significantly reduced op profit.
Additionally, the Chinese have expressed some interest in getting into DRAM manufacturing which could further exacerbate the oversupply/price issues MU currently faces. This threat seems somewhat distant and MU has a technology advantage over any new entrants to the market. A more likely scenario is that MU is acquired by a hungry Chinese corporation. I do not believe that this scenario represents a material risk at these share prices.
Disclosure: I/we have no positions in any stocks mentioned, and no plans to initiate any positions within the next 72 hours.
I wrote this article myself, and it expresses my own opinions. I am not receiving compensation for it (other than from Seeking Alpha). I have no business relationship with any company whose stock is mentioned in this article.