In 2016, Nokia Corporation (NYSE:NOK) and Alcatel-Lucent (NYSE:ALU) will operate as one company following the acquisition of the French network specialist by the Finnish company, announced in April 2015 and completed last week. A merger of giants, this deal has created the largest European network equipment company, valued at about $37 billion. The transaction has brought together two of the six main radio and core networking players under the same roof, at the scale needed to compete with the likes of Huawei and Ericsson (NASDAQ:ERIC).
But the most important questions remain unanswered: can the acquisition create enough value to the shareholders of the "new Nokia," and is now a good time to own equity in the company?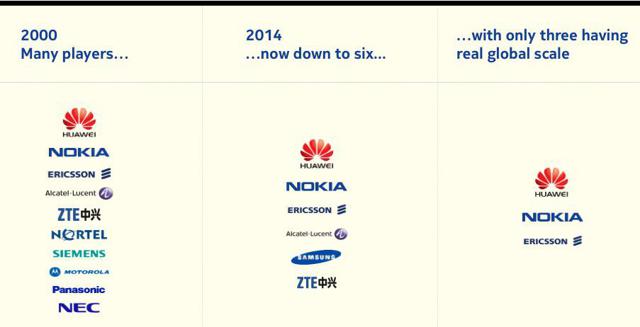 Click to enlarge
Source: Nokia's 2014 Capital Markets Day presentation
As a potential investor in NOK, I'm less than excited about the prospects of the networking industry in the next three years. Look no further than to one of Nokia's key competitors: Ericsson. In November 2015, at its Capital Markets Day, the Swedish company revised its total addressable market growth forecast through 2018 to a meager 2% to 4% - barely in line with the average global GDP growth rate. Even worse, Ericsson expects the network equipment market to trail that growth rate, at 1% to 3%. Expectations about carrier spend are not much more promising, as innovations in network architecture (from network function virtualization to software-defined networks) and pricing pressures from a very competitive carrier sector mean that capital investments in the network infrastructure could remain curbed in the next few years. AT&T (NYSE:T), for example, will see capital spending drop from $20.9M in 2013 to an estimated $17.8M in 2015, using the company's 3Q15 YTD run rate.
However, the macro landscape alone does not tell the full story. I believe that the true potential value of Nokia's acquisition to investors lies in the synergies. The Finnish company announced, in 2Q15, that it intended to eliminate $900 million in redundant annual opex by 2019 following the acquisition, and another $200 million in interest expenses by 2017. Since the original announcement, Nokia revised the timeline of the opex cuts to 2018.
The magnitude of these numbers has caught my attention. Both Nokia and Alcatel-Lucent have traditionally had high levels of operational leverage. That is, much of their gross profits (a modest yet respectable 42.7% and 34.8% per NOK's and ALU's most recent earnings report, respectively) get eaten up by operating costs - many of them fixed and not directly tied to sales activity, like research and development, as well as administrative. For this reason, opex reduction becomes a very meaningful discussion. Even a small improvement in the cost structure can have a sizable impact to the bottom line. In fact, cost savings might play an even more important role in the success of the new Nokia than the unimpressive industry prospects of the next few years.
Let's look at what these synergy savings could mean in terms of value creation to shareholders. The table below shows the combined company's results for 2013 and 2014, as reported by Nokia on their April 2015 press release and on an IFRS basis.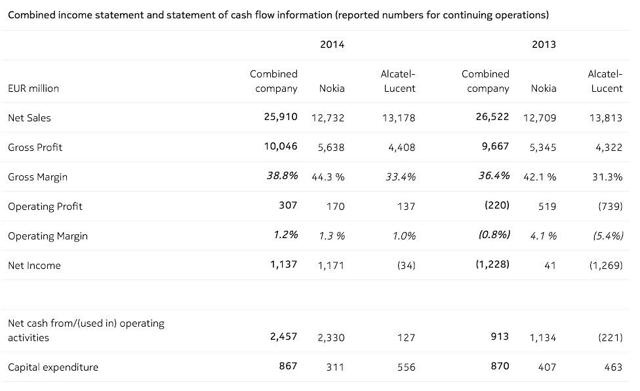 Click to enlarge
Source: Nokia's press release
Assuming a nominal increase in revenues of 3% through 2018, at the mid-point of Ericsson's TAM growth rate, I estimate that sales of the new Nokia could reach approximately $32B. Using a blended gross margin of 39%, which reflects the weighted average profitability of NOK and ALU as of 2014, I arrive at combined gross profits of over $12B in 2018. If I assume that NOK is able to properly execute on opex and interest expense reductions of $900M and $200M within the next 2-3 years, respectively, my projection for NOK's 2018 net profit is $3.4B, or $0.62 per share. I'm aggressively assuming that opex would not increase along with top line growth, so this 2018 EPS number could be lower. Valuing 2016 EPS at 11.3x forward earnings, which is the average multiple of the peer group (composed of ERIC, CSCO and JNPR), NOK's fair value would be just short of $5 - 30% below today's market price of over $7/share.
I accept the argument that the stock price today might already reflect the expected improvement in profitability brought about by the synergies projected through 2018. But even in this case, and assuming that NOK's management in fact delivers the cost savings that it has promised, the stock would at best be fairly valued at current levels, considering that 11.3x NOK's 2018 EPS would point to a fair market value of only $7.04.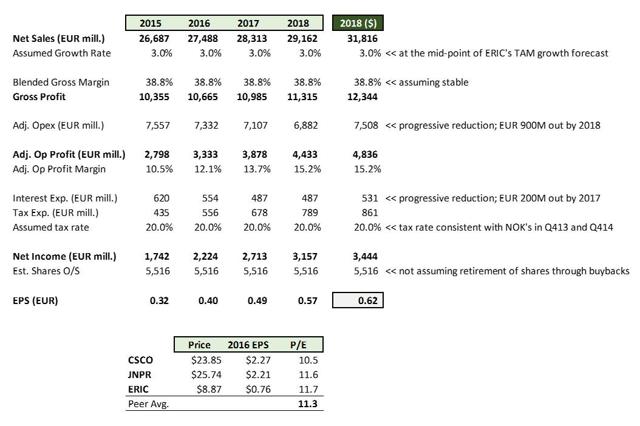 Click to enlarge
Source: DM Martins Research, using data from NOK and ALU reports
Notice that, in this scenario that I have presented, I'm staying in line with management's expectations for synergy cost savings and with de-risked expectations for top line growth. It is worth mentioning that Street analysts have contemplated the possibility of Nokia achieving nearly double the results from the cost-cutting initiatives. In more bullish scenarios like these, the savings could lead to better results in 2 or 3 years.
The next logical question then becomes: can Nokia execute on its synergy plans? For starters, the company's decision to revise the timeline is a good sign. Management has committed not only to lock in $900 million in annualized savings, but has also pulled the finish line closer by one year. And second, Nokia (and, for that matter, Alcatel-Lucent, with its Shift Plan) has had a recent history of successfully executing on high-profile initiatives. In the past 2 to 3 years, the company has successfully divested of its mobile device division, which at one point represented 51% of its total revenues just prior to disposition, and disposed of the HERE business at an attractive $3 billion price tag, effectively becoming a networking company in 2015. On the cost-cutting side, Nokia has reduced its opex levels from 34% of sales in 3Q13 to 27% in 3Q15, an impressive 700 bps improvement in only 2 years.
But even considering management's track record and the high likelihood, in my opinion, that they will deliver on their promise, I remain bearish about NOK. At the current valuation levels, I see the stock largely moving sideways in the next 2-3 years, and I believe there are currently other, better alternatives in the network equipment sector that deserve more attention from investors.
Disclosure: I/we have no positions in any stocks mentioned, and no plans to initiate any positions within the next 72 hours.
I wrote this article myself, and it expresses my own opinions. I am not receiving compensation for it (other than from Seeking Alpha). I have no business relationship with any company whose stock is mentioned in this article.