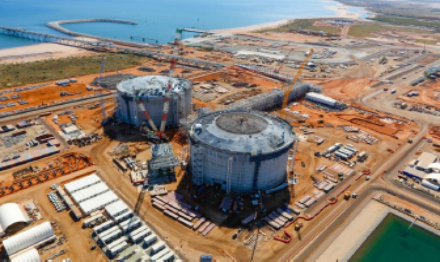 Source: Chevron Corporation Presentation
2015 was a terrible year for the oil & gas industry, with even Oil Majors the likes of Chevron Corporation (NYSE:CVX) capable of doing little to mitigate the damage low realized oil & natural gas prices wreaked across the sector. On January 29, the market will get the full picture of just how bad 2015 was when Chevron Corporation reports its Q4 results.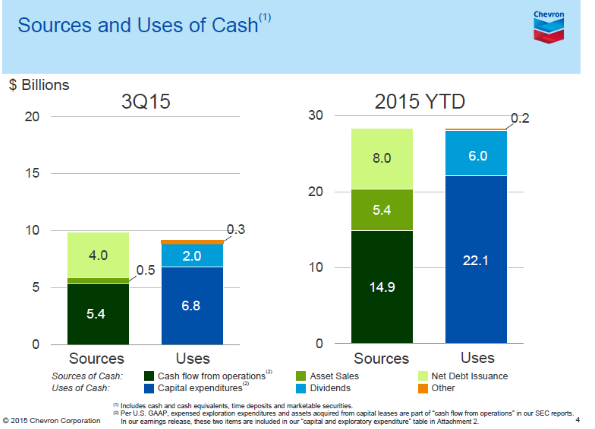 Source: Chevron Corporation Presentation
On the cash flow and outspend side of things, it will probably be an ugly quarter. Various analysts have come out with bearish notes on the oil & gas sector going into this earnings season, and I'm inclined to agree with them. WTI/Brent and Henry Hub both moved significantly lower during Q4 versus Q3, further chipping away at the upstream industry's cash flow.
In order to follow through on the projected cuts to its capex budget through 2017, Oil Majors primary response to lackluster energy prices, Chevron needs to follow through on the operation execution front.
Rotten egg no more?
Hydrogen sulfide is a chemical compound that smells like rotten eggs and can easily become a nuisance when developing sour gas fields. Sour gas fields are natural gas fields that have a relatively high level of hydrogen sulfide that needs to be processed out. Chevron is working with PetroChina (NYSE:PTR) to develop a sour gas complex in China through the Chuandongbei project.
The Chuandongbei project involves Chevron and PetroChina constructing two sour gas processing plants that will be tied into five natural gas fields in the nearby area through an extensive gas gathering system. This adds an additional level of complexity to upstream operations that can quickly drive up the cost, like it has with the Chuandongbei development.
After signing an agreement back in 2008, Chevron took a 49% stake in the 487,000 acre development located in the Sichuan Basin that in theory should eventually produce material amounts of natural gas. PetroChina took the remaining 51% interest. Initially, the reasonable (the 2010 start-up date was never remotely realistic) operational timetable was set for 2013. 2013 came and went, but internal disagreements (between Chevron and PetroChina) over how to develop the complex project delayed development.
It wasn't until December 30, 2015, that the first phase of the Chuandongbei venture was operational. The first phase is called the Luojiazhai project and will produce 3 billion cubic meters of natural gas a year. That is equivalent to 290 MMcf/d of natural gas production.
On the plus side, the development is finally starting to produce some cash flow for both Chevron and PetroChina. The downside is that it took far longer and cost far more than expected, and there still are two phases left to go. An optimist would say that because the JV has jumped through the first major hurdle the other two shouldn't be nearly as hard. However, the pessimist would point out that previous operational failings points towards more roadblocks and delays ahead.
Investors should look out for any comments concerning Chevron's recent "success" during its conference call, and how management intends to move forward considering the current global climate. There is a good chance Chevron and PetroChina will continue with Phase Two as the Chinese government is very keen to boost domestic natural gas output.
Ad Nauseam
It has been mentioned a billion times before, but it needs to be brought up again. The infamous ~$54 billion USD Gorgon LNG development down in Australia that Chevron is the operator of with its 47.3% stake. As of now, the first LNG cargo is still expected for sometime in early 2016. This comes after a series of delays, but based on everything that has been completed up until now (recently Chevron noted it was cooling down LNG loading and storage facilities in preparation), there is a chance that management's latest schedule may finally be realized.
The Wheatstone LNG development is also nearing its first cargo date as Chevron reiterated last quarter its year-end 2016 guidance. Keep in mind Chevron's CEO also said (emphasis added);
"We're still targeting the first LNG cargo (from the Wheatstone LNG facility that is also located in Australia) by year-end 2016, however we continue to work to mitigate Wheatstone schedule pressures from previous delays in module delivery."
Based on Chevron's past operational performance, it would be logical to assume that the Wheatstone project may take until 2017 to ship its first LNG cargo.
Down in Angola, Chevron is also working furiously to bring the Angola LNG facility back online. A new pipeline, the Congo River Crossing Pipeline, is supposed to insure steady supplies of natural gas to the facility. Previously, before getting shut down due to a flare line rupture, one of the problems the development constantly was dealing with was sporadic supplies of natural gas.
The Congo River Crossing Pipeline will deliver 250 MMcf/d from Angola's offshore Blocks 0 & 14, and should have been completed by the end of 2015 but we will see. In regards to the Angola LNG facility, that was also guided to be up and running again by the end of 2015 but that depends on several moving parts (including the pipeline venture).
When Chevron Corporation reports its Q4 2015 results, pay attention to any concrete comments (or lack thereof) regarding its LNG trifecta. If Chevron reports more of the same, that is not only detrimental on an operational level but devastating from a financial perspective. Chevron plans to reduce its outspend by trimming its capex levels, but that can only happen in a material way if major development spending rolls off. The longer it takes to bring these projects online, the longer it will take to reach cash flow neutrality.
Final thoughts
There are plenty of things to look out for, but the operational side of things will indicate the level of financial flexibility Chevron Corporation is able to generate. It isn't going to be a pretty quarter, Chevron's balance sheet will take another hit. In order for things to change, Chevron Corporation needs to finish what it started years ago.
On a positive note, Chevron recently announced that it had signed two new LNG agreements with Chinese companies that will help boost the amount of Gorgon LNG production capacity that won't be completely at the mercy of the spot market (higher Brent prices will still be needed to materially boost realized LNG prices versus current levels).
Disclosure: I/we have no positions in any stocks mentioned, and no plans to initiate any positions within the next 72 hours.
I wrote this article myself, and it expresses my own opinions. I am not receiving compensation for it (other than from Seeking Alpha). I have no business relationship with any company whose stock is mentioned in this article.