"Ordem e Progresso"
Order and Progress. Brazil's motto, as presented in the national flag, seems painfully distinct from today's harsh reality. With the ruling government exposed to corruption scandals and struggling to maintain power, there's not much to say for "Order". Next to that, Brazil faces another year of recession and stock prices are at fresh 10-year lows. One may wonder what happened with "Progress".
At the start of the new millennium, the country with 205 million citizens was one of the fastest growing large economies in the world, driven by increasing household income for a growing middle-class. Furthermore, the fact that the country is rich of commodities, ranging from oil to iron ore to soya, helped luring investors towards the proud BRIC member. With current low stock prices, these characteristics make it very tempting to (re)consider a position in the largest Latin American country. But is a bet on a recovery justified or should this be viewed as trying to catch a falling knife?
Finding the right exposure
When considering to add exposure towards Brazil, one may choose for the Brazil-dedicated iShares MSCI Brazil Capped ETF (NYSEARCA:EWZ) with net assets totaling $1.7 billion (as of January 15). There are other ETFs focused on Brazil available, but these have small sizes and are in my view not recommendable. In the past, being a BRIC member, it did make sense for investors to option for a broader emerging market ETF and gain a considerable Brazil exposure. However, as described in my 2016 Outlook on Emerging Markets, Brazil is only a small constituent of the leading iShares MSCI Emerging Markets ETF (NYSEARCA:EEM). As of January 14, Brazil's share was only 5.4%. However, that's still $1.02 billion assets on a total AUM (assets under management) of $18.9 billion for EEM. I mention this to make clear that next to EWZ, there is still a significant amount of ETF assets allocated towards Brazil.
Back to the Brazil-dedicated ETF. Since the Brazilian stock exchange is often considered as a market with a huge exposure towards commodities, it's necessary to look at the sector breakdown of EWZ to find out whether this reasoning is indeed applicable. When we look at the pie chart below, this claim doesn't hold any longer. Only a small 10% is invested in energy (i.e. oil) and a similar percentage is allocated to materials. However, from this latter 10%, a large chunk is invested in "other" kinds of materials, such as pulp and paper (4.2%). The exposure to typical commodity plays, such as oil companies and the sector metals & mining, is less than 15%.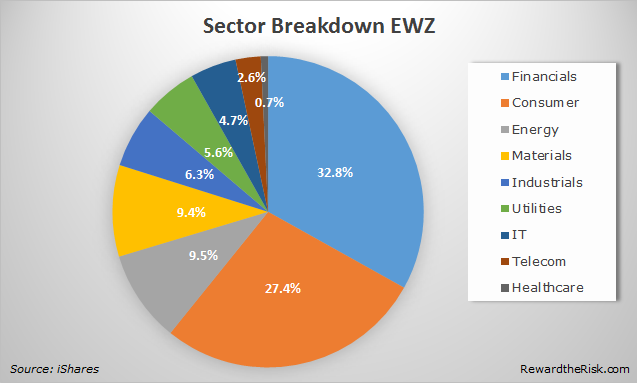 The sector breakdown shows that EWZ is a true domestic play, contrary to Russia ETFs that often are considered as a direct peer or alternative to Brazil. Roughly 60% of net assets is invested in the sectors Financials and Consumer. The largest holding is brewer Ambev (NYSE:ABEV) with a share of 11.2%, followed by Itaú Unibanco (NYSE:ITUB) (10.5%). Banco Bradesco (NYSE:BBD) completes the top 3 holdings (6.2%). Please note that EWZ includes the local shares (in the case of ITAB local prefs) and not the US listings. Extensively covered Petrobras (NYSE:PBR) has a combined share of 5.9%, with EWZ invested in local common (2.8%) and preferred (3.1%) shares. The widely followed Brazilian company Vale (NYSE:VALE) is only 3.4% of EWZ. So investors should make a sharp distinction about Brazil's commodity plays and EWZ, as the latter is a genuine play on the Brazilian domestic economy.
Now that we have a clear idea to what sectors and companies we're exposed to when investing in EWZ, we are able to identify important developments that drive its share price. I'll leave extensive macroeconomic observations to others and will only reflect on those directly related to the key holdings of EWZ.
Rainy days for consumers
As extensively covered in the media, Brazil's economy is in a dire state. The recession is longer and deeper than initially expected, causing real Gross Domestic Product to fall approximately 4%. Prospects for 2016 are not much brighter, and a number of economists downgraded their growth forecast, signaling a GDP decline of as much as 3%. Almost all added the message "risks are skewed to the downside," which leaves little reason for optimism.
A more important factor specifically for EWZ's investors is a continuing deterioration of Brazil's services sector. The sector is the country's largest employer and with its output declining 3.4% in annual terms (-6.3% on a monthly basis) during November 2015, the trend is accelerating to lower levels. With unemployment standing at 9.0% as of October 2015, consumer spending is under severe pressure. Although retail sales in November increased more than expected with 1.5% MoM (vs. -0.8% expected), this figure is misleading. As indicated in my article on MercadoLibre (NASDAQ:MELI), Brazilian retailers are increasingly offering special deals in Black Friday campaigns which obviously cause a peak in sales. This is illustrated by an increase of 6.9% MoM in furniture and domestic appliances. Brazil's Statistical Agency IBGE doesn't include this seasonal phenomenon (yet). On a yearly basis, retail sales declined with 7.8% which follows a weak -5.7% YoY in October. Prospects for 2016 are not much better, and household consumption is expected to decline further.
The problem with Brazilian consumers is that they have relatively large debts. This is an issue for the banking sector. Demand for new loans is dropping, and where the annual inflation rate stood at 10.5% in November, nominal loans grew only 7.4% YoY in the same month. In addition, due to weak corporate conditions, the percentage of non-performing loans is rising fast. The number for NPLs came in at 4.5% in November, significantly higher from 3.5% last year.
Looking for a discount in valuations
It is clear that at this point, investors are fighting against weak macroeconomic fundamentals. But, as we have seen all too often, that doesn't necessarily imply a weak investment case. After all, valuations could have dropped to a level where further declines are no longer feasible. In other words, the suffering could be priced in with markets expecting Armageddon. Have we reached that point in Brazil? Well, current valuations for the Brazilian market do not suggest that we are there yet. As the table below shows, despite the bleak picture, EWZ is not trading at significant discounts to its EM peers. One may note that consumer shares normally have higher financial ratios. But this is offset by lower ratios for the financial sector. I would look significant discounts before Brazil becomes really attractive, also since its Asian "peers" have much better growth prospects.

Click to enlarge
An additional note on valuations: as mentioned earlier, Ambev is the largest holding of EMZ with 11.2% allocated. Due to the consolidation and M&A activity within the sector, breweries are currently trading at elevated ratios. Despite a recent share price decline of 20% during the last three months, ABEV is trading at a 2016 price/earnings ratio of 15 and a EV/EBITDA of 9.7. Also, banks Itaú Unibanco and Bradesco (combined 16.7% of EWZ) are trading well above book value. This doesn't indicate hefty discounts in the light of current poor dynamics. To compare, the Russian Sberbank (OTCPK:SBRCY) trades at a price/book value ratio of 0.8 (though NPL ratios are much higher in Russia). At the bottom line, although valuations came down a lot in the recent months, the Brazilian market is not (yet) trading at distressed levels.
Triggers for turnaround
The outlook for Brazil is pretty grim, and it's difficult to picture a change for the better. Although asset prices are at multi-year lows and valuations are becoming modest, a gradual improvement of Brazil's situation is unlikely to drive a turnaround. That would need a much more radical adjustment, driven by a key event and bold reforms. But can we expect this to happen?
The Summer Olympics in Rio de Janeiro during August (and Paralympics in September) could give the sentiment a short-term boost. Brazilians are proud people, and a success of the Games may pull the consumer sector. Nevertheless, the poor performance of the Brazilian soccer team during the recent World Cup, also hosted by Brazil, urges us to be cautious on these types of assumptions. Even so, more fundamental changes are required to create a U-turn, especially when it comes to fiscal and economic policy, or for politics as a whole. Obviously, the current government is obsessed with maintaining power instead of bringing the country forward. It is debatable whether the opposition is able to lead the country to the sunny beach. Brazil needs to take drastic steps either way.
The replacement of Finance Minister Joaquim Levy by Nelson Barbosa in December doesn't fit into the category of drastic action. To be fair, Barbosa committed himself to implement structural reforms in the tax system and social security. Regarding the latter, he seeks to set a minimum retirement age. The current average retirement age is 55, and with current life expectancy, this is too low. The low retirement age is a burden for public finances. The issue here is that Barbosa was a huge supporter of President Dilma Rousseff's policies during her first term. These policies led to a certain extent to the current dismal economic conditions and high inflation. Next to that, Rousseff is keen to use her last say, and this may prevent Barbosa to take deep spending cuts or implement significant reforms.
Another political issue is the municipal elections scheduled later this year. To maintain power over local governments, much-needed reforms and spending cuts are likely to be softened or delayed. The current threat of impeachment over the corruption scandal urges Rousseff to keep her supporters in the Workers' Party (Partido dos Trabalhadores, PT) close. The President will balance between political support and financial markets, but with a clear preference for maintaining power. Next presidential elections are scheduled for 2018, so without impeachment, Rousseff is likely to stay in power for the next few years.
A look at the chart
Brazil's bleak picture is reflected in the chart of EWZ. Friday's (January 15) close at $18.34 is more than 75% lower from the 2010 high, and even 84% below the all-time high set in 2008. The moving averages in the chart below shows the strength of the downtrend. After the occurrence of a "death cross" in October 2014, the slope of the 200-day EMA was continuously down. Note also that the share price is often significantly below the 50-day EMA. There's a channel visible (dotted brown) with the current price close to the lower line. That means a bounce in the near term is a possibility, also since the distance between the 50-day EMA and the current price is relatively large. We should be aware of a short-term recovery. Since the long-term trend is clearly downwards, we should be cautious and not read too much into intermediary recoveries. Click here for an extensive long-term chart study on EWZ.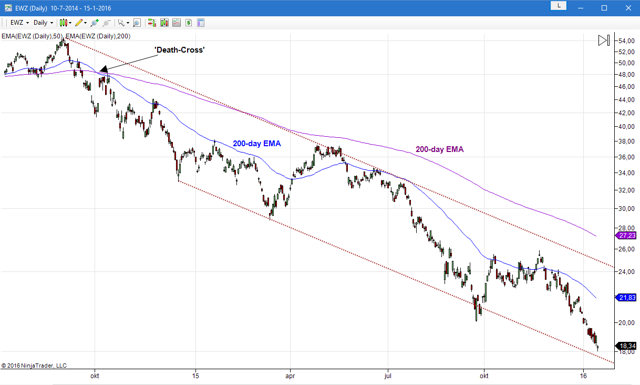 Click to enlarge
Concluding
Although valuations are temptingly low, Brazil doesn't offer an appealing investment case just yet. The downtrend could persist longer since the economic and political situation doesn't seem to turn on the short term. When valuations have reached an absolute low, a turnaround is not a necessary consequence. That requires a drastic improvement of the domestic economy, in particular within the consumer sector due to the huge exposure EWZ holds towards the sector. Stay away from the Brazilian market for now and don't be fooled by sudden recoveries which could well be short-lived. In case, you hold EWZ (or similar Brazil-exposure) in your portfolio, selling may be far too late, but consider taking the pain if you see better opportunities for your money. Don't get stuck in a zombie position.
Disclosure: I/we have no positions in any stocks mentioned, and no plans to initiate any positions within the next 72 hours.
I wrote this article myself, and it expresses my own opinions. I am not receiving compensation for it (other than from Seeking Alpha). I have no business relationship with any company whose stock is mentioned in this article.