Royal Dutch Shell (NYSE:RDS.A) (NYSE:RDS.B) has got off to a forgetful start to the year by losing as much as a fifth of its market capitalization in less than three weeks. This steep decline in Shell's stock price is a function of the fall in crude oil prices, which has cut Shell's earnings in half for the recently-concluded fiscal year.
In fact, after adjustments, Shell believes that its fiscal year 2015 profit will come in the range of $10.4 billion-$10.7 billion, indicating a decline of more than 50% from the year-ago profit of $22.6 billion. Now, in 2016, the prospects of the oil industry don't look all that bright as the commodity has got off to a woeful start. Crude oil now trades at less than $27 a barrel, driven by the lifting of sanctions on Iran, as a result of which the oil market will be flooded by more supply.
In such a scenario, the possibility of Shell setting new 52-week lows going forward cannot be ruled out. But, the more important question is, will Shell be able to protect its robust balance sheet in light of the weakness in the end market? Let's check.
Sustaining a strong balance sheet
In a weak oil pricing environment, maintaining a strong balance sheet is very important as this will enable oil companies to withstand the weakness in the end market. In my opinion, companies such as Shell, which have deep pockets and really robust balance sheets, have a stronger chance of emerging on a better footing from the weakness in the oil patch. However, a period of protracted weakness in the oil market, which is about to complete two years very soon, has the potential of eating away at the balance sheet.
As a result, it is not surprising to see that some weakness has crept into Shell's balance sheet, with its debt-equity ratio rising operating cash flow declining, as shown in the chart given below: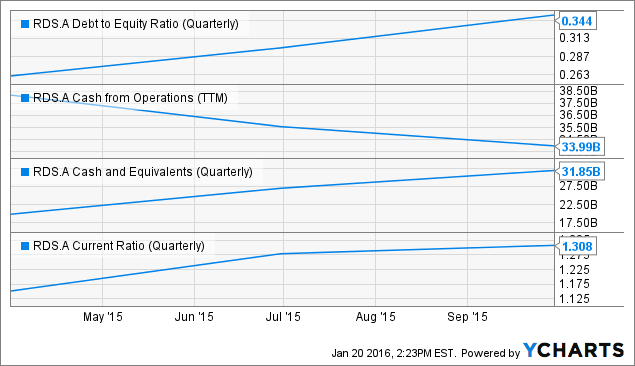 RDS.A Debt to Equity Ratio (Quarterly) data by YCharts
But, at the same time, Shell has been able to improve its overall cash position in the past year, while also improving its current ratio. This indicates that despite the weakness in its operations that have led to weakness in the company's cash flow profile, it has managed to improve the liquidity by undertaking positive balance sheet management.
Thus, it is clear that Shell has managed to keep its balance sheet in good shape in the past year even though Brent oil declined from more than $50 a barrel to around $35 a barrel from January to December last year. But, what is it that has allowed Shell to keep up a strong liquidity position, which stands at a total of almost $66 billion as against a relatively lower debt of $55 billion? But, more importantly, will Shell be able to keep up the strength of its balance sheet in case of a sustained period of weakness in the oil patch? Let's find out.
Why Shell can sustain the balance sheet strength
As already mentioned at the beginning of the article, oil has got off to a weak start and currently trades at multi-year lows. Looking ahead, the possibility that the weakness in pricing will continue in the near-term cannot be ruled out due to the ongoing supply glut. In such a scenario, it might become difficult for Shell to keep its balance sheet in good shape as its revenue and cash flow will take a hit due to low pricing.
But, Shell's focus on maintaining an investment grade credit rating is the reason why its balance sheet should be able to ward off the challenges of weak pricing. For instance, Shell has raised approximately $20 billion through sales of non-core assets during fiscal years 2014 and 2015, as a result of which its liquidity position has improved.
Looking ahead, Shell plans to keep its spending in check and will be making more divestments, which will have a positive impact on its liquidity position. For instance, Shell plans to lower operating expenses to the tune of 10% this year, while also lowering capital expenses by 30% to $33 billion, taking into account the completion of its merger with BG. So far, the strategy of reducing costs has worked well and allowed Shell to improve its liquidity, as in 2015, it had reduced investments by 25% in the first nine months.
Thus, the strategy of lowering capital expenses will allow the company to maintain a decent balance sheet despite the end-market weakness. More importantly, Shell has identified approximately $30 billion in non-core asset sales to be sold from 2016 to 2018. In turn, Shell will focus on operating those assets that will deliver better returns in a weaker price environment, or those assets that will enable it to tap the growth in markets such as LNG.
This is where Shell's pending acquisition of BG for $49 billion, which is expected to be closed in the coming weeks, will come into play. BG has LNG assets in Australia, the acquisition of which will allow Shell to tap the supply deficit of LNG in the Asian market, as shown below: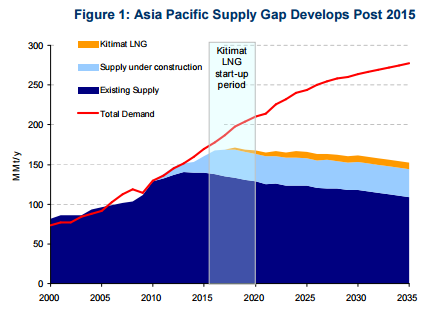 Source: Exxon Mobil
Thus, as seen in the chart above, the demand for LNG in the Asia-Pacific is anticipated to outpace both supply and also the supply under construction, which is why Shell's acquisition of BG is a smart move. BG operates the Queensland Curtis LNG project in Australia, which serves key LNG markets such as Japan, China, India, etc.
Conclusion
From the points discussed above, it is evident that Shell is taking the right actions to overcome the weakness that it is facing in the oil market. The company has managed to keep its balance sheet in good shape so far, and with further spending cuts and divestments lined up, it should be able to sustain its liquidity in difficult times. Moreover, Shell's decision of investing in assets that can generate better returns is also a good move.
So, in my opinion, Shell should be able to maintain its robust balance sheet going forward, which is why investors can consider giving the stock a thought at its 52-week low.
Disclosure: I/we have no positions in any stocks mentioned, and no plans to initiate any positions within the next 72 hours.
I wrote this article myself, and it expresses my own opinions. I am not receiving compensation for it (other than from Seeking Alpha). I have no business relationship with any company whose stock is mentioned in this article.