As crude dips below $27/bbl and heads towards $25/bbl, ConocoPhillips (NYSE: COP) is now officially in uncharted territory. Last week I talked about how the company is no longer what it used to be and hence will not have the cushion provided by Phillip 66 that softened the impact of oil routs. I'm sure many of you have seen the headline that oil is at its lowest point since 2003. I thought it might be interesting to compare ConocoPhillips now and then.
If we take a look at the average sales prices achieved back in 2003, they aren't too different from what we would expect ConocoPhillips to achieve in the near future, in fact, natural gas prices were actually higher. In 2003, the average sales prices were $27.47/bbl for crude and $4.07/mcf for natural gas, this compares to today's prices of $27/bbl and $2.1/mcf. However, due to inflation and corresponding wage increases, as well as the employment of more expensive methods of production (e.g. fracking), costs have skyrocketed. Production costs have more than tripled from $4.98/boe in 2003 to $15.52/boe in 2014. It's evident that E&P margins have completely collapsed. Following the recent crude meltdown, this level of profitability (or lack thereof) is unprecedented in recent history.
There is an interesting chart that I want to show you. Before oil shot up to over $100/bbl, it hovered around $20 to $40/bbl for over a decade. Although ConocoPhillips had its ups and downs during that period, overall, the company created value for shareholders.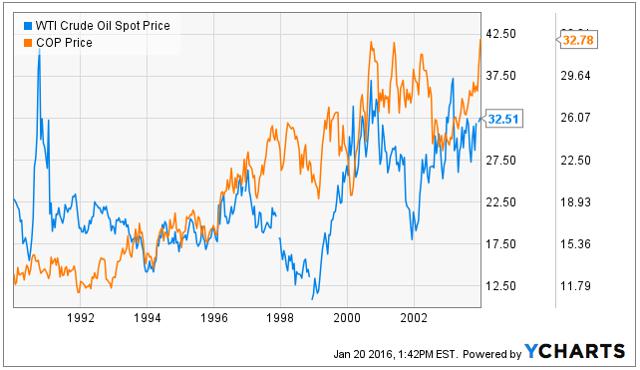 Click to enlarge
As you can see in the graph above, shares have more than tripled despite the volatility in the commodity market. Why is this the case? This goes back to my previous article about ConocoPhillips' current state of affairs. Without midstream and downstream operations (the latter actually benefits from falling oil prices), the company can no longer replicate this performance.
What about the existing reserves? Surely ConocoPhillips have grown a lot since 2003? Unfortunately not. At the end of 2003, the company had 7.85 Bboe of proved reserves. This only increased to 8.91 Bboe at the end of 2014. Keep in mind that the reserve figure at the end of 2014 is almost certainly overstating the true amount as crude was much higher then. As uneconomical reserves get written-off at today's prices, investors should expect significant declines in proved reserves, meaning that not only is the company earning much less per barrel than before, what's left in the bank (i.e. the reserves) has also dwindled.
Takeaway
What does all of this mean? I believe that the current stock price still reflects unfounded optimism in the company. E&P profitability has deteriorated to historic lows, and without midstream and downstream segments to make up for the loss, I see little justification for the current price of $34, which is still more than 50% higher than 2003's price of $20. Finally, I would like to offer a word of caution for dividend investors. Many investors remain attracted to the company's dividend yield (currently standing at 8.7%), and given the management's vow to keep the dividend, one may continue to think that the dividend is safe. However, one doesn't need to look too far back in recent history to see how resource companies have failed time and time again to provide the necessary safety that is desired by all dividend investors (e.g. Linn Energy, Kinder Morgan). ConocoPhillips is no different. It doesn't matter what the management says, it is numbers that will do the talking at the end.
Note: I spend a great deal of time researching every company in the V20 Portfolio (+40% in 2015). If you are looking for some ideas that could complement your own portfolio, you can click the "Follow" button and be updated with my latest insights. Premium subscribers will get full access to the V20 Portfolio.
Disclosure: I/we have no positions in any stocks mentioned, and no plans to initiate any positions within the next 72 hours.
I wrote this article myself, and it expresses my own opinions. I am not receiving compensation for it (other than from Seeking Alpha). I have no business relationship with any company whose stock is mentioned in this article.