Geoff Burns, the CEO of Pan American Silver (NASDAQ:PAAS), was kind enough to give us an exclusive interview explaining management's reasoning behind their bid for Mine Finders (MFN) in response to our recent article PAAS Acquisition of MFN is Highly Dilutive.
Geoff's key points were as follows:
Management agrees that the price of PAAS doesn't reflect the potential value of the Navidad project, which has likely been discounted because of the political situation in Argentina (inflation, protectionism) and the slower than expected progress in seeing the law amended in Chubut to allow for the projects development.
Country risk, and threats from Morales in Bolivia, Humala in Peru, and concerns in Argentina (Cristina Fernandez De Kirchner) have hurt the share price.
At analysts' consensus long term silver prices, the transaction is slightly dilutive on an NAV basis, however, at modestly lower silver prices the transaction becomes accretive on an NAV basis, reflecting the lower cost production from Dolores. On an earnings basis the acquisition is modestly dilutive, However, both of these assessments are based on continuing to operate the Dolores mine as a heap leach only and do not include the "potential" for increased production, NAV and earnings from constructing a milling facility at the site.
With Navidad, PAAS would have approximately 60 percent of its production in Argentina, significantly increasing country risk.
The recent Argentinean requirement to repatriate all revenues and convert them to Argentine pesos will cost around 2 percent of the capital and will expose the capital that is held in the country prior to being able to repatriate the funds, to Argentinean pesos devaluation risk.
Argentina is not currently considered a high nationalization risk, but even so the cost of securing nationalization insurance costs are considered prohibitive.
The proposed purchase of MFL is very much a de-risk, de-leverage, diversification move and to improve the overall quality of PAAS's assets. Mexico is considered one of the best jurisdictions, and buying MFN diversifies the mining portfolio amongst both location and to a lesser degree silver to gold, while decreasing PAA's exposure to base metals.
PAAS began talks with MFN in Sept 2008, but market turmoil delayed the talks.
MFN has 3-4M silver production annually, but when the gold is included its produces those ounces at $(10) per ounce cash cost. On a silver equivalent basis MFL produces closer to 8.0 million ounces annually.
PAAS currently produces between 22 to 23 million ounces annually and its cash costs for the 3rd quarter of 2011 were $9.58 per ounce and increasing due to inflationary pressures particularly in Argentina and Peru.
The deal would add gold, and reduce base metals exposure making it just slightly less of a silver company (estimated silver as a % of revenue would fall from plus 70% to just below 70%), but more pure of a precious metals company. Combined production would be about 67 percent silver, 20 percent gold, and the remaining in base metals.
click to enlarge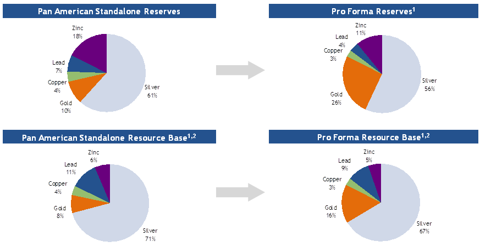 Courtesy: Pan American Silver
Management outlook is that gold will match silver performance and continue to move higher.
Combined cash flows of 2-2.5 billion over the next 4 years, according to analyst consensus estimates which will help PAAS fund Navidad capital and PAAS's other growth projects.
Management believes they can operate Dolores more efficiently. Adding a mill will make Dolores more profitable than leach, however, he believes that the 8000/tons per day mill that has been discussed is probably too large. Further study will determine the optimum mill size, but the economic benefit of increasing the silver recovery from the heap, at just over 50%, to plus 80% through a mill has great potential.
There is significant exploration potential around the current Dolores pit, particularly to the east and underground. Management doesn't believe opportunities of exploration success are priced into Dolores or expected by analysts
PAAS is already highly leveraged to the silver price with its reserves and resources, so it doesn't see the benefit of keeping additional refined silver as part of the company's near-cash reserves. It would prefer to put the cash flow to work growing the company or returning it to shareholders via dividend.
Management questions: If you're just going to store it, why mine it?
PAAS prefers giving dividends so investors can choose to buy back or buy physical silver with their funds. They did do some buybacks, however some large institutional owners have expressed concerns about using the company's cash resources in this way.
Management considered using more cash to buy MFN, however, the premium would have risen higher (looking at comparative transaction in the mining sector where more cash was used) and many MFN shareholders wanted exposure to the upside of owning the combined PAAS post transaction.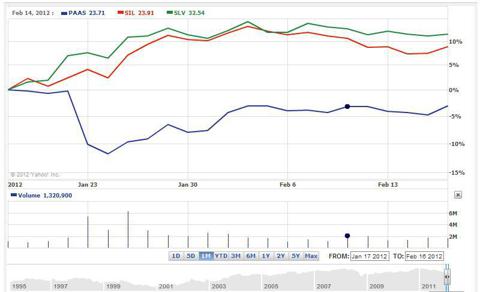 We agree with most of these key points. Clearly the move lowers country risk, and adds another operating mine to the firm's balance sheet. However, is now a good time to deleverage exposure to silver or hedge against losses that are already priced in? As investors who've held PAAS for more than a decade because we remain bullish on silver, we have several differences of opinion with management.
First, we don't expect the price of silver to match gold over the long run and we don't anticipate their price performance being even close. At a gold to silver price ratio of nearly 50 to 1, silver remains substantially undervalued in comparison to gold. We anticipate that the ratio of silver to gold will fall below 20 and perhaps even as low as 10 before its bull market is over. This implies that silver should outperform gold by a factor of two to three going forward.
At some point in phase 3 of the bull market in precious metals when the prices of the metals are rising almost daily and buyers are bidding price up purely on momentum, de-risking will be the best move. One of the most successful acquisitions in history was AOL's acquisition of Time Warner (NYSE:TWX). In retrospect, it identified the peak of the technology bubble. AOL was able to use its overpriced stock to purchase real assets generating massive cash flow.
The proposed buyout of MFN is nearly the opposite. We believe silver in the low $30s is near to its floor, after falling from $50 last April, and consolidating for the last 9 months. We also believe that PAAS is substantially undervalued and hasn't priced in Navidad. As investors we like to buy low and sell high. When others are fearful, we accumulate. When others are greedy, we distribute. A decision to de-risk or deleverage is prudent when a market is near a peak, however de-risking and deleveraging can prove be extremely expensive when markets have already priced in the worst outcome. With a P/E of 7, excluding Navidad, we would argue that is the case.
We are proponents of increasing dividends; however, we also believe that with PAAS price so low, share buy backs would have added more value than an acquisition. We find the argument that management shouldn't buy back stock because it is timing the market to be dubious. Management should know when their managed assets are overpriced or underpriced and act accordingly to take advantage of mispricing. The most successful companies have proven this to be highly effective. On the other side of the spectrum, unsuccessful companies such as the New York Times (NYSE:NYT) have destroyed value by issuing shares at a low price and buying them at a high price.
In many ways, the acquisition itself times the market. The acquisition can be seen as buying insurance for PAAS, and the cost of the insurance has been nearly 20 percent of its stock price. Prior to the deal announcement, investors concerned over PAAS's operations in Argentina could have bought January 2013 put options with a strike price near the current price for 20 percent of the stock price - nearly the same amount the stock fell and the earnings were devalued. Or they simply could have sold tranches of PAAS and purchased MFN or other miners in different jurisdictions, without the 20 percent haircut.
While some South American leaders are known to talk tough against miners, in most cases we expect their talk to be all bark with no bite. Political leaders know that they must appear socialist to appease their voters, however, they also know that excessive taxation or nationalization of investments will ruin their economy and long term prospects. We believe that Argentinean President Cristina Kirchner is pro mining and will most likely continue to support PAAS because it provides a large number of high paying jobs to locals and pays a large amount in taxes.
Investors must weigh the cost of the deal against other opportunity costs. Long term investors in PAAS may have had a paper price loss, however, they were willing to wait for the intrinsic value of the company to be realized. We believe that this deal validates the perceived risks and price decrease over the last year and locks in a loss. This will damage sentiment amongst long term investors who've held the stock despite its losses on the belief that the firms fundamental value has only increased.
Despite the setback in the share price and earnings, the silver lining is that we are optomistic that PAAS management over time can indeed construct a better mill and operate Dolores more efficiently than MFN management. We expect that PAAS will underperform its peers for the next six to twelve months before the benefits of more efficient operations are realized.
In time, we're optimistic that PAAS's share price will recover, however, if Navidad is completed and silver resumes its bull market it is unlikely that the combined company would see the same gains as PAAS would have independently. PAAS may still be a good value, however, we believe that the value per share is now lower with the deal than without it - and thus far the market agrees.