Kinder Morgan (NYSE:KMI) reported fourth quarter and FY 2015 results today, missing estimates for the top line. Cash generation nevertheless was not bad, and the company's decision to cut the dividend bears fruit in allowing for a better financial position. Kinder Morgan also made some changes concerning its backlog and gave guidance for FY 2016. In this article I'll have a look at some of these items and give my opinion on these, as well as on Kinder Morgan's valuation and attractiveness as an investment.
Kinder Morgan's revenues in the fourth quarter came in at $3.6 billion, which represents a decrease of eight percent on a year on year basis. Through a costs of sales decrease of $550 million and relatively flat operating costs, Kinder Morgan was able to report higher EBITDA, though: $1.95 billion versus $1.93 billion in the prior year.
Segment earnings were highest for Kinder Morgan's natural gas pipelines segment ($1.1 billion, up four percent yoy), CO2 earnings decreased about 20 percent to $290 million. Terminals earnings decreased as well (to $260 million, minus seven percent yoy), but product pipeline earnings grew 30 percent to $290 million. Kinder Morgan's Canadian business reported flat earnings of around $40 million. Here we see the different vulnerability of Kinder Morgan's different operations: Natural gas pipelines and product pipelines earnings were both up slightly, which represents a bigger asset price and the fact that these are the so-called toll roads investors talked about for a long time. The price of the gas moving through Kinder Morgan's pipelines does not really affect Kinder Morgan's earnings, thus we see very strong resilience versus low commodity prices here. Kinder Morgan's CO2 business on the other hand had to report a hefty 20 percent earnings cut, which can be attributed to the low price of oil: When oil is very cheap and there is an abundance of oil on the market, oil companies don't need Kinder Morgan's CO2 to pump it into mature wells in order to get out the last drops of oil. With lower demand for Kinder Morgan's CO2 the earnings of this segment are poised to decline, what we have seen over the last quarters, including Q4.
Since Kinder Morgan's main source of revenues and earnings is its natural gas business, I don't see a huge threat of vast earnings declines in the near future, but Kinder Morgan's CO2 business will likely continue to report unsatisfying results as long as oil is trading at a low price.
Looking at Kinder Morgan's cash generation ability, we can first applaud the fact that the company was able to keep distributable cash flows relatively flat on a yoy basis: With $170 million in sustaining capital expenditures Kinder Morgan's DCF came in at $1.26 billion for the fourth quarter, which is down 1.5 percent yoy -- looking at the fact that Kinder Morgan's shares dropped 70 percent over the same time, we can definitely say that the price an investor pays per unit of DCF has vastly declined over the last 12 months, which makes Kinder Morgan a more compelling buy right now than it was 12 months ago.
Since Kinder Morgan's share count grew by five percent over the last year, the company's DCF per share declined by a slightly higher amount (minus eight percent) to $0.55, which is still a minor decline relative to the price decline the company's shares have seen.
Kinder Morgan's guidance for 2016 sees distributable cash flows available for holders of the company's common shares at $4.7 billion, which would be in line with 2015's total of $4.699 billion. An additional $200 million of DCF will be used to pay the holders of Kinder Morgan's preferred stock, which the company issued late last year. If Kinder Morgan keeps the dividend at $0.125 per share per quarter, this means that $1.1 billion will be paid out to shareholders as dividends, which leaves $3.6 billion in distributable cash flows after dividends are paid.
Earlier Kinder Morgan expected to invest $4.2 billion into new projects in 2016, which would have forced the company to take on $600 million in additional debt (which, I believe, would have been a bad idea due to Kinder Morgan's already high leverage), but management decided to cut growth capex spending by $900 million this year, which means that the company aims for $3.3 billion in growth capex, which should leave about $300 million in cash flow that will be used for neither dividends nor growth investments, and could thus be directed towards lowering Kinder Morgan's debt pile -- to me this looks like a sound plan for the year: Shareholders get a dividend (although not nearly as high as those who bought at $40 hoped for), Kinder Morgan continues to expand its asset base where the conditions are favorable (e.g., profitability, visibility of cash flows) and at the same time the company will start to tackle its debt pile.
Kinder Morgan came to this guidance using a $38 per barrel average for the year, which is higher than the price we have right now, but not unrealistically high, I believe. Should the price of oil stay around $28, Kinder Morgan's distributable cash flow would be negatively affected by $70 million, which would bring 2016's DCF to $4.63 billion. Even in this case, Kinder Morgan would be able to finance the dividend and all of its growth investments organically, but the amount it could use to pay back debt would be lower.
All in all I believe the company's guidance for 2016 is not too bad, keeping cash flows stable on a yoy basis is a feat most energy companies will not be able to do, and the decision to cut growth capex slightly in order to focus on the most profitable projects seems opportune right now.
Looking at the total mess Kinder Morgan's stock has been in over the last year, I believe that the company's fundamentals are holding up a lot better than its shares did, which can be explained easily: A year ago Kinder Morgan's shares were grossly overvalued (partially due to an unsound dividend policy which attracted a lot of income investors), the business itself did okay. One year later, early 2016, the business is still doing okay (with some weakness from the CO2 division, apart from that there is not too much to worry about right now), but the shares are not trading at the valuation they used to, which resulted in a vast share price drop.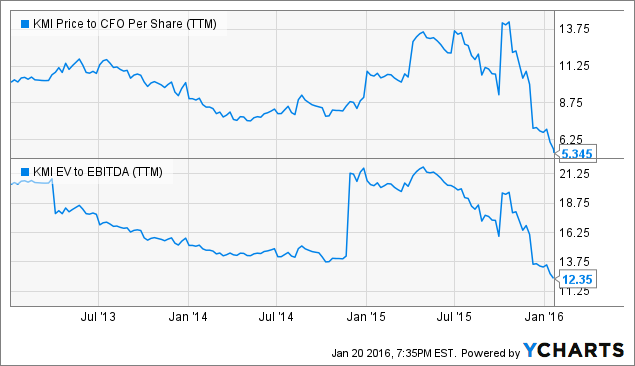 Kinder Morgan's valuation is down substantially over the last year as well, right now the company is cheaper than it has ever been over the last three years by far. The company's price to (operating) cash flow multiple is down to 5.3 from a peak of around 15 in 2015 and an average of about 10 over the last three years.
Kinder Morgan's EV to EBITDA ratio is low (9.7 times), this reflects a steep discount to the valuation Kinder Morgan traded for in the past.
Based on these two metrics, Kinder Morgan doesn't look expensive right now, and when we look at the company's distributable cash flows, we get the same picture: With $4.7 billion in DCF in 2016 and a share count of 2.2 billion, Kinder Morgan should be able to report distributable cash flows of about $2.10 per share, which is a lot relative to Kinder Morgan's share price of $12. Paying a multiple of 5.6 times DCF seems like a fair (maybe even low) price, although Kinder Morgan might only be interesting for long-term holders right now. Due to the fact that the majority of Kinder Morgan's cash flows will be directed towards growth capex and debt payments in 2016 and beyond, income investors will likely not see any substantial dividend increases from the current level in the foreseeable future. With a dividend yield of 4.2 percent, Kinder Morgan is not a bad income investment at today's price, but the yield on cost will likely not grow until Kinder Morgan has completed most of its backlog and has more money available for shareholder returns.
For someone with a very long-term outlook Kinder Morgan might be an option at today's price of below 6 times cash flow, since growth capex and debt reductions will ultimately position the company to benefit a lot once oil is back to a higher level (this could take a couple of years thought), ample dividend increases and substantial capital appreciation should come once Kinder Morgan has completed most of its major projects sometime around 2020.
For those afraid of risk, a company with a healthier balance sheet would be a better option; those relying on a higher yield right now might also rather look elsewhere, i.e., the industrial sector, where a lot of income investments sold off heavily over the last months, too (and haven't cut their dividends since).
Takeaway
2015 has been disastrous for Kinder Morgan's stock, and the first weeks of 2016 haven't been any better. Looking at Kinder Morgan's operations only, the picture is different: Despite the commodity meltdown we are seeing, Kinder Morgan is holding up pretty well: EBITDA is up slightly yoy, cash flows are relatively flat and segment earnings are either flat or increasing slightly (with the exception of Kinder Morgan's oil price sensitive CO2 business).
The outlook for 2016 isn't too bad either; DCF is expected to be unchanged versus 2015, and Kinder Morgan will be able to pay its dividend and all of its growth capex without taking on any new debt (the company should be able to decrease its debt load slightly).
Looking at Kinder Morgan's valuation, we can say that the company looks fairly valued (maybe even undervalued) relative to the cash generation potential the company holds, Kinder Morgan thus might be an interesting pick for long-term holders (who are not afraid of KMI's balance sheet).
Disclosure: I/we have no positions in any stocks mentioned, and no plans to initiate any positions within the next 72 hours.
I wrote this article myself, and it expresses my own opinions. I am not receiving compensation for it (other than from Seeking Alpha). I have no business relationship with any company whose stock is mentioned in this article.