With employment figures improving, investors would benefit from gaining exposure to department stores. In theory, retailing is directly correlated with consumer expenditures, but investors tend to act irrationally in times of booms and busts. Thus, retailers have high betas that are capable of generating high risk-adjusted returns. Between Nordstrom (NYSE:JWN), JCPenney (NYSE:JCP), and Macy's (NYSE:M), however, the Street only believes that the last one is worthy of a "buy".
From a multiples perspective, Macy's is the cheapest of the three. It trades at a respective 13.4x and 11.1x past and forward earnings with a dividend yield of 2.2%. Nordstrom and JCPenney, on the other hand, trade at a respective 14.3x and 20.8x past and forward earnings. To put this into perspective, consider that Macy's is valued at only 70% of its 2 Digit MG Group average PE.
At the fourth quarter earnings call, Nordstrom's management noted a successful year:
There were a number of highlights in 2011. For the full year, our company achieved an all-time high in sales, which exceeded $10 billion. We ended the year with same-store sales up 7.2% on top of the 8.1% increase that we achieved in 2010. Our regular-priced selling remains at historically high levels, which is indicative of the integrity of our pricing and the fashion and newness in our offering.

We continue to challenge ourselves on inventory turn. In 2011, we reached 5.6x, matching our all-time best in 2010 and a tribute to the high level of execution of our merchants.

Our company performance reflects the progress we've made in many parts of our business. Full-line grew same-store sales of 6% while opening new stores in Delaware, Nashville and a second store in St. Louis.
The department store chain is one of the few in its industries to deliver solid square footage and same store sales growth. Nordstrom attracts a more affluent market with its luxury brand appeal. The benefit is twofold: On one hand, it yields higher margins and, on the other hand, it also yields more sustainable ROIC growth. Based on my view that commercial real estate will be soft, I further expect management to get more aggressive on its capital allocation policy, which will mitigate risk during a recession.
Consensus estimates for Nordstrom's EPS forecast that it will grow by 14.3% to $3.59 in 2013 and then by 13.1% and 2.7% in the following two years. Modeling a 3-year CAGR of 9.9% and then discounting backwards by a WACC of 9% yields a fair value figure of $53.16.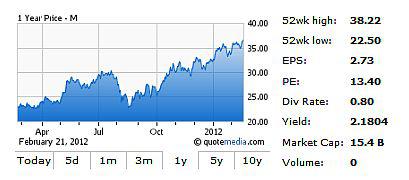 Macy's, which is rated a "buy" on the Street, has strong room for upside. Third quarter results were strong, with operating income up 64% and margins expansion of 13.3%. December same-store sales growth of 6.2% further crushed expectations and demonstrated that the company has room to raise prices with minimal effect on volumes. With that said, the company faces competitive pressures from JCPenney, which is currently beginning a dramatic brand / marketing overhaul. JCPenney is cutting prices by 40% and rolling out a pricing plan that will offer special discounts once a month, among other initiatives. JCPenney is further investing in its top brands (eg. Martha Steward, Liz Claiborne, IZOD, and l'amour nanette lepore, etc).
Consensus estimates for Macy's EPS forecast that it will grow by 34.4% to $2.81 in 2012 and then by 16.4% and 12.8% in the following two years. Assuming a multiple of 14.5x and a conservative 2013 EPS of $3.23, the rough intrinsic value of the stock is $46.84, implying around 30% upside. Compared to the result that I get from DCF model for JCPenney, this upside will make Macy's an industry outperformer.
Disclosure: I have no positions in any stocks mentioned, and no plans to initiate any positions within the next 72 hours.