Three weeks ago I wrote about the fading growth in retail sales as a sign of the end of the business cycle and by extension, a harbinger of impending recession. New data for December that was released last week further confirmed the softening trend. A decline of 0.1% from November in the Commerce Department's monthly data series brought the trailing-twelve-month ("TTM") rate down to 2.1% (a decline below 3% has historically been a precursor to recession).
The fourth quarter of 2015 similarly shows a 2.1% year-on-year growth rate in sales, and while that number is likely to be revised somewhat, it won't come anywhere near the rate of the fourth quarter of 2007 (+4.35%). That's significant because the last recession is officially dated as starting in December '07, and indeed the year-over-year monthly comparison was lower that year, 1.93% vs. 2.76% in December 2015. However, the preceding two months had been much stronger in 2007; this year's improvement may only reflect a shift in the timing of purchases, e.g. a shift from Black Friday and Cyber Monday shopping in November of 2007, when large midnight queues were still common, to waiting for last-minute deals in December 2015. Weekly shopping data did not show life last month until the second half, while new January data has shown rapid softening.
Having looked at a reliable representation of consumer demand, in the following weeks I wrote about business investment (capital expenditure data from the new orders for durable goods series), and then business demand, using data for wholesale sales and inventories. The current article focuses on output, using the Federal Reserve's data series for industrial production.
The chart below shows the monthly rate of change in industrial production on a year-over-year basis for the last three decades.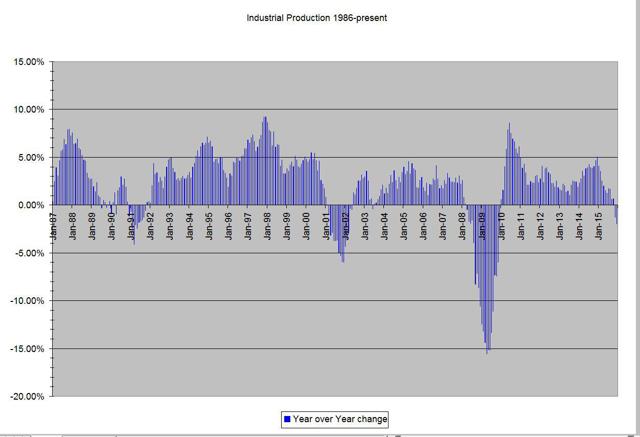 The phrase "industrial recession" has started to gain currency amongst traders, and looking at the chart one can see why. Outright declines in annual industrial production have previously only occurred during the recessions of the last twenty-five years, beginning with the 1990-1991 recession through those of 2001-2002 and 2007-2009. The current year-year rate stands at (-1.98%), the lowest since emerging from the recession six years ago. Comparing with the last two cycles, the rate went below (-2%) in August 2008 and April 2001, both occurring after a recession had started.
Energy is playing a major role, of course, but there is always one sector that leads the way. Consumer products were up by only an estimated 0.3% in 2015.
The stock market usually listens to its own drumbeat when it comes to the economy. Although equities have been slow to recognize downturns over the last few decades, there was a time when the joke on the stock market was that it was so quick to sell off on fears of any slowdown at all that it had predicted "nine of the last five recessions." The second and third quarters of 2015 had negative profit growth for the S&P 500 as a whole, and we are headed for a similar result for the fourth quarter. Such declines eat away at the buyer foundation and set markets up for fears of bigger slowdowns.
So is the current sell-off a recession prediction? Two weeks ago it was generally not thought to be so, but a prolonged episode of selling like the current one will always raise fears about what might be wrong, including the possibility of recession. Perennial optimists have been slower this time to brush off the matter as another false alarm - relentlessly falling prices have a way of depressing sentiment as well as support levels. Too, the combination of relentless declines in the price of oil (along with the creditworthiness of energy-linked bonds) and the awkward lurches of Chinese financial policy has fanned fears of a global slowdown at a time when valuations were quite lofty. Valuations don't make prices fall, but they do tell you how far they might fall once they do. The stock market has good reason to fear a reversion to the mean.
Going back to the data, last year I wrote a column that noted that the business cycle doesn't officially contract until employment does ("The Fat Lady Sings"). Until now, the fat lady hasn't sung. Some have doubted the robustness of December's 292K jobs result, and I have seen some tantalizingly faint strains of the end of the plateau in weekly claims data, but it's too early to claim that any of it is more than noise, perhaps with a dollop of confirmation bias thrown in for good measure. Yet I would caution that employment is a lagging indicator and can seem to turn quite suddenly.
Summing up the series of articles, I have looked at four major economic data series - retail sales, wholesale sales, business investment and industrial production. All currently show annual rates of growth that have previously been features of a recession, with all but retail sales showing annual decline. The business cycle is nearly over, it will be followed by a recession, and it is beyond the Fed's power to repeal the cycle. Nor should any central bank consider trying.
When the recession begins, it will put paid to two fuzzy-brained notions, one that every recession must be preceded by an inverted yield curve, the other that the Fed causes every recession by "jacking up" short rates (to borrow a certain WSJ writer's phrase). To properly address those topics would take quite a bit more time (and it's too much to hope for that they will completely disappear anyway), but do know that the transition from the ending of the business cycle (growth) to actual recession (contraction) gains speed when financial conditions begin to seriously deteriorate (no, a quarter-point interest rate raise doesn't count). Sometimes it is the stock market itself that provides the final nudge.
One last time for my admonitions, though after the recent price action I may not need to convince anyone:
1) Every hill has a top: business cycles are a natural occurrence.
2) Before growth contracts, it levels off. When demand levels off, business cuts spending.
3) There are no new plateaus (Bob Farrell's investing rule #3)
4) Wall Street doesn't acknowledge recessions until everyone knows we're in one.
Disclosure: I/we have no positions in any stocks mentioned, and no plans to initiate any positions within the next 72 hours.
I wrote this article myself, and it expresses my own opinions. I am not receiving compensation for it (other than from Seeking Alpha). I have no business relationship with any company whose stock is mentioned in this article.