Overview
I last presented a detailed review of pricing multiples back in November (HERE). At that time we were right in the midst of a recovery in the market, as we came off of the August flash-crash. Following the publication of that article we would go on to see the S&P 500 continue its ascent though ultimately we ended the year with a relatively flat performance.
Fast forward to the first two weeks of January and we've seen a return of volatility highlighted by a quick sell-off of the entire market. If the talking heads are to be believed then this is largely the result of three things, being:
1) concerns over the slow-down in China;
2) the falling price of crude;
3) fears of more interest rate hikes in the US slowing growth.
All that being said, by taking a look at the S&P 500, it appears that we are right back to August 2015 pricing levels.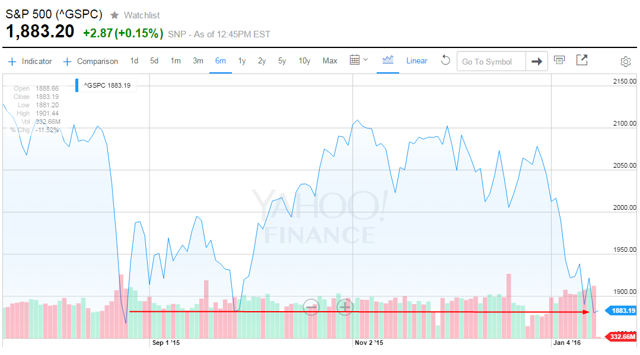 Click to enlarge
Source: Yahoo Finance, 19 January 2016
Ouch! Some might be inclined to hit the panic button, sell out, and hope to avoid further carnage. Is the sky falling?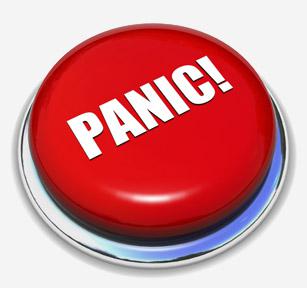 If dividend growth investing has taught me anything, it's to be diligent enough to focus on the fundamentals of the companies I invest in and avoid reacting to day to day or even week to week market movements.
Believe it or not I am actually okay seeing cheaper prices presenting themselves even though it comes with unrealized losses.
I would clarify that statement by adding that my opinion is founded on my belief that the sell-off is an overreaction of the market and not the start of a major recession.
What's important to note is that the MnM (Minne n' Monthly) portfolio's dividend income has not been impacted at all by this rapid sell-off in the markets. Thus far in 2016 my dividend income has not taken a hit at all and it's actually grown courtesy of three (and counting) raises.
I will leave it to others to speculate whether this is a near-term bottom or not, or if further selling is ahead. The purpose of this article is to share my insights on where P/E multiples are sitting right now. I'm always looking to find bargains in equities in relation to their historical multiples.
So, given this understanding, I compiled P/E data on my MnM portfolio and for those stocks I am currently tracking on my watchlist. I derived the information from FASTgraphs.net comparing each securities current P/E to its normalized P/E multiple (the blue line in layman's terms) over both the longest term and the near term - 3 years to see where stocks are trading, and which are at a discount to historical averages.
That being said, here's how my current holdings shaped up: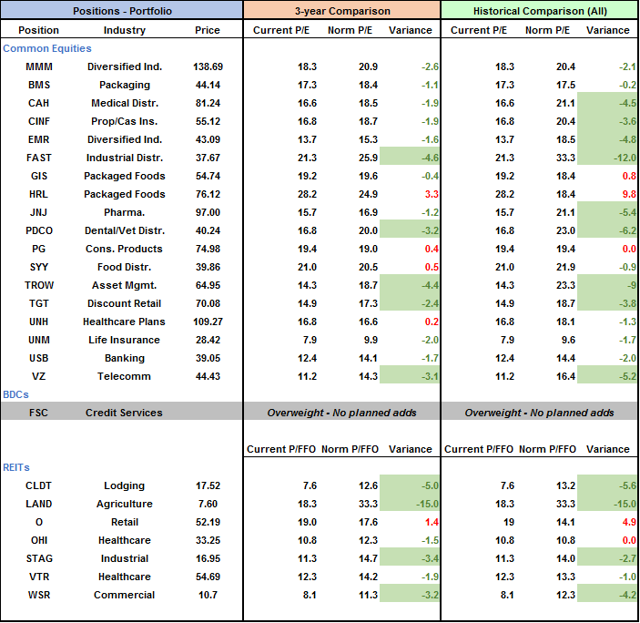 Click to enlarge
*Note that all of the Price and P/E data for this article was derived from F.A.S.T. graphsTM reports using prices as of the close of business Friday, January 15, 2016.
In addition to positions I am holding, I also updated and scanned my 2016 watchlist as follows: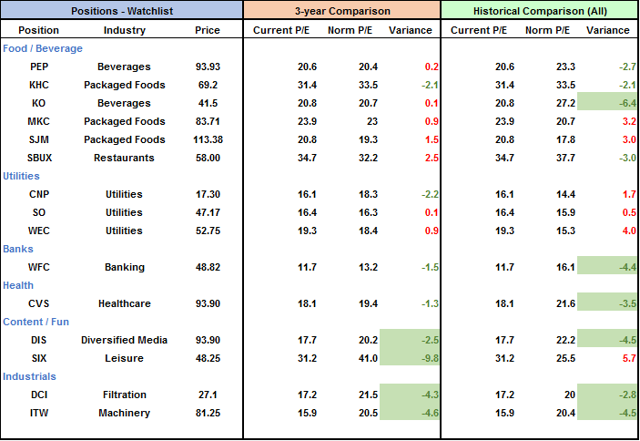 Click to enlarge
Takeaways
I like to see securities trading off of their historical multiples. If we've learned anything this year it's that consumer staples stocks such as Hormel (NYSE:HRL), General Mills (NYSE:GIS), McCormick (NYSE:MKC) and Proctor & Gamble (NYSE:PG) are still trading at relatively high multiples, likely as they are seen as safe-havens in the overall market downturn.

Click to enlarge
The same could be said for utilities as all three that I evaluated continue to trade close to their historical ratios.

Click to enlarge
Where I do see valuations, and potential opportunity, is within a couple sectors.
First I would highlight the distributors. Cardinal Health (NYSE:CAH), Fastenal (NASDAQ:FAST) and Patterson Dental (NASDAQ:PDCO) are all trading well off their historical multiples.

Click to enlarge
Second, the industrials I track are down thanks in part to the fears of a slow-down in China. 3M (NYSE:MMM), Donaldson (NYSE:DCI) and Illinois Tool Works (NYSE:ITW) are all depressed as compared to their historical multiples, and could warrant additional research.

Click to enlarge
Though not as beaten down as the industrials or distributors, I would highlight that the financials I track are all trading below historical levels. I have begun acquiring shares in US Bank (NYSE:USB) in recent months.

Click to enlarge
Lastly, with the exception of Realty Income (NYSE:O), it's been a tough couple months for the REITs I hold. Chatham Lodging (NYSE:CLDT) feels oversold and STAG Industrial (NYSE:STAG) seems to have been caught up in the negative sentiment towards industrials. Both are presenting opportunities to get an outsized yield on the depressed prices.

Click to enlarge
Summary
After reviewing the current multiples it is good to know that there are opportunities to pick up stocks in solid companies - at attractive multiples. To me the sell-off feels overdone and is not indicative of a need to panic.
The difference that I am expecting between this sell-off and the sell-off from last August, is that, assuming that Oil and the market are correlated, it will take oil prices much longer to recover, which will lead to a slower recovery in the overall market.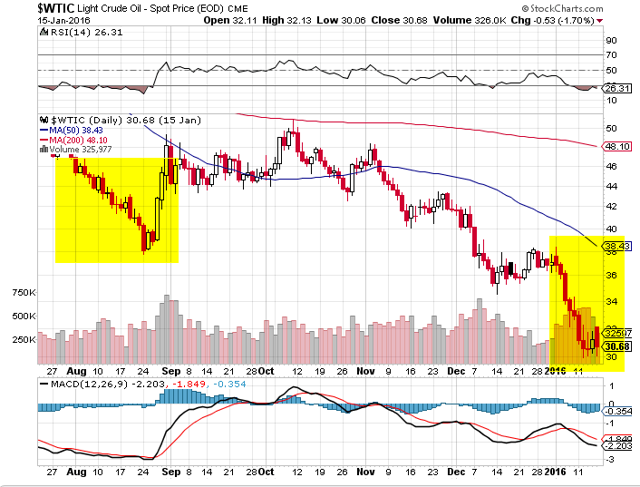 Click to enlarge
Source: Stockcharts.com, 19 January 2016
I still think we'll get there, and once again end up flat by the end of the year. For the time being I'm going to be looking at the distributors, financials, REITs and industrials for dividend reinvestment. I do intend on doing more research of Illinois Tool Works, it's a dividend champion that has my piqued my interest right now as a potential add to the portfolio.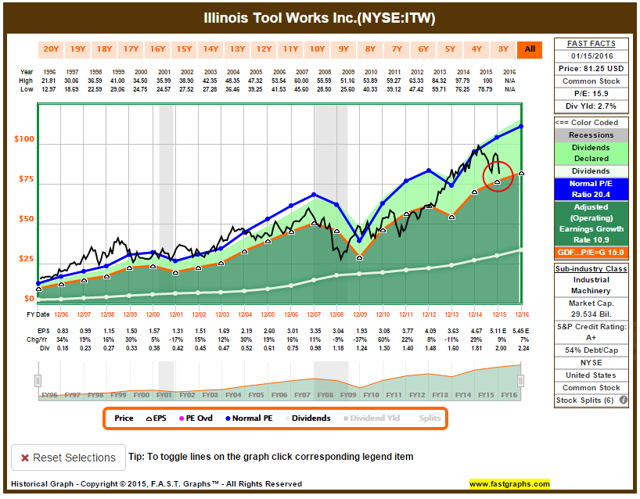 Click to enlarge
Source: FASTgraphs.net, 19 January 2016
As always the P/E is just the first step I use before deciding to buy any securities. I will need to perform additional screening and review, but this provides a good starting point. I hope you find this useful as well and am interested to hear if and what you are buying right now.
Disclosure: I am/we are long THE STOCKS LISTED IN THE PORTFOLIO.
I wrote this article myself, and it expresses my own opinions. I am not receiving compensation for it (other than from Seeking Alpha). I have no business relationship with any company whose stock is mentioned in this article.