We feel that Dunkin' Brands (NASDAQ:DNKN), the franchiser of quick service restaurants Dunkin' Donuts and Baskin-Robbins, is a company with massive amounts of growth ahead of it both internationally and domestically in the next five years. Its presence on the West coast of the United States is almost non-existent and it has only just dipped a toe into the Chinese market.
When you consider the appetite that China has for Starbucks (NASDAQ:SBUX), it seems only natural that Dunkin' Brands could realize success there albeit on a smaller scale. The same can be said for the west coast of the United States. We feel Starbucks is the boss there (like everywhere let's be honest), but there is definitely room for competitors.
Looking at the data below you can see how little market penetration the company has in the west. But encouragingly the company advised on its earnings call that by region, during Q3, 10% of the new store development occurred in the core region, 31% in established markets, and 29% in emerging and 29% in the West.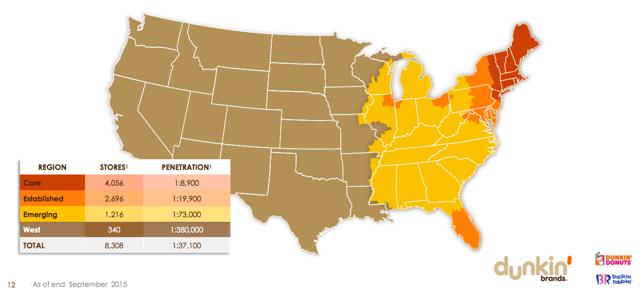 Source: Company Presentation
While the company has been very slow at making progress on its expansion onto the west coast, it has still been able to grow revenue and net income at a strong and consistent rate each year since it went public, as shown below.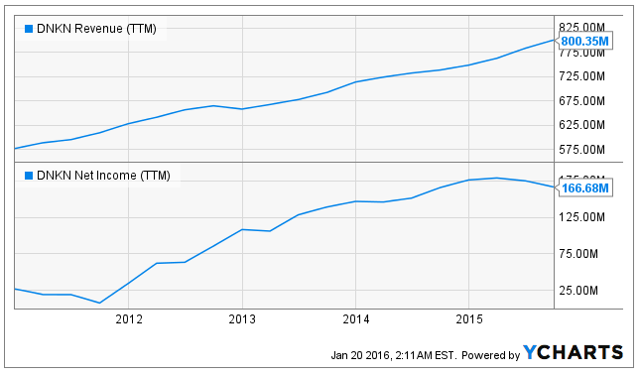 Like many companies' international segments Dunkin' Brands' international revenue was affected negatively by FX headwinds and, in South Korea in particular, the MERS outbreak. On a constant currency basis revenue would have been up year over year. So, with this in mind we have no concerns over the international segment. It is performing well, demand appears to be strong, and there's unfortunately nothing the company can really do but accept that the FX headwinds will plague them for at least the short term.

Source: Company 10Q
We feel the company can double its revenue in the next five years by expanding its store network from 19,185 to over 30,000 stores. The company revealed its plan to do just this at its investor day and we feel it is more than achievable as we believe the success of the company makes the franchises extremely appealing.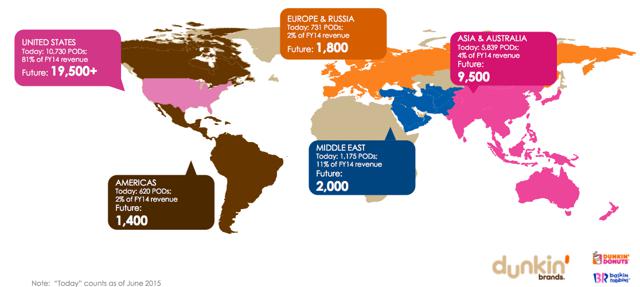 Source: Company Presentation
The company has approximately 10,800 stores in the United States at the moment, so the five-year plan is to almost double that footprint.
Increased store numbers are great, but they have still got to attract customers to them. Thankfully Dunkin' Brands is ramping up its digital and social media presence, as well as mimicking what Starbucks has done in many respects with its ordering app. Considering the success that Starbucks has had with its Mobile Order and Pay, we find this to be an incredibly exciting development for the company.
Coffee prices have fallen due to rains brought in by El Nino in Brazil, helping boost crop yields. It is believed that the next harvest in the nation is going to increase by upwards of 20% year over year. If this leads to oversupply it could push prices down further in 2016. As coffee is a key component of the company's offering we believe the cost of goods sold should be positively impacted.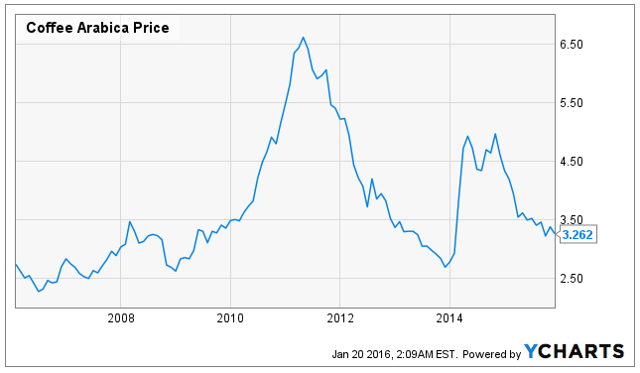 Contrary to this it has been reported in Indonesia that El Nino there has had the exact opposite effect and there is speculation that crop yields could drop by 20% year over year. Whatever does eventuate, we can safely say that the price of coffee right now is very low and the company will be benefitting from this.
The company does have a high amount of debt ($2.49 billion) which is not something we generally like, but as it has a times interest earned ratio of 3.9 its seems more than manageable. Further comfort comes from the knowledge that the current ratio is 1.9 and the quick ratio is 1.3.
All this for us makes Dunkin' Brands an attractive investment if the price is right, and thanks to the market sell-off this is the case now. At the time of writing the share price is at $36.85 after hours, which means it is trading at 22.2 times trailing earnings. In recent times it has traded at an average of 34 time earnings which is in line with its peers, including Wendy's (NYSE:WEN), Panera (NASDAQ:PNRA), and Starbucks which all trade in the range of 30 to 34 times earnings.
The volatility of the market may stop it from trading at those levels for some time. So, we have lowered our expectations here and expect the fair price to earnings ratio to be at around 24 times earnings in the near term.
When the company announces its fiscal 2015 earnings in a couple of weeks we anticipate earnings per share of $1.90 from revenue of $805 million. This makes for a 9% and 7.5% increase year over year, respectively.
Announcing earnings in line with expectations should be the catalyst to sending the share price higher. At 14 times earnings we have a price target of $45.60, which is currently representing around 23% upside. Add it to the dividend that yields almost 2.9% and you're looking at a sizeable total return here.
Takeaway
We feel this is a company whose growth story is just beginning. In the next five years we expect earnings to grow by at least 10% per annum, and the share price to do likewise, making this a great long-term investment in our eyes.
Disclosure: I/we have no positions in any stocks mentioned, but may initiate a long position in DNKN over the next 72 hours.
I wrote this article myself, and it expresses my own opinions. I am not receiving compensation for it (other than from Seeking Alpha). I have no business relationship with any company whose stock is mentioned in this article.