Hartford Financial Services group (NYSE:HIG) has been in the spotlight recently with John Paulson agitating for a breakup. Paulson is a successful hedge fund manager and is currently Hartford Financial's largest shareholder with an 8% stake. The focus of this article will be an option strategy using deep in the money leaps to create a synthetic long position that appreciates nearly dollar for dollar with the underlying shares.
Hartford Financial is a large multi-line insurance company based in the United States. Hartford Financial faced a near death experience in the financial meltdown of 2008 and has barely recovered. Hartford Financial has a book value of over $50 which is drawing institutional interest. At a current share price of roughly $22 a share, there is perceived value inherent in the shares.
Key Valuation Ratios

P/E (NYSE:TTM)

11.40

P/Sales

0.44

P/E (Forward)

6.38

P/Cash Flow

9.65

Earnings/Share (NYSEARCA:EPS)

1.9

Book Value/Share

50.15

PEG

0.91

P/Book

0.43

Debt/Equity

0.29

Cash Flow/Share

2.24
Financial info provided by Options Xpress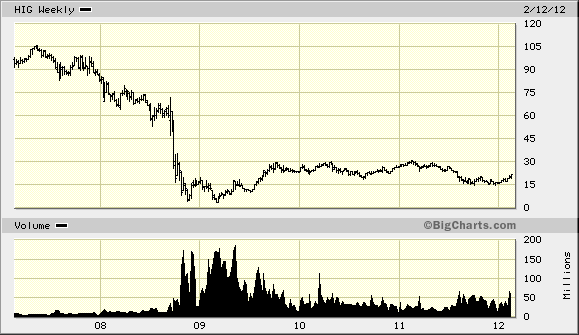 Chart courtesy of Bigcharts.com
An investor expecting a turnaround in Hartford Financial and looking to invest accordingly can do so utilizing a deep in the money leap position. A leap call contract is a long-term option for a period of a year or more that gives an investor significant time for their investment thesis to manifest itself. An investor will typically pay a significant time premium due to the extended length of the contract. The strike I will be highlighting will give the investor the time needed to allow the strategy to manifest itself without having to pay a significant time premium. The January 2014 10 strike call is the strike in my opinion that offers the best upside without having to pay a significant amount for time value.
HIG Jan14 10 Call

| | | | |
| --- | --- | --- | --- |
| 11.8 | 0(0) | 0 | n/a |
| Last Trade | Today's Change | Today's Open | Today's Volume |

Bid

Bid Size

Ask

Ask Size

Day Range

0 - 0

Contract Size

100

Primary exch.

n/a

Open Interest

120

Exp. Date

1/17/2014

Days to Exp.

697

Charts

Chart | Vol 1 yr | More Volatility

People trading HIG also traded

Theoretical Data

More

Implied Vol.

49.7879

Delta

0.9251

Gamma

0.0099

Theta

-0.0017

Vega

0.0408

Rho

0.1450
Options pricing courtesy of Options Xpress
As we can see from the above tables, the option last traded at $11.8 (price is of the close of trading 2/17/2011, Hartford Financial's underlying price closed at $21.65). The option can be purchased for roughly $11.8, which equates to 15 cents in time value premium- a negligible amount. Delta, which is a measure of what the option will appreciate given a one point move in the underlying security, is 0.9251. It can be reasonably assumed the option will capture 92.5% of the move in Hartford Financial stock.
The appeal of this strategy is, in my opinion, the total outlay of capital required. Using 100 shares, an outright purchase of Hartford Financial would cost $2165, whereas the equivalent option (1 contract) would cost $1180 dollars. The investor would face the same downside risk. However, the total gain, as expressed in dollars, would be virtually the same.
To summarize: A deep in the money call in my opinion gives an investor the best chance to profit from the potential turnaround in Hartford Financial. With Paulson agitating for change, management will be under enormous pressure to perform. I view Paulson as a catalyst for rapid change and intend to initiate a position using the above mentioned leaps.
Disclosure: I have no positions in any stocks mentioned, but may initiate a long position in HIG over the next 72 hours.
Disclaimer: The above mentioned article is for informational use only. It is not financial advice.