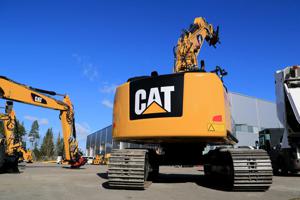 Over the course of the last year, shares in Caterpillar (NYSE:CAT) have slumped by 30%. A key reason for that is the demise of the energy and resources sectors which accounted for the majority of Caterpillar's sales in 2014. With oil and gas as well as mining companies seeing their profitability fall, their investment in new products and machinery has declined and this has caused a major slump in demand for Caterpillar's products.
While commodity price falls look set to continue in the coming weeks and months, we think that the challenges posed by difficult trading conditions are set to make Caterpillar a far better company in the long run. That's mostly because Caterpillar is responding positively to the changes in the industry outlook by adapting its strategy and seeking to become leaner, more efficient and more profitable.
For example, Caterpillar is reducing its workforce, closing production facilities and is now due to spend around $800m this year on restructuring costs. Altogether the fall in costs is expected to save Caterpillar around $1.5bn per annum over the medium term which is likely to have a highly positive impact on its bottom line. In other words, even if sales come under pressure in the short to medium term, we believe that Caterpillar should be able to post relatively robust profit numbers moving forward.
Certainly, the outlook for Caterpillar's industry could worsen, but we are positive on the company's prospects because Caterpillar could emerge in a stronger position compared to its rivals. Caterpillar is a well-established player in a number of different spaces and has ridden out a number of boom and bust cycles during its 90 year history. It has always made a successful comeback from disappointing periods. With it now having the right strategy, we think it will simply do the same this time around and in future years is likely to benefit from weaker rivals which were either not as financially sound as Caterpillar or who failed to adopt the right strategy to cope with the current downturn.
We are also bullish on Caterpillar because construction remains a key industry for the company, with it accounting for 35% of sales in 2014. With the US economy continuing to grow at a relatively impressive pace and being in a much healthier position than is the case for China, Japan and Europe, having a large exposure to the US economy (which Caterpillar does) could prove to be a major advantage over the medium term. As such, we feel that Caterpillar is likely to throw more resources at the domestic market and focus less on export sales which, given the increasing strength of the dollar, makes complete sense.
In our view, buying Caterpillar right now is a very sound move. We are value investors and seek to buy high quality companies at discounted prices. Clearly, Caterpillar's financial performance is not as strong as we would like it to be, but we feel it has the right strategy to overcome the present difficulties and, perhaps more importantly, we are of the view that the current challenges in the energy and resources industries will not continue in the long run. That's at least partly because global demand for energy and natural resources is likely to be positively impacted by favourable demographics. For example, a growing world population plus increased wealth is likely to see the emerging world develop at an even faster pace in future years and demand more resources in doing so.
With Caterpillar trading on a trailing P/E ratio of 12.2 versus 18.8 for the S&P 500, we think that there is the potential for share price gains over the medium term. This is backed up by a price to sales ratio of only 0.69 and, with Caterpillar having a dividend yield of 4.95%, it remains a highly appealing income stock, too. Undoubtedly, the coming months will be volatile, but with the right strategy, the potential to improve its position relative to its peers, an improving construction industry and domestic economy, as well as an appealing valuation, we are firmly bullish on Caterpillar over the medium to long term.
Disclaimer: This article is in no way a recommendation to buy or sell any stock mentioned, nor should it be considered financial advice. These are only the author's personal opinions and you should do your own research.
Disclosure: I/we have no positions in any stocks mentioned, and no plans to initiate any positions within the next 72 hours.
I wrote this article myself, and it expresses my own opinions. I am not receiving compensation for it (other than from Seeking Alpha). I have no business relationship with any company whose stock is mentioned in this article.