Overview
In this series of articles, I will be taking a look at various industry sectors and selecting what I believe will be outperforming stocks for 2016. For the first article, I reviewed the Airline industry and made my top picks for this year. In this article, I will review the following Health Care Providers & Services stocks:
Step 1
The first step I took to narrow down the list of possible options was to look at the earnings over the past five years of these stocks within the industry sector. I removed any stock that had negative or flat (less than 2% growth during that period. These stocks included:
Amedisys - (107% decline)
AmerisourceBergen - (122% decline)
Brookdale Senior Living - negative earnings
Capital Senior Living - (338% decline)
Community Health Systems - (0.80% increase)
ExamWorks Group - (0.08% increase)
HealthEquity - (26.8% decline)
Healthsouth - (79.7% decline)
Kindred Healthcare - (254% decline)
Laboratory of America - (14.9% decline)
LHC Group - (29.7% decline)
Magellan Health - (77.2% decline)
National Healthcare - (16.3% decline)
Owens & Minor - (23.4% decline)
Patterson Companies - (1.50% decline)
Premier - (157% decline)
Providence Service - (57% decline)
Surgery Partners - negative earnings
Teladoc - negative earnings
Tenet Healthcare - (97.8% decline)
Universal American - (109% decline)
Step 2
I then took the list of remaining stocks and checked the revenue growth of each over the past two years. I am removing any stocks that had flat revenue growth (less than 2%) or a decline in revenue over the past two years. The only stock that had revenue growth less than 2% was:
Express Scripts Holdings - (0.12% increase)
Step 3
My next move was to examine the trailing PEG ratio of each of the remaining stocks. I removed any stock that had a PEG ratio over 1.5 to focus more specifically on fairly valued/undervalued stocks. These stocks included:
Acadia Healthcare - 3.55x
Aetna - 1.87x
CorVel - 2.37x
DaVita HealthCare - 1.87x
Health Net - 12.70x
Henry Schein - 3.45x
LifePoint Health - 2.06x
Select Medical Holdings - 2.28x
Team Health Holdings - 11.51x
Step 4
The next set of data I reviewed was the Fundamental and Value Scores for each of the ten remaining stocks. These scores are calculated by YCharts and I have found them to be very useful when researching investment options. More details on each of the scores can be found here and here.
| | Fundamental Score | Value Score |
| --- | --- | --- |
| Aceto | 10 | 4 |
| Air Methods | 9 | NA |
| AMN Healthcare Services | 6 | 3 |
| Amsurg | 9 | 3 |
| Anthem | 8 | 8 |
| Cardinal Health | 7 | 6 |
| Centene | 9 | 3 |
| Chemed | 10 | 4 |
| Cigna | 8 | 4 |
| Ensign Group | 9 | 4 |
| Envision Healthcare Holdings | 6 | 2 |
| HCA Holdings | 6 | NA |
| Humana | 9 | 4 |
| McKesson | 9 | 4 |
| Mednax | 9 | 2 |
| Molina Healthcare | 7 | 3 |
| Pharmerica | 6 | 2 |
| Quest Diagnostics | 9 | 8 |
| Surgical Care Affiliates | 6 | 4 |
| Triple-S Management | 8 | 5 |
| UnitedHealth Group | 9 | 6 |
To determine the best stocks for 2016, I'm only taking into consideration stocks that have combined scores of 15 or higher. Doing this left me with the following remaining stocks:
Anthem
Quest Diagnostics
UnitedHealth Group
Step 5
My next step was to look at the book value of each company and to remove any stock that has seen a decrease in its book value over the past five years. However, none of the remaining stocks saw a decline in book value during this time period.
Step 6
I then looked at the remaining stocks and only included stocks with earnings yields of 5% or higher in my final analysis. Each of the three remaining stocks all had yields higher than 5%.
Step 7
My next step was to look closer at each stock remaining that passed all previous criteria and determine whether or not there were any reasons to eliminate them as great stock candidates for 2016. In doing so, I reviewed the financials of each company, the most recent quarterly report transcripts, and searched for any news items that warranted concern.
Anthem
For its last quarter, the company posted a 7.6% increase in revenue and an increase in earnings per share from $2.36 to $2.73 compared to the same period prior year.
The company's Government business segment performed especially well with a 20.8% increase in revenue and 108,000 additional members. The Commercial segment performed well also, with the exception of the Individual business which saw a significant drop of 99,000 members.
During the latest earnings call, the company described several of the headwind/tailwind issues the company will be facing in 2016.
The tailwinds include continued enrollment growth across the Government, Commercial National accounts, and Large Group self-funded markets; the continued opportunity to expand margins in Medicare Advantage; and the benefit from capital deployment in 2016 albeit at a lower level than in recent years as we prepare for the Cigna transaction to close.

For headwinds, we expect 2016 will be another challenging year for Individual enrollment and margins as result of the continued competitive pressures in various markets and the associated negative operating leverage of that pressure. We remain confident in our strategy and market position, but unsustainable pricing by some of the market participants is persisting longer than we had expected and the overall market growth is lagging expectations.

There are potential Medicaid margin pressure reflecting startup losses from large new contract awards as well as an initial view that recent outperformance in certain markets may not repeat in 2016 with a more challenging rate environment. And finally, we plan to make certain technology investments to advance our efforts to improve the cost of care, enhance our provider collaboration initiatives, and improve the consumer engagement.
Quest Diagnostics
For its last quarter, the company posted a 1.1% decline in revenue and an increase in earnings per share from $1.10 to $1.28 compared to the same period prior year. The improvement in operating margin by 130 basis points appears to be the driving force behind the company's 7% increase in earnings for the quarter.
The company outlined its five-point strategy for its long term success in the latest earnings call. The strategy includes the following elements:
Restore Growth
Drive Operational Excellence
Simplify The Organization
Refocus On The Core Diagnostic Information Service Business
Deliver Disciplined Capital Deployment
I believe that Quest has several initiatives related to this five point strategy that will lead to long term success, but I feel that the stock will struggle to gain significant price appreciation due to an expected slower earnings growth rate as stated in the company's latest earnings call as well as significant debt.
As a result, we anticipate a slower earnings growth rate in the fourth quarter than we have seen throughout the first nine months of the year.
UnitedHealth Group
UnitedHealth Group released its latest earnings results today and the company posted a 30.4% increase in revenue and a decrease in earnings per share from $1.55 to $1.40 compared to the same period last year. While earnings were down, this was mainly the result of the losses on individual exchange-compliant products and one state Medicaid contract.
The company saw strong cash flow with Q4 cash flows of $3.5B, which represented 280% of net earnings and repurchased 600,000 shares during the quarter.
The company remains in a great financial position and should continue to see significant growth moving forward. The company has issued 2016 guidance of $180B in revenue and earnings per share in the range of $7.60 to $7.80. These are both strong increases from the company's 2015 results of $157B in revenue and $6.45 per share in earnings. Considering that this most recent quarter was the seventh in a row in which UnitedHealth Group has beaten both its quarterly revenue and earnings estimates, I believe that the company will have no issues in meeting or even exceeding these estimates, which should lead to significant price appreciation in the company's stock in 2016.
Conclusion
Out of this group of stocks, my top picks are Anthem and UnitedHealth Group. Looking at the chart below, you can see that these two stocks significantly outperformed both Quest Diagnostics and the market in general in 2015 and I believe both companies are well positioned to see similar results in 2016.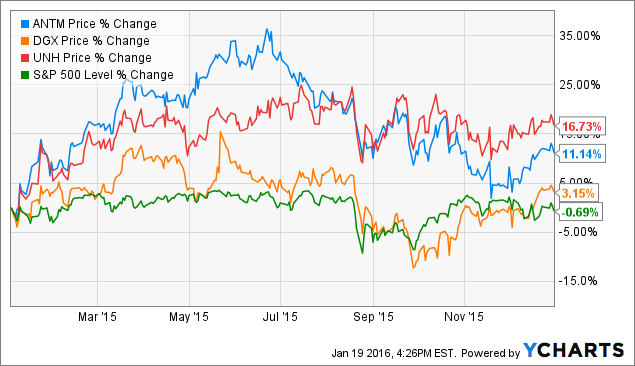 All three stocks have similar dividend yields with similar growth rates; however, I believe that the earnings growth estimates for Anthem and UnitedHealth Group will propel those two stocks over the next twelve months at a significantly higher rate than Quest Diagnostics.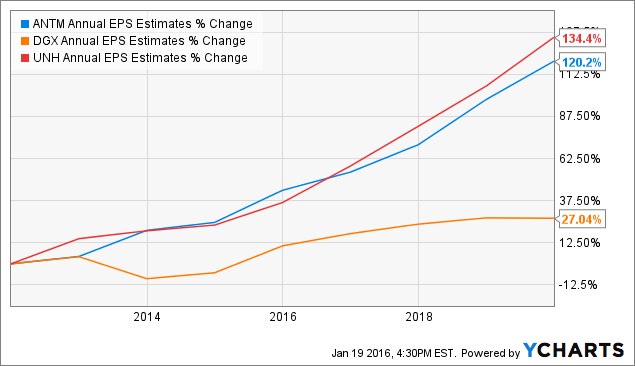 ANTM Annual EPS Estimates data by YCharts
As always, I suggest individual investors perform their own research before making any investment decisions.
Disclosure: I/we have no positions in any stocks mentioned, and no plans to initiate any positions within the next 72 hours.
I wrote this article myself, and it expresses my own opinions. I am not receiving compensation for it (other than from Seeking Alpha). I have no business relationship with any company whose stock is mentioned in this article.