Coffee is an integral part of everyday living around the globe. That being said, coffee prices have been on a downward trend for a bit over a year now. Finding interesting and potentially profitable coffee plays in the market can be an arduous task. I made a play in a direct selling company that happens to have a coffee division that went to a vertical integration of its business over the last 2 years.
Youngevity (OTCQX:YGYI) is a direct seller in many areas. A few years ago the company essentially completed a reverse merger of sorts with a small coffee roaster called CLR Roasters. The move allowed Youngevity an unencumbered path to being a public company while at the same time allowing CLR Roasters to evolve to its next possible steps.
What attracted me to make a speculative play into Youngevity was not the direct selling side of its business. What attracted me was that CLR Roasters seemed to be setting the foundation for expansion at a time when coffee commodity prices were trending very low. Sometimes the level of potential success is in timing more than anything.
With coffee prices low CLR Roasters went from a coffee middle-man to a grower, processor, wholesale seller, and retail seller of coffee. The fruits of that labor have not yet been realized, but as 2016 starts, I felt it prudent to share one of my speculative plays in the market.
It is my belief that coffee prices have essentially hit bottom. This means that the trend moving forward will be higher coffee prices. What CLR Roasters has done is expand its coffee investment when prices were at long-time lows. CLR expanded acreage of plantations, has expanded the number of coffee producing plants, optioned further acreage expansion, increased processing capabilities, increased roasting capabilities, invested in K-cup equipment, and has expanded wholesale as well as retail efforts. The latest move is distribution deals with three "Office Coffee Service" companies along the east coast.
Sarnow Food Group, Vendor Supply, Inc., and BC Coffee and Supplies have all partnered with CLR Roasters to bring CLR's Cafe La Rica and Josie's Java House brands to offices along the east coast. The new deal covers 10 states and carries about 2,700 office accounts into the CLR business model.
The bottom line here is that CLR Roasters is actively engaging and expanding it reach on a very regular basis. The company seems to be on the path of something that could develop into a compelling story in 2016 and beyond. Now my words of caution. The coffee business is highly competitive. There are many that try the business and fail. That being said, those that are able to navigate difficult waters with success can have bright futures. What I have seen thus far from CLR Roasters is several well timed moves that increase the chances of success.
With Youngevity stock just above its 52 week low, there may be opportunity for investors to capitalize on the theory that coffee prices will rise throughout 2016. In the past two years the market prices of coffee have taken a beating. According to the International Coffee Organization peak prices on its composite index were in October of 2014 at $172.88. Since then, composite prices have retreated to the January 2016 average of $116.30. This substantial decline has many factors, one of which are the conditions of the market in Brazil.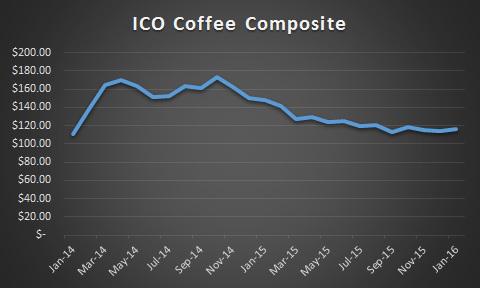 Chart Source - Spencer Osborne
The chart above seems to indicate that a modest recovery in coffee is happening. In order to assess the situation properly, we need to consider where coffee prices may be projected to go in the months ahead. It is anticipated that modest growth in the sector will be in play over the next 6 months or so. A recovery in the range of 15% could get prices above $130 per pound, and will make a world of difference to a company like CLR Roasters and by extension, Youngevity.
Is betting on coffee speculative? Yes. That being said, the foundation that Youngevity's direct selling business brings allows for expansion in coffee when the markets are down. Such expansion could be rewarded upon recovery. CLR Roasters accounts for about 10% of Youngevity's revenue. In my opinion that could approach 15% by the end of Q2, and could expand further by the end of the year if coffee prices continue to climb. Stay Tuned!
Disclosure: I am/we are long YGYI.
I wrote this article myself, and it expresses my own opinions. I am not receiving compensation for it (other than from Seeking Alpha). I have no business relationship with any company whose stock is mentioned in this article.
Editor's Note: This article covers one or more stocks trading at less than $1 per share and/or with less than a $100 million market cap. Please be aware of the risks associated with these stocks.