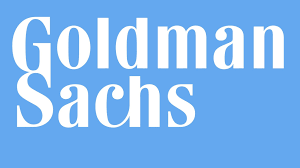 Goldman Sachs (NYSE:GS) - along with the rest of the financial sector - has been mercilessly sold in the last few weeks. The factors are all familiar to us at this point but GS has certainly not been spared despite its reputation for making money in all markets. Back in October, after GS had reported its Q3 earnings, the stock was trading for $185 and I said at the time that weakness in the FICC business was not enough to derail the company's earnings trajectory and that pessimism about it was overblown. Of course, we've seen shares pummeled since then as any and all financials have been crushed but after GS' Q4 report, are things really that bad?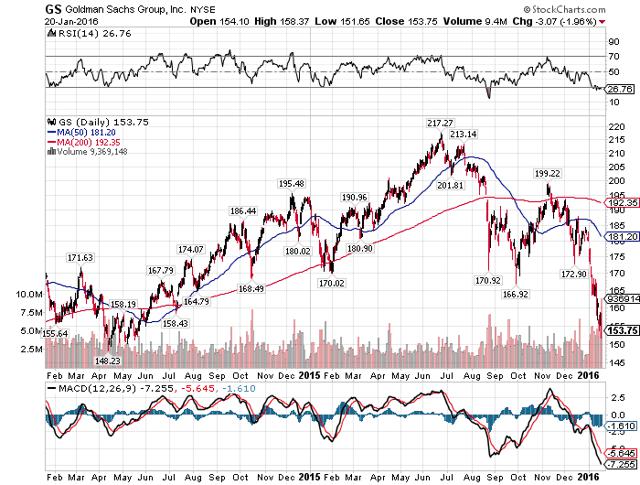 Click to enlarge
Goldman is a different beast than most other financials. It doesn't just take in deposits and lend them out like most other financials; it has lots of different, less rate sensitive businesses that have proven very profitable over time. I love GS' model because its diversification and willingness to be nimble when called upon is a huge draw. That has always been true but the recent sell-off has taken GS to an extraordinary valuation, one that I believe is too cheap to ignore.
I'll admit that GS' loss of revenue during Q4 was more than I had hoped, coming in at -5.5%. That's a sizable drop in revenue and more than most of the other financials I've looked at in this reporting season. But as I said, GS' model is different and when things change - such as a weak FICC or underwriting environment - revenue can move around a lot. We certainly saw that in Q4 as GS showed some weakness in key areas.
Investment banking revenue rose a solid 7% as the company's financial advisory business was the star. Revenue there soared 27% but was offset by a very weak quarter in the underwriting business. The culprit was weak equity underwriting as client activity slowed materially during Q4, something we've heard from other financials as well. This overarching theme perhaps has investors in financials in 'sell first, ask questions later' mode of late.
Institutional client services revenue also came in 9% lower than last year's Q4 reflecting weakness in both the FICC and equities businesses. Lower volume and client activity was again the culprit as GS needs people to be active in its markets to make money. When the volume dries up, so does GS' revenue stream and while this has happened before and will happen again, it is no less painful. GS goes through cycles of lower revenue due to lower volumes on a fairly regular basis and this happens to be one of those cycles.
The investing and lending as well as the investment management businesses were flat to slightly down in Q4 as well reflecting lower gains in equities trading as well as unfavorable mix changes in the types of assets under management. These segments were not the reason GS' revenue was under pressure but they didn't help either.
The overall picture for revenue in Q4 was not good and was worse than I expected. GS saw significant slowdowns in critical categories of revenue and given the reason for the slow revenue in Q4, it is very likely to extend at least into Q1 of this year. Surely that has investors on edge but it has also created an opportunity.
The company's compensation and benefits expense for the full year was slightly higher than 2014 as a percentage of revenue as the overall level of expenses remained largely flat. Goldman is notorious for cutting its less productive employees and it seems that this year, it was more willing than normal to do so. I have full faith that Goldman will right size because it has shown in the past that when business conditions change, it is among the first to adapt. GS' comp ratio will be back where it needs to be in 2016 and in particular, if the weak revenue environment doesn't persist past the first half of the year.
GS continues to create plenty of excess capital as it is still a very profitable business. Its CET 1 ratio moved up 20bps to 12.4% at the end of the year, something that allows it to request sizable capital returns from the Fed. It bought back $4.2 billion of stock last year but the average price was almost $190. That, of course, looks very expensive relative to today's price in the low $150s but shares traded well in excess of $190 for much of last year. GS will certainly produce another sizable buyback in 2016 and given the nature of the share price at present, it will surely be welcomed.
This brings us to the valuation discussion, one that I believe is very exciting. Goldman's tangible book value rose 5% Y/Y to $161.64, meaning that GS is now trading at a moderate discount to its tangible book value. That is a rare occasion indeed and something that speaks to the true panic that we are seeing in financial stocks right now. Forget about earnings for a moment; GS is actually trading under its liquidation value, a condition that doesn't exist very often. While GS may be slowing down it is not worthy of a sub-tangible book value price but that is what we're seeing in the indiscriminate selling of early 2016. It's extraordinary to be sure.
At under eight times forward earnings, GS is also as cheap as I recall seeing it on an earnings basis since the financial crisis was still taking its toll. And given that it is under tangible book value despite the fact that tangible book value continues to rise, GS is being sold under panic conditions. Concerns over the potential head and shoulders pattern the stock is making right now surely aren't helping but for longer term holders, consider just how cheap the stock is relative to where it has traded the last few years.
I'll admit that the revenue environment for GS is weak; that's true of just about any financial. But GS is diversified in its revenue streams and is willing to be nimble and make tough decisions quickly to ensure it is ultimately on the right side of where it invests. The company's revenue is likely to be weak in Q1 due to the significant market dislocation we've seen at the start of the year but as long as that doesn't persist for another couple of quarters - it's hard to imagine a scenario where it would - GS' full year results should be just fine. With shares under tangible book value GS is surely being priced like 2016 is going to be terrible but it is far too early to make that sort of judgment. For now, I don't envision a scenario where all of 2016 is as bad as Q4 was so for me, the stock looks cheap.
Disclosure: I am/we are long GS.
I wrote this article myself, and it expresses my own opinions. I am not receiving compensation for it (other than from Seeking Alpha). I have no business relationship with any company whose stock is mentioned in this article.