When the market falls, it tends to drag everything down -- good or bad companies. I think that companies that have increased their dividends by 10% or higher in the last 1-year, 3-year, 5-year, and 10-year periods should be considered good companies.
One way to combat the market downturn is to buy high growth dividend-growth companies that are fairly valued or undervalued. These companies are expected to grow earnings per share at a rate higher than 8% in the foreseeable future and have a history of increasing dividends with payout ratios of less than 65%.
Here's the process I went through to identify high-quality and high-growth dividend stocks that are fairly valued or undervalued.
First, I started with David Fish's Dividend Champions list that consists of 107 companies that have increased dividends for at least 25 consecutive years.

Then, I filtered down to 21 companies by keeping the ones that have dividend growth rates of 10% or higher in the 1-year, 3-year, and 5-year periods. (I did this by looking at the dividend growth rate columns without looking at the company names or tickers.)

I took out one company that was only available on the OTC market because of its illiquidity.

Next, I took out 3 more companies that had payout ratios of 65% or higher.

After that, because earnings growth is what healthily supports dividend growth, I eliminated companies that had consensus analyst EPS estimates to be 8% or less in the next year.

I believe high credit ratings are essential in this market especially if rates are to rise. So, I took out 6 more companies with S&P credit ratings lower than BBB+ or companies with debt but no credit ratings by S&P or Morningstar.

Now left with 9 companies, I further massaged the list by taking out ones that are overvalued by using F.A.S.T. Graphs (based on the 10-year normal P/E time frame from 2005) or that Morningstar rates it 2-star or worse (indicating overvaluation). (Initially, I was going to take out companies that are moderately overvalued according to F.A.S.T. Graphs, but I find that eliminated too many companies. Additionally, by Morningstar's star system of valuation, many of these moderately overvalued companies are evaluated to be undervalued. So, if Morningstar rated a company 3-star or better, I kept it on the list.) This allowed me to take out 2 more companies.
The final result is the 7 super dividend-growth companies listed below.
DGR (%)

Company

Ticker

Industry

DG Years

Payout Ratio

1-Year

3-Year

5-Year

10-Year

3M Company

(NYSE:MMM)

Conglomerate

57

53%

19.9%

20.2%

14.3%

9.3%

Franklin Resources

(NYSE:BEN)

Financial Services

36

22%

25.0

17.8

15.4

16.2

Illinois Tool Works

(NYSE:ITW)

Machinery

41

43%

14.9

11.2

9.6

13.1

Lowe's Companies

(NYSE:LOW)

Retail-Home Improvment

53

35%

24.4

19.3

20.6

26.1

Sherwin-Williams Co.

(NYSE:SHW)

Paints

37

26%

21.8

19.8

13.2

12.6

T. Rowe Price Group

(NASDAQ:TROW)

Financial Services

29

46%

18.2

15.2

14.0

16.3

VF Corp.

(NYSE:VFC)

Apparel

43

61%

20.1

20.6

17.0

17.1
Source: Data from David Fish's CCC list with rounded payout ratios
Morningstar gives 5 stars to VF Corp for being super undervalued and gives 4 stars to 3M Company, Franklin Resources, Lowe's Companies, and T. Rowe Price Group for being undervalued.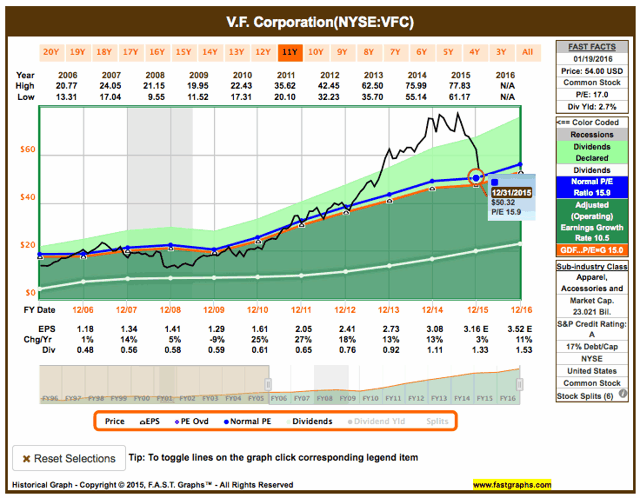 Click to enlarge
By the way...
Since low oil prices is one of the hot topics of the market correction these days, I thought I would point out that one of the Dividend Champions, Helmerich & Payne Inc. (NYSE:HP), that has 43 consecutive years of dividend growth had experienced explosive DGR in the periods of 3-year, 5-year, and 10-year. Its DGRs in these periods were 114%, 66%, and 32%, respectively.
Not surprisingly, its 1-year DGR is only 5%. Further, if it doesn't increase dividends this year, it would be off the CCC list. Who could blame the energy companies for freezing or even cutting their dividends, though? The WTI oil price decisively broke under $30 this week whereas it was over $100 not too long ago in 2014.
Conclusion
Out of the Super 7, 3M, Lowe's, Sherwin-Williams Co., and VF Corp look particularly interesting at these levels. If they're pushed lower by the current market correction, they could provide exception returns in a few years time.
Are these companies on your radar? If not, which high-growth dividend growth companies do you have on your watchlist?
If you like what you've just read, follow me! Simply click on the "Follow" link at the top of the page to receive an email notification when I publish a new article.
Disclaimer: I am not a certified financial advisor. This article is for educational purposes, so consult a financial advisor and or tax professional if necessary before making any investment decisions.
Disclosure: I/we have no positions in any stocks mentioned, and no plans to initiate any positions within the next 72 hours.
I wrote this article myself, and it expresses my own opinions. I am not receiving compensation for it (other than from Seeking Alpha). I have no business relationship with any company whose stock is mentioned in this article.