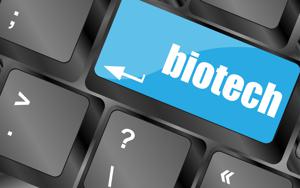 Yesterday the broader market staged a midday rally after losing as much as 3.7% on the day, with the Nasdaq eking out a gain towards the back end of the day but ending slightly lower. Leading the charge on the rally was the biotech sector with the iShares NASDAQ Biotech ETF (NASDAQ:IBB) closing higher by roughly 2.8%. The underlying assets which make up the majority of the IBB are Celgene (NASDAQ:CELG), Amgen (NASDAQ:AMGN), Biogen (NASDAQ:BIIB), and Gilead (NASDAQ:GILD). I have particular interest in Biogen and Gilead because I own both for my portfolio.
Credit Suisse came out today and initiated coverage on Gilead with an "outperform" rating and a $125 price target which may have attributed to the 0.72% move up in the name. The bank however wasn't so optimistic on Biogen giving it just a "Neutral" rating and a price target of $322. The bank is calling for nearly a 40% return on shares of Gilead and 20% on Biogen.
My focus today will be on Gilead because it is probably the more controversial of the two names I care about. Biotech in general is cheap and Gilead is the poster child for the sector trading at just 7.5x next year's earnings estimates with great long-term earnings growth estimates and great valuation on that long-term earnings growth estimate at just 0.6x.
Gilead has been an interesting name for quite some time and I've been buying the stock almost on a weekly basis since it has been below $104 because I believe that is where it provides value to a shareholder. But I would have expected to see it move in lockstep with the IBB today on the bounce up, but it didn't. This indicates to me that the move in the IBB was probably more correlated to the names which have higher earnings growth estimates that Gilead.
Gilead is off nearly 24% in the last six months but I just don't believe it can go down any further. Because I believe this may be a relief rally right now in the overall market, I believe if you bought shares today my trade would be to write covered calls in Gilead for February at the $94 strike to generate $2.37 in premium and lower your cost basis for doing it. This way you make roughly 6% if you get called out at $94, but then you would have gotten rid of your position if you were called out on it and save any losses if the market continues to correct. I've selected $94 because that appeared to me a strong level of support which the stock broke through convincingly last week and now I believe that it should act as strong resistance because the trend of all the moving averages are to the downside as depicted in the chart provided below.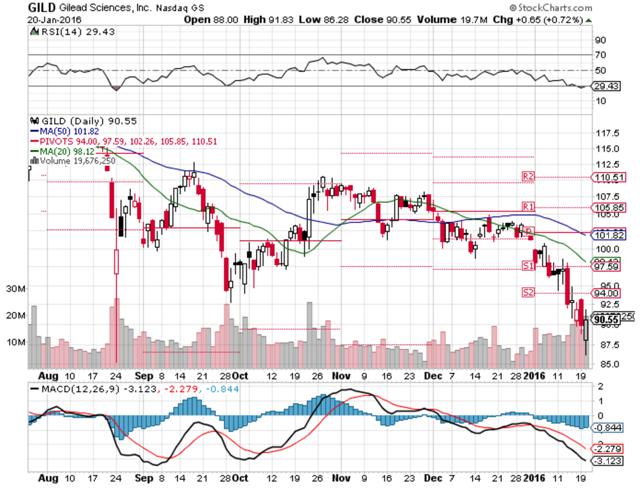 Click to enlarge
The company currently trades at a trailing 12-month P/E ratio of 8.29, which is inexpensively priced, but I mainly like to purchase a stock based on where the company is going in the future as opposed to what it has done in the past. On that note, the 1-year forward-looking P/E ratio of 7.51 is currently inexpensively priced for the future in terms of the right here, right now. I consider anything with a P/E value below 15 to be worthy of a buying opportunity. Next year's estimated earnings are $12.06 per share and I'd consider the stock inexpensive until about $181. In addition, the company has great long-term future earnings growth potential with a projected EPS growth rate of 14.1%.
On a financial basis, the things I look for are the dividend payouts, return on assets, equity and investment. The company pays a dividend of 1.9% with a payout ratio of 16% of trailing 12-month earnings while sporting return on assets, equity and investment values of 41.6%, 102%, and 44.8%, respectively, which are all respectable values.
The really high return on assets value (41.6%) is important because it is a measure of how profitable the company is relative to its assets, telling us how efficient a management team is at using its assets to generate earnings. I consider anything above a 15% return to be excellent.
The really high return on equity value (102%) is an important financial metric for purposes of comparing the profitability, which is generated with the money shareholders have invested in the company to that of other companies in the same industry. On this metric I consider anything above 30% to be great.
The really high return on investment value (44.8%) is an important financial metric because it evaluates the efficiency of an investment that a company makes and if an investment doesn't have a positive ROI then the investment should not be made. From this perspective I like companies that make above 25% return on their investments.
As for me, I have an 8.6% loss in my current Gilead holding and am fine with it. I'm fine with it because I never go full bore and buy my entire position at once. I always layer in, and I layer in on a weekly basis. I am able to do it on a weekly basis because I've been grandfathered in on an old plan from my broker. It's a great deal. I on the other hand will potentially be generating my covered calls at $100 because that is where my cost basis is.
Disclaimer: This article is in no way a recommendation to buy or sell any stock mentioned. This article is meant to serve as a journal for myself as to the rationale of why I bought/sold this stock when I look back on it in the future. These are only my personal opinions and you should do your own homework. Only you are responsible for what you trade and happy investing!
Disclosure: I am/we are long GILD, BIIB.
I wrote this article myself, and it expresses my own opinions. I am not receiving compensation for it (other than from Seeking Alpha). I have no business relationship with any company whose stock is mentioned in this article.