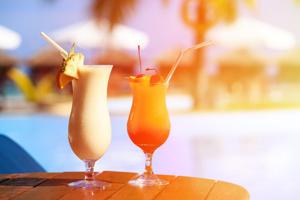 Marriott Vacations Worldwide Corp (NYSE:VAC) has seen its stock face unprecedented downswing. After reaching a peak in mid-July 2015 when the stock was at $91, the stock has fallen to $49 by mid-January 2016. This equals a fall of close to 46% and might resemble a rout for this stock. However one also needs to look at the broader lodging industry during this time. Major lodging stocks like Hyatt (NYSE:H) and Hilton (NYSE:HLT) have also fallen by 37.5% and 37.1% respectively during this time. Other competitors in this space like Diamond Resorts (NYSE:DRII) and Interval Leisure Group (NASDAQ: IILG) have also dropped by 31% and 42.1% respectively. During this time S&P 500 dropped by 11.5%. This actually proves the old saying that; when the market catches cold, the hospitality sector catches pneumonia.
However, this drop can also be an opportunity for building a position in this stock. It is currently trading at a much more reasonable forward PE ratio of 12x than in mid-July when it was trading at 26x forward PE ratio. It has also done well on the operations front. The firm has reported lower marketing costs as a percent of total sales of vacation ownership products since 2011. In 2011 the marketing and sales costs was 54.7% of total sales. Since then it has dropped each year with 51.3% for 2012, 48.5% for 2013 and 47.7% for 2014.
Although the timeshare model has gained a lot of positive and negative views from the general public, VAC remains as one of the better investing opportunities within this space. The brand is well known and the firm has delivered strong fundamentals in the past few years. The firm declared that they have authorized buyback of a further 2.0 million shares under the company's share repurchase program. When combined with the shares not yet purchased from previous authorization, the company can purchase up to 3.6 million shares. This equals 11.2% of the total float as of the last quarter.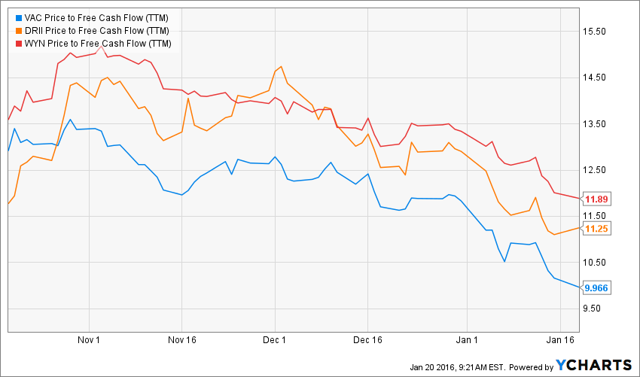 Click to enlarge
Fig: VAC has lower price to free cash flow ratio than DRII and WYN. If the firm aggressively pursues share buyback it should help them to expunge a sizable chunk of their free float.
2015 might not have been the best year yet for this firm with sales being negatively impacted by a stronger dollar, lower development margin and lower financing revenues. VPG (Volume per guest) also decreased by 1.4 percent to $3,424 in Q3, 2015 from $3,477 in Q3, 2014. Tours also decreased by 1.3 year-over-year. One of the main reasons was a stronger U.S. dollar which had a negative impact on Japanese and Latin American customers.
The firm is currently paying a dividend of $0.30 per share. The EPS for Q3, 2015 was $0.82 which translates to a payout ratio of 36.5%. Current dividend yield is 2.5%.
Conclusion
VAC is currently trading at a much more reasonable valuation than a few months back. It has a higher authorization for stock buyback than most of the firms in this sector. A low price to free cash flow ratio should help the management pursue this policy aggressively. In addition to this it offers reasonable dividend with low payout ratio, it has good brand and has strong fundamentals. Overall the firm has a sustainable business model with good market share. This is one of the stocks to watch out when the sector returns to its upward momentum.
Disclosure: I/we have no positions in any stocks mentioned, and no plans to initiate any positions within the next 72 hours.
I wrote this article myself, and it expresses my own opinions. I am not receiving compensation for it (other than from Seeking Alpha). I have no business relationship with any company whose stock is mentioned in this article.