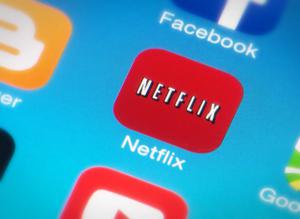 Netflix (NASDAQ:NFLX) released their Q1 2016 results Tuesday afternoon, and despite market chaos today, the broad sentiment is very positive. Last year, I published an extensive analysis of troubling trends. And after one year I've obviously been incorrect with a bearish stance on NFLX, as the stock is up roughly 70% since the Q1 2015 results and up 116% since the start of 2015. In full disclosure, I've been a long-term bear on NFLX's balance sheet since late 2010. These "bear goggles" have led to an incorrect focus on the "house of cards" balance sheet instead of on the "new black" in terms of subscriber growth.
I believe the market has reached a point of panic and general volatility where financials finally will begin to matter. The failure of NFLX to rally on what was a very impressive subscriber growth print highlights this shifting sentiment. Additionally, NFLX needs to tap the junk bond markets in the next couple quarters to continue funding its loss-leading expansion initiatives, and these markets are rapidly closing.
The following report highlights the disturbing financial trends under the hood at Netflix, while also looking at the traditional underlying growth metrics. As investors become more critical of underlying finances, even a hint of growth slippage could turn NFLX into the next Twitter (NYSE:TWTR) or GoPro (NASDAQ:GPRO). The following report utilizes the most recent financial figures as reported in the current shareholder letter. The majority of the raw numbers come directly from Netflix's most recent Excel sheet results.
Domestic Subscriber Growth Stalling
NFLX's growth in terms of nominal subscribers remains very impressive. However, nominal results don't matter when a firm trades based on endless exponential expectations. NFLX's latest domestic growth performance, at 15% y/y, is the lowest in the streaming company's history. This is a firm with roughly $0 in profit, so subscriber growth is everything to the trading thesis here. The following chart shows the eroding growth curve in subscriber growth.

Click to enlarge
International subscriber growth trends are far more impressive, and this is the current "growth story" NFLX is pursuing. However, until very recently, NFLX has mostly been benefiting from surge launches in countries with limited competition. With NFLX announcing worldwide availability, sans China, a few weeks ago this source of surge growth will be officially over by mid-2016. NFLX's only remaining growth bullet will be through the Middle Kingdom, and the January 6th PR was clearly intended to add pressure to Chinese regulators. Direct from their media office:
"Netflix will not yet be available in China, though the company continues to explore options for providing the service. It also won't be available in Crimea, North Korea and Syria due to U.S. government restrictions on American companies."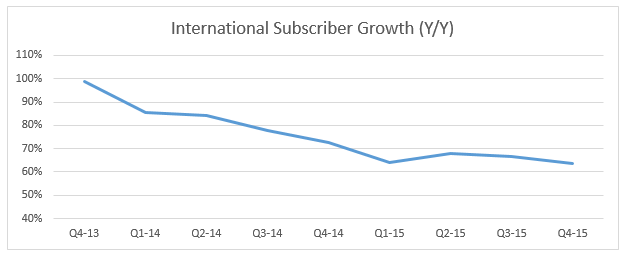 International subscribers now comprise nearly 40% of the total base. This fact gives credit to their impressive expansion plan and is a fantastic pitch slide for NFLX bulls prior to getting into the underlying finances.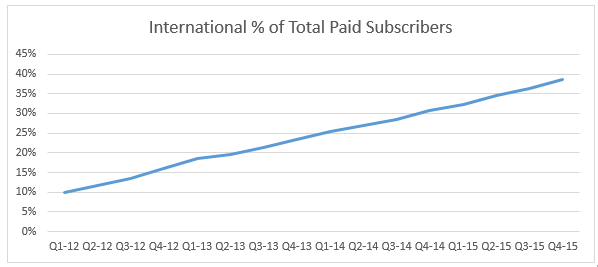 Growth Through Massive Spending
Netflix's growth has been impressive. There's no denying the global growth trends remain strong even if the low hanging fruit is rapidly vanishing. The scary factor for investors is how NFLX continues to pile huge future commitments by securing premium content through providers such as Disney (NYSE:DIS) and Lions Gate (NYSE:LGF), while also continuing to expand custom content offerings such as Marco Polo, Narcos and Orange is the New Black. Although content liability growth remains significant, the past two quarters have improved this spread.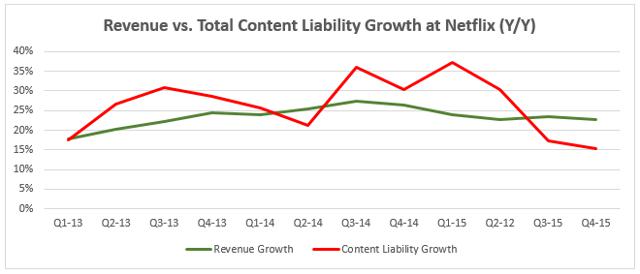 Click to enlarge
The secondary troubling trend has been the growth in non-content expenses (marketing, development, and corporate) versus revenues. While Netflix bulls will continually tout "economies of scale," I've continually pointed out that the facts suggest the opposite. NFLX's growth trajectory has required an explosion of growth in non-content expenses. Again, the past two quarters have shown improving trends, but with the January announcement of official worldwide expansion, I expect these expenses to rocket back up.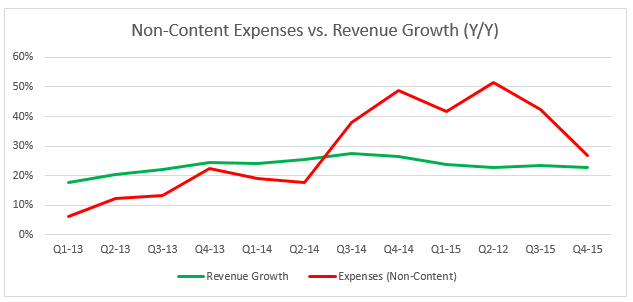 Cash Flows Are Atrocious
Despite heading subscriber growth and turning a small profit on a GAAP basis, the underlying cash flows are horrendous and the weak trends continue to accelerate. Here is a four-year panel of NFLX results, note how 2015 is worse than all the three previous years combined.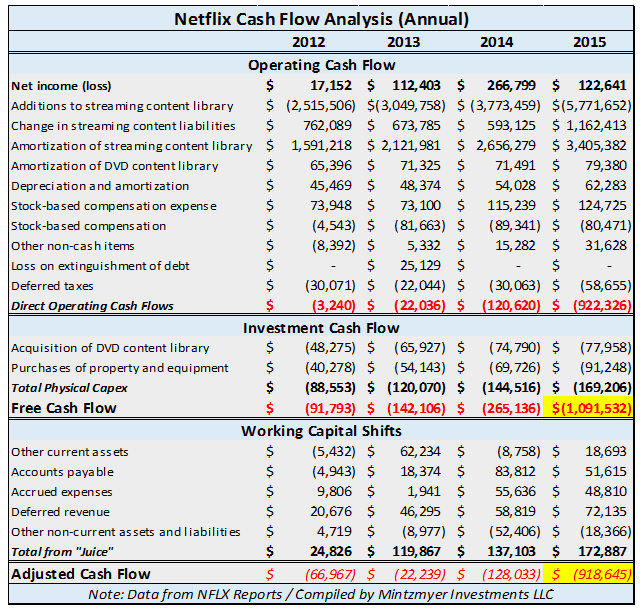 Dialing deeper into the results shows the trends are equally disturbing on a quarterly level. In fact, NFLX was finally stalled from their trend of milking working capital shifts to improve their cash flow position. Over the past four years, NFLX has pulled $355M from shifts in working capital, only about half of which is related to subscription revenue.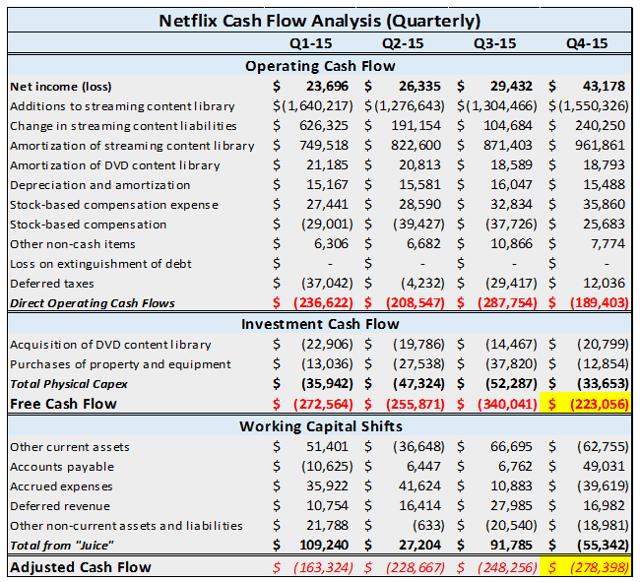 Click to enlarge
As shown above, the cash flow trends are undeniable and continue to accelerate in a negative direction. NFLX finally saw a setback in working capital, which contributed further to this negative flow.
The Junk Bond Market
Netflix has a very weak balance sheet considering the (lack of) profitability for their underlying business. As of Q4 2015 results, NFLX's net debt is $470M, or $2.5B including content liabilities. In comparison, as of Q4 2014, their net cash was $378M, or $1.2B in net debt including content liabilities. The poor finances are undeniable, and a return to the junk bond market is extremely likely within the next 2-3 quarters.
Netflix tries to positively spin this exposure in the Q4 2015 letter (emphasis added):
Given our expected cash needs, we are likely to raise additional debt in late 2016 or early 2017. We are managing our balance sheet to lower our blended cost of capital over time, while maintaining financial flexibility. Despite being FCF negative as we grow our original content and invest in international, our bonds trade like a BB credit (vs. their single B rating) due, in part, to the long‐term growth of Internet TV globally and our low debt to market cap ratio, which provides bond investors with a very thick cushion of protection.
Utilizing debt to market capitalization as a metric of 'safety' is one of the most absurd arguments I've seen, especially suggesting a bloated stock serves as a "thick cushion of protection." Regardless, the intent to return to the junk bond market is clear.
Shift In Market Momentum?
When you're speculating in growth stocks, betting against clear consumer trends and especially against market momentum can be financial suicide. Netflix has enjoyed the benefit of being the most competent first mover in a clear secular trend ("cord cutting"). At the same time, NFLX has enjoyed immense stock market momentum. This momentum has led to a complete disregard for any financial red flags.
With market volatility reaching near-term records and the market off to its worst two-week start in history, investors appear to be demanding a higher level of financial results. NFLX presented the type of figures that historically would have led to 20% intraday gains, yet they ended the first trading day flat. The most surprising factor is that NFLX was down by as much as 10% intraday as shown from the Google Finance capture below.
Click to enlarge
Today's market movement suggests that the extremely forgiving trade momentum may finally be gone for NFLX. Coming from a Netflix bear, the Q4 2015 report was absolutely stunning on the only two trends that (have) matter(ed) to investors: subscriber growth and liability growth. Free cash flow was abysmal as usual, but growth investors rarely care about underlying financials. This type of report should have boosted the stock by 10-15%, but completely failed to move the needle. If momentum is dead, NFLX might begin to search for a 'fair' fundamental valuation, in which case declines exceeding 50% are possible, especially if NFLX attempts to tap the dying junk bond market anytime soon.
Disclosure: I/we have no positions in any stocks mentioned, and no plans to initiate any positions within the next 72 hours.
I wrote this article myself, and it expresses my own opinions. I am not receiving compensation for it (other than from Seeking Alpha). I have no business relationship with any company whose stock is mentioned in this article.