Bank of the Ozarks (NASDAQ:OZRK) reported $0.57 EPS for 4Q 2015, versus the market consensus of $0.56. The bank also beat the estimates for the top line by $8.2 million. For FY 2015, the bank reported a net income of $118.6 on revenues of $355.3 million, as this corresponded to a RoATCE of 17%.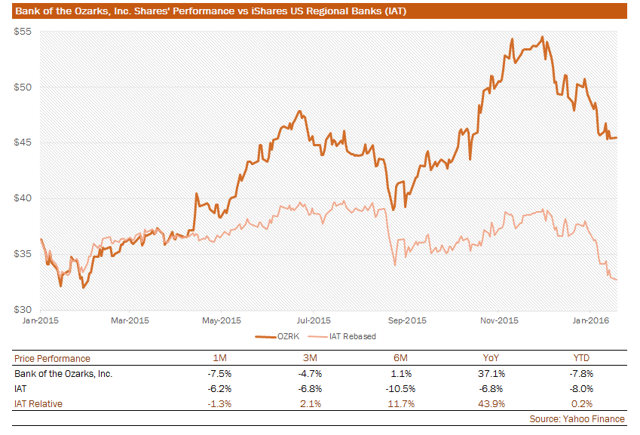 Click to enlarge
Apart from being the one of the most profitable franchises within the American banking universe, Ozarks showed clear signals of continuation of remaning so with the solid volume growth. Average total assets grew by 45.8% in 2015, with loans and deposits up by 57.7% and 50.1%, respectively. The bank intentionally managed to keep its balance sheet sized under $10 billion (at $9.88 billion) in an effort to prevent itself from being subjected to the Durbin Amendment, which brings increased regulatory compliance costs for the banks with total assets above the level. The year-over-year decline of $236 million in the investment securities book was partly due to this. In addition, the bank aspired after reducing the portfolio's exposure to the uncertainty surrounding possible rising interest rates.
The management recently upgraded its loan growth forecast from $2.5 billion to $3 billion citing the growth in the customer base. This means another year of double digit growth in the balances. Also note that Ozarks will be looking for M&A opportunities this year. The acquisitions of Community & Southern Bank and C1 Bank provided 79 banking offices in Florida and Georgia, and increased the bank's capabilities which will enhance loan administration and other business functions. Meanwhile, organic growth is likely to be the important part of Ozarks' expansion story as the bank once again has proven its ability to reach the sources it needed to fund its loan and lease growth. For instance, the bank recently employed a spin-up strategy for its offices located in specific areas where capacity to raise deposits were significant. It helped the bank to increase its total deposits book by $365 million in 4Q 2015 (or 4.6% q/q).
On a negative note, the management guides for NIM to be under pressure this year. In 2015, Ozarks' margin was down by 33 bps to 5.19%. Despite having a loan book of which 79% are variable rates in a Fed rate-hike cycle, we may see further contraction from the current exceptionally high level.
One should be asking the quality of the growth when it comes to analyzing a banking business as credit quality is of critical importance for any financing activity. For FY 2015, the bank saw its provisions increasing by 14.8% from $19.4 million to $16.9 million, which, in my view, was usual considering the loan growth at such a fast pace. NCO ratio remained at 0.17% in 2015, and is expected to be in the range of 0.25%-0.10% through this year. As of 3Q 2015, average loan-to-cost was an ultraconservative 51% and average loan to appraised value was just 43%. The bank's focus on credit quality and conservative underwriting standards will keep it best-in-class with respect to asset quality. Remember that the bank has no meaning direct exposure to oil gas, and the influence of the shrinking market will only be at the macro level.
On the fees and expenses front, we saw the bank increasing its non-interest income by 23.7% in 2015, and growth in expenses was just 15%. It operated with an efficiency ratio of 38.5% in 2015 which was amazing compared to its peers. However, I expect the ratio to remain stable around 40% in 2016 due to the ongoing growth process which is likely to require more expenditures.
With a set of assumptions that include stable non-interest income and asset quality outlook, slightly higher expenses, the continuation of ongoing trend in the balances, 25 bps of contraction in NIM, Ozarks may post an earnings growth around 30% this year, that would take the annual EPS up to $3. That is to say, we may see another record year in Ozarks, with ROAA over 2.1%, ROAE of 17%, or ROATCE of 18.5%. Ultimately, I upgrade my price target for the stock from $48 to $55 and think the recent sell-off created a great buying opportunity.
Disclosure: I/we have no positions in any stocks mentioned, and no plans to initiate any positions within the next 72 hours.
I wrote this article myself, and it expresses my own opinions. I am not receiving compensation for it (other than from Seeking Alpha). I have no business relationship with any company whose stock is mentioned in this article.