Where is the United States economy heading? That is the question on a great deal of investors' minds recently as the economic data has been showing signs of weakness here in the New Year. Taking a look at the economic data of the day we come to find that Jobless Claims are steadily increasing. Jobless Claims achieved a 42-year low of 243,000 last October, but have since rebounded. With today's announced 10,000 additional claims, the total Jobless Claims rests at 293,000 in the United States or up 50,000 since October of 2015.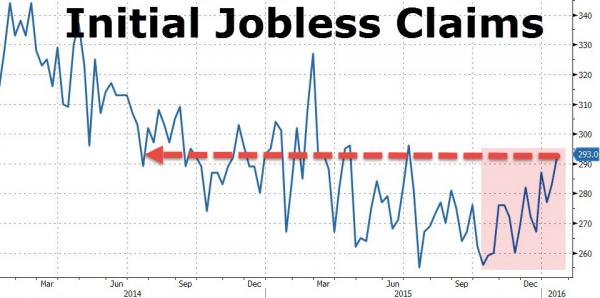 The number of Americans applying for unemployment benefits in mid-January reached seven-month highs, perhaps a sign that the rate of layoffs in the U.S. has risen slightly from record lows. Additionally, the four-week average of initial claims rose by 6,500 to 285,000, the Labor Department said. Some 2.21 million people collected weekly unemployment checks in the seven days ended Jan 9. These so-called continuing claims were 56,000 lower compared to the prior week.
The Philly Fed Index didn't fare any better than Initial Jobless Claims this morning with the Index staying negative for a 5th consecutive month. Philly Fed improved from -10.2 to a -3.5 with the number of employees and average workweek both tumbling. Shipments increased, but new orders remain in contraction as inventories dropped. Below is a table of the Philly Fed Manufacturing Business Outlook Survey, which seems unfavorable going forward.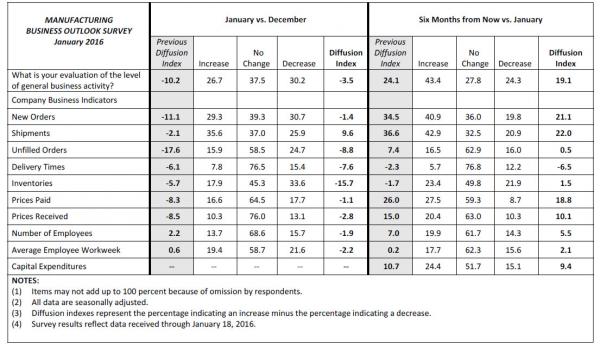 If we take a look at the Consumer Price Index we come to find inflation has been minimal and working against the Federal Reserve's inflation mandate. It would almost seem as if there is literally no need for the mandate nor has there been for the last 5 years. The Consumer Price Index declined by seasonally adjusted 0.1% last month, the Bureau of Labor Statistics said Wednesday. For all of 2015 inflation rose just 0.7%, the second slowest rate in 50 years. The low rate was largely the result of the biggest drop in gasoline prices in more than a decade. The cost of food also tapered off toward the end of the year because of falling prices for agricultural goods. Stripping out food and energy, core prices rose 0.1% in December. Core consumer prices have climbed at a much faster 2.1% annual rate, marking the biggest 12-month change since 2012. Higher costs of shelter, medical care and other services have driven the increase. The cost of shelter climbed again, reflecting higher prices for homes and rising rent.
Also announced recently was data related to the all-important housing sector of the economy. Housing starts fell 2.5% last month to an annual rate of 1.15 million, the government said Wednesday. Economists surveyed by Reuters had expected starts to total a seasonally adjusted 1.23 million.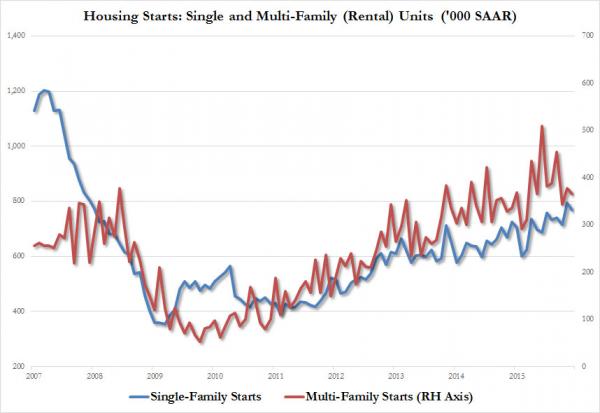 Yet for all of 2015, homebuilders started work on 1.11 million new houses, the largest number since the Great Recession. In November, housing starts were revised slightly higher to a 1.18 million rate. Starts climbed nearly 11% compared to 2014. Requests for new building permits, meanwhile, slipped 3.9% to an annual rate of 1.23 million in December.
As long as we have an economy the data will continue to come and tomorrow will bring with it additional economic data for investors to consider. The table below identifies the economic data releases expected tomorrow.
FRIDAY, JAN. 22

9:45 am

Markit PMI flash

Jan.

--

51.2

10 am

Existing home sales

Dec.

5.21 mln

4.76 mln

10 am

Leading economic indicators

Dec.

--

0.4%
Economic data isn't everything, obviously, and especially as we head deeper into earnings season. After the closing bell today Starbucks (NASDAQ:SBUX) will report its Q1 2016 results. Analysts polled by FactSet expect the coffee house chain to show earnings of 45 cents per share. The 154 analysts crowd sourced by Estimize forecast a slightly higher 46 cents per share. Starbucks reported 40 cents per share for the same period in 2015. Analysts polled by FactSet forecast revenue of $5.4 billion. That's an increase from $4.8 billion for the same period last year, which met FactSet consensus expectations. Shares of Starbucks are down 8.5% for the past three months, but are up 37% for the past 12 months.
Starbucks' mobile payment and ordering initiative proved to be a huge success last year and has become a convenient option for customers. Fast and efficient service has positively impacted the customer count throughout the year. According to the company, mobile payments account for 21% of the net transactions in U.S. company-operated stores. The number of the company's MSR (My Starbucks Reward) members grew 28% y-o-y in the U.S., whereas the active mobile app users in the North American region grew by 32% y-o-y. The important takeaway is that this technology is only available in 7,500 company-operated stores in the U.S. as of now, and still has a long way to go.

Starbucks is planning to expand this feature to its stores in the U.K. and Canada as well. On the other hand, the company launched the mobile app on Android and iOS versions in France and Germany, and plans to deploy this feature in Poland, Czech Republic, and Kuwait in the coming few quarters.
After conducting checks at 5% of Starbucks' U.S. locations, Wedbush believes same-store sales growth in the Americas will be in the high-single digits, analysts said in a note published Monday. Wedbush analysts "conservatively model 7%, but expect 8% to 9%" same-store sales growth. The FactSet consensus estimate is 6.9 percent. Wedbush rates Starbucks stock as outperform with a $70 price target. Last week, Starbucks announced that it would open 500 cafes in China annually for the next five years.
American Express (NYSE:AXP) is also set to announce its quarterly results after the closing bell today and in the face of a very turbulent market. Wall Street is expecting the company to earn $1.13 a share on revenue of $8.35 billion. During the same quarter the year before, the company earned $1.22 a share on revenue of $8.39 billion. It's not looking like Wall Street has high hopes for American Express in the near term and as the company attempts to put 2015 in its rear view mirror. Analysts expect the company to continue to be impacted by the strong dollar in 2016.
In November of 2015, American Express and Airbnb announced a partnership Tuesday that will allow card members to create a log in with their American Express credentials and add an extra layer of verification. With the partnership, cardholders can use Membership Rewards points to book the accommodation. The card will also give members another way to verify their profile, so that hosts and other users will see an American Express badge on their page.
While the Street.com rates shares of AXP a Buy, last Tuesday Goldman Sachs (NYSE:GS) took an entirely different position with regards to shares of AXP. Analysts at Goldman Sachs downgraded American Express Company from Buy to Neutral. American Express shares closed that day at $64.42.
While U.S. equity futures showed strength in the morning, the markets opened mixed and quickly headed lower. So with economic data not providing support to an otherwise negative sentiment pervading the overall markets thus far today, let's see if earnings from these two companies can change the tide.
Disclosure: I/we have no positions in any stocks mentioned, and no plans to initiate any positions within the next 72 hours.
I wrote this article myself, and it expresses my own opinions. I am not receiving compensation for it (other than from Seeking Alpha). I have no business relationship with any company whose stock is mentioned in this article.