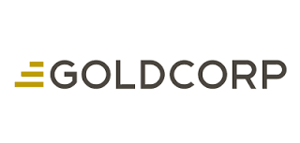 On December 4, 2015, Goldcorp (NYSE:GG) announced that David Garofalo, the CEO of HudBay Minerals (NYSE:HBM), was named a successor to Chuck Jeannes, a departing CEO of Goldcorp. In this article, I would like to assess whether Mr. Garofalo is the right person to lead one of the biggest precious metals miners. To answer that question, I am digging into the last five years Mr. Garofalo spent at HudBay as its CEO.
However, in the beginning, let me disclose some facts about Goldcorp.
Goldcorp
Goldcorp is one of the world's biggest gold producers. In 2015, the company was supposed to have delivered around 3.6 million ounces of gold. For many years, it was also regarded as one of the lowest-cost producers. The chart below shows Goldcorp's gold production and its gold reserves, starting from 2003:

Click to enlarge
(Source: Simple Digressions)
The chart demonstrates that between 2007 and 2013, when the prices of gold were going up strongly (I exclude a short period in 2008 when gold prices were going down), the company was not able to increase its gold production. What is more, when in 2012 gold prices started to go down, Goldcorp's mineral reserves decreased significantly from 67.1 million ounces of gold in 2012 to 49.6 million ounces in 2014 (of course, the biggest part of this decrease was attributable to lower prices of gold; the accompanying depletion was a second factor standing behind it). I think this stagnant production should be attributed to Goldcorp's management. When a gold producer is not able to sell more gold at higher prices, it means that not everything is alright with such a company.
Apart from stagnation, Goldcorp is really an awful company when basic financial measures are considered. Let me cite a few figures demonstrating this issue. Between 2007 and 2014, the company generated $10.9 billion in cash flow from operations; in the same period, it spent $12.6 billion on investment. This means Goldcorp burnt cash of $1.7 billion. Despite the fact that the company was burning cash, management additionally paid net cash of $1.4 billion to the shareholders (net cash paid to shareholders is defined as dividends paid less the value of shares issued). So, between 2007 and 2014, Goldcorp's cash outflow was $3.1 billion. The result of such a frivolous financial strategy was poor. At the end of 2006, the company was holding debt of $925 million and cash of $555 million (so, the net debt was $370 million), but at the end of 2014, Goldcorp's debt was $3,592 million, with cash standing at $535 million (so, the net debt was $3,057 million). It means that under Mr. Jeannes' leadership (he became the company's CEO in December 2008), Goldcorp increased its net debt level from $370 million to $3,057 million (around eight-fold).
Fortunately, at the end of 3Q 2015, the situation was slightly better. Goldcorp reduced its net debt level to $2,369 million, but one of the most important financial measures, the ratio of net debt to EBITDA, was standing at 3.6, which indicated that the company was carrying a heavy debt load (as a rule, banks regard a ratio of 2.0 or lower as relatively safe).
Strangely enough, the above described negatives did not have a devastating impact on the company's share prices. The chart below shows the relative strength of Goldcorp's shares against the broad market, as represented by GDX: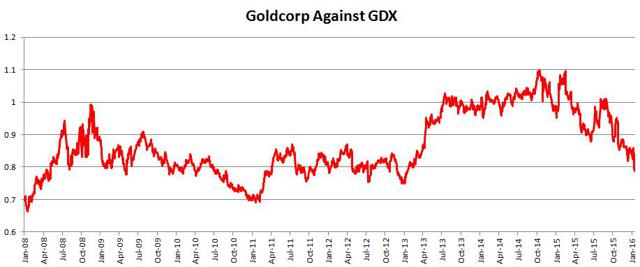 Click to enlarge
(Source: Simple Digressions)
It can be easily seen that in the long term Goldcorp shares were performing more or less like GDX. Substantial deterioration has been only visible in the short term; since the end of 2014, Goldcorp shares have been performing much worse than the broad market.
Summing up, under the former CEO, Goldcorp lost much of its shine. Not only was the company not able to increase its production during favorable market conditions (rising gold prices), but its financial position also deteriorated significantly. Therefore, a change in key management was, in my opinion, well supported by facts.
HudBay under Mr. Garofalo
David Garofalo was named HudBay's CEO on June 21, 2010. To assess his achievements, one should ask how HudBay looked like before Mr. Garofalo appointment and how it looks like now when he is leaving HudBay. To do this, let me cite a few figures.
The chart below compares HudBay's production in 2009 (before the appointment of Mr. Garofalo) to that reported in 2015 (the last year Mr. Garofalo was leading the company):

Click to enlarge
(Source: Simple Digressions)
As the table shows, copper production increased by 151.5%. What the table does not show is the fact that the whole increase took place in 2015, when the Constancia mine in Peru started its operations.
Next thing, the 777 and Lalor mines produce mainly zinc. These days, their production is similar to that reported in 2009, so, generally, the zinc business has been stagnant since then. The most perspective mine is Constancia, which is a copper and precious metals producer. According to the guidance, in 2016, Constancia is supposed to increase its copper production by 12%, compared to 2015. The mine should also increase its precious metals production by 16%. In my opinion, this mine is the best example of Mr. Garofalo's personal input into HudBay's mineral portfolio.
In 2009, HudBay operated three mines: 777, Chisel North and Trout Lake, of which only 777 is operating today. At that time, the Lalor project was under development (the decision to start Lalor's construction was made under Mr. Garofalo's leadership).
At the end of 2015, the company was operating four mines: 777, Lalor, Reed and Constancia. Since the arrival of Mr. Garofalo, HudBay put in operation three new mines: Lalor, Reed and Constancia.
Now, a few words about HudBay's economics. Between the beginning of 2010 and the end of the third quarter of 2015, the company generated C$1.57 billion in operating cash flow and spent C$3.39 billion on investment. It means that HudBay, similarly to Goldcorp, burnt cash (C$1.82 billion). However, there is a distinct difference between HudBay and Goldcorp. Although the company burnt cash, it added a large copper-precious metals business to its zinc segment. Now, this combined copper, zinc and precious metals business should be delivering sustainable production in the long term. This business is based on much larger reserves than the company was holding before the arrival of the new CEO. For example, copper reserves increased from 342.3 thousand tons in 2009 to 2,266.6 thousand tons at the end of 2014. Zinc reserves went up from 683.8 thousand tons to 1,196.4 thousand tons in the same period.
Apart from these positives, there are also some negatives. HudBay currently carries quite a large debt load. At the end of the third quarter of 2015, the company had debt of C$1.67 billion (at the end of 2009, the company was debt-free). Assuming the annual EBITDA of around US$420 million (the 3Q 2015 EBITDA run rate), a ratio of net debt / EBITDA should stand at 2.9, which is quite a high reading (but a little bit lower than in the case of Goldcorp). If metals prices go significantly lower, HudBay may face some financial troubles.
Another thing - during the Mr. Garofalo's reign, HudBay implemented a new strategy, which can be described in the following way:
"The key elements of our strategic plan are as follows: (i) optimize operations and grow our principal operating platform in northern Manitoba, including aggressively pursuing development of our Lalor project and continuing exploration in the Flin Flon Greenstone Belt; and (ii) grow beyond our Manitoba base, including through the development of the Constancia and Back Forty projects, and seeking acquisitions of VMS and porphyry deposits with exploration upside in mining friendly jurisdictions in the Americas"
In my opinion, HudBay is now a well-established, big mining company and a departure of Mr. Garofalo should not have a negative impact on the company's performance.
Now, let me discuss a few specific topics, which show the way Mr. Garofalo was leading HudBay.
Mining projects
Lalor
In March 2012, HudBay published a Technical Report on Lalor, a zinc-gold-copper project located in Manitoba. Together with the 777 mine and the Reed mine, Lalor is another deposit located in Flin Flon Greenstone Belt, an area where HudBay has been mining for over 85 years. It means that the company should understand the geology of Flin Flon very well. However, the main financial measures, presented in the Lalor Technical Report, were really astounding.
First of all, the net present value of the project, calculated at the discount rate of 8%, was negative (minus C$128.8 million). The accompanying internal rate of return (IRR) was standing at 4.16%, which is a very, very low reading. In most cases, such a project would not qualify for construction. Strangely enough, the management decided to go ahead with it.
How does Lalor look like today? Maybe, despite the projected poor economics, it demonstrates interesting operating results. Let me check.
According to the company's estimates, Lalor should demonstrate total operating cost of production standing at C$102.83 per ton. In its 4Q 2014 report, the company noted that total operating costs at Lalor were standing at C$123.3 per ton (20% up, compared to the estimates).
Another thing - according to the estimates, in 2014, Lalor should have processed 527.6 tons of ore. The actual amount of ore processed was 551.9 tons, better than expectations.
Finally, a big plus for the management. The project achieved commercial production on time and on budget. As of September 2014, HudBay spent C$439 million (the budget was C$441 million).
I do not know whether the Lalor mine is currently economically viable; the company does not deliver financial results related to this mine (it only delivers joint results for Manitoba operations, comprising Lalor, Reed and 777). However, looking at metal prices assumed in the Technical Report, I have doubts as to whether the project is economically viable in the long term. According to the estimates, the long-term price of zinc (a main commodity extracted at Lalor) was assumed at US$0.97 per pound. Since the project demonstrated poor economics even at that price, with zinc prices standing at US$0.67 per pound today, my doubts seem to be well founded.
Constancia
In 2011, HudBay acquired Norsemont Mining Inc., a company owning the Constancia project in Peru. It is a large copper porphyry project with annual production of 82 thousand tons of copper, on average. According to the Technical Report, published in October 2012, the main operating measures were as follows:
Capex: US$1.55 billion
Copper price: US$3.4 per pound in the first year of production; then the price is projected to go down to US$2.75 per pound in the fourth year of production
Net present value: C$571 million (using a discount rate of 8%)
Internal rate of return: 14.5%
Operating costs: U$7.48 per ton
Mine life: 22 years
Well, in my opinion, the Constancia internal rate of return is still far away from the relatively safe one of around 20%. What is more, the project should deliver this IRR assuming quite high copper prices (today, copper is trading at around US$2.0 per pound). However, the project's financial measures make mine much safer operation than, for example, the Lalor project (with an internal rate of return of just 4.16%).
In April 2014, Constancia achieved its commercial production. Let me check, once again, the basic operating measures reported by this mine. According to 3Q 2015 report, in the first nine months of 2015, the mine operating cost was standing at US$7.77 per ton. To compare this cost to the project assumptions, I had to convert the cost denominated in US dollars into Canadian dollars. Assuming an exchange rate of 0.7645, the Constancia production cost was C$10.16 per ton, which was 35.8% higher than estimated.
Fortunately, Constancia was constructed on time and nearly on budget (there was only small delay in commissioning the mine), with only small cost overruns. According to the company's 3Q 2014 report, the total project capital budget was US$1.7 billion, which was only 9.6% higher than the initial estimates.
In the first nine months of 2015, Constancia delivered 68,162 tons of copper, and, according to the company's 3Q 2015 report, the mine should deliver between 100,000 and 125,000 tons of copper in 2015. I think HudBay is going to meet this guidance; this means the projected production target of 82 thousand tons of copper a year should be even exceeded (which is a plus for the company).
The company's guidance
HudBay, under Mr. Garofalo, was generally meeting its production guidance. The table below presents the company's guidance and actual production results, starting from 2012:

Click to enlarge
(Source: Simple Digressions)
The yellow color depicts cases when the guidance was not met. In 2014, HudBay did not meet its production guidance due to small delay in commissioning the Constancia mine.
Summary
In my opinion, the appointment of David Garofalo as the CEO of Goldcorp should be regarded as a chance for the better future for Goldcorp. This manager, although having a background in finance (which is not a common thing in the mining sector, where a majority of CEOs have a technical background), had quite a decent record while working for HudBay Minerals. Mr. Garofalo was able to build large business through implementing a well-defined strategy. I am confident Goldcorp was lacking such a leadership - this thesis is supported by its poor financial strategy, which deteriorated the company's financial performance, with nearly no improvement in the quality of Goldcorp's mineral assets. Having a finance guy lead Goldcorp should improve the company's financial performance in the long term.
While leading HudBay, Mr. Garofalo implemented a few large investment projects on time and generally on budget. It is a good feature of a manager, especially in an industry where cost overruns are not exceptions. However, investors should closely track the decisions taken by the new CEO, especially those related to project economics - the case of the HudBay's Lalor mine, where the project holding a very low internal rate of return of 4.16% was carried out, should be regarded as a warning.
Disclosure: I/we have no positions in any stocks mentioned, and no plans to initiate any positions within the next 72 hours.
I wrote this article myself, and it expresses my own opinions. I am not receiving compensation for it (other than from Seeking Alpha). I have no business relationship with any company whose stock is mentioned in this article.