Frontier Communications Corporation (NYSE:FTR) is one of the largest communication service providers in the U.S. The company offers digital phone, high-speed internet, and digital TV services to both residential and business customers. Users can also purchase bundled services to lower their costs. Established in 1927, the Stamford, Connecticut-headquartered Frontier was formerly known as Citizens Communications Company. After it acquired the fixed-line operations from Verizon (NYSE:VZ) in 2010, Frontier almost tripled its asset base.
A significant portion of Frontier shareholders received their shares during the acquisition process. Initially, the acquisition deal boosted the share prices. By the end of 2010, Frontier was trading for as high as $8.8. However, the acquisition came at a great cost. Along with the assets, Frontier's debt has also expanded in size. By the end of 2010, total liabilities reached almost $12.7 billion. As of December 31st, 2011, its assets amounted to $17.460 billion, whereas liabilities were as high as $13 billion. The upcoming debt payments caused a massive fear among the investors, driving the stock down to as low as $4.
Fellow SA contributor David Klein suggests that Frontier has about $2 billion of upcoming debt to be paid until 2015. The debt to be paid in 2012 is a negligible amount of $94 million. However, during 2013 and 2014, Frontier has to pay at least $600 million of debt. In 2015, the debt payment amounts to $858 million. The total long-term debt amounts $8.2 billion, whereas the current liabilities amount to $1.18 billion.
So, debt is a significant issue for the company. However, looking at the cash flow generated by the company, one can see that Frontier generated more than $1.5 billion from operating activities in the last year alone. While half of this cash-flow is spent on capital expenditures, the company still generated free-cash flow to distribute almost $750 million in dividends. If management opted for debt-reduction, they could have reduced the existing debt by at least this amount.
Apparently, management realized that offering a generous double-digit yield while the company is under a heavy debt load is not that much of a good idea. Sure the yield is great, but the drastic fall in share prices is enough to spark an outrage among disappointed investors. In the most recent earnings call, Chairman & CEO Ms. Maggie Wilderotter announced the already expected dividend cut. The quarterly dividend is slashed by almost 50% to 10 cents per share. That is the lowest dividend Frontier offered in the last 5 years. The yield of 8.4% is still great though. Here is Frontier's recent dividend history (Data from Morningstar):
Annual Dividends

12/2007

12/2008

12/2009

12/2010

12/2011

Dividend Amount

1.00

1.00

1.00

0.875

0.75

Year-end Yield %

7.86

11.44

12.80

8.99

14.56
Compared to its peers in the telecommunication sector, Frontier's yield is among the best. The telecom giants AT&T (NYSE:T) and Verizon offer yields of 5.86%, and 5.20%. CenturyLink (NYSE:CTL) and Windstream (NASDAQ:WIN) offer relatively higher yields of 7.4%, and 8%. Interestingly, even after losing almost half of its market cap, Frontier is still the most shorted stock among its peers. Approximately 12% of Frontier's shares in float are shorted. For comparison, Windstream and CenturyLink have short floats of 5.75%, and 3%. Verizon and AT&T are the least shorted stocks among this group, with short floats of 1.27% and 0.86%.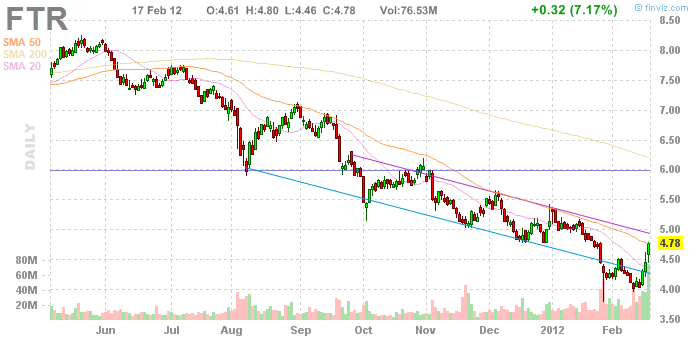 Click to enlargeSummary
Those looking for safe and steady income with no strings attached should consider big telecom titans such as AT&T and Verizon. While, their yields are not that as high as Frontier's, they are obviously much safer. Verizon increased its dividends by almost 30% in the last 5 years. AT&T also boosted its dividends by 20% in the same period. On the other hand, Frontier's dividend was cut by more than half. The dividend is still great, but has no guarantee for the future.
While, I would not count on Frontier for strong income, I think the stock is primed for a rebound. The stock has lost much of its market cap that even the drastic dividend cut could not affect its price. In fact, Frontier was one of the top performers of the last week, returning almost 18% in the last 5 trading days. Since it is one of the most-shorted stocks in the market, upward momentum can easily trigger a short recover. Shorts made significant gains in the last year and would probably be very quick on recovering their positions to lock in their gains.
Frontier is one of the few stocks that failed to bounce back this year. It could be a good contrarian pick. It also has a strong cash flow to cover its debt expenses. While the dividend cut is not a good thing, it still offers an attractive yield. Therefore, I rate it as a speculative buy for big profits in this year.
Disclosure: I have no positions in any stocks mentioned, and no plans to initiate any positions within the next 72 hours.