The Buy Thesis
One Liberty Properties (NYSE:OLP) provides steady returns, and given the great entry point of the current price dip, near-term capital appreciation should be outsized as well. Its growing 8.2% dividend is secured by a well-diversified portfolio of high-quality assets, generating long-term contracted revenue streams.
In the chaotic environment, we are often forced to pick between the deeply discounted volatile stocks and the less opportunistic defensive stocks that haven't sold off nearly as much. OLP gives the best of both with superior safety and superior yield.
Opportunistic Price Point
Historically, OLP has traded at a steady P/FFO spread to the REIT index.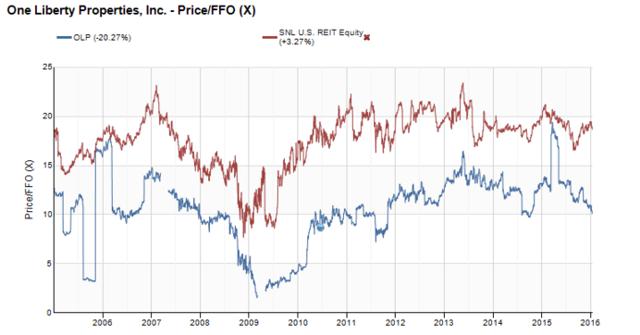 Click to enlarge
Recently, however, the spread has widened (note the divergence in 2015 and 2016), meaning OLP is cheaper than it usually is. Even with the recent dip, the company has slowly and consistently outperformed the index.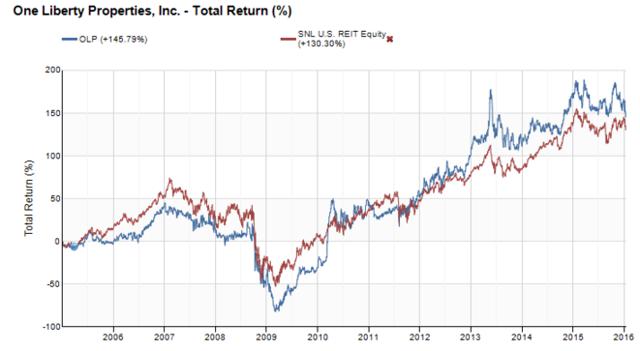 Click to enlarge
OLP is cheap relative to REITs and cheap relative to itself. We see this as a great time to buy into a consistently strong performer.
Why Has OLP Traded Down?
Triple-net REITs tend to be reliable with a business model that has long-term contracted revenue from a diversified tenant base. Most of the NNN REITs traded down substantially since 5/21/13, which marks the start of the taper tantrums.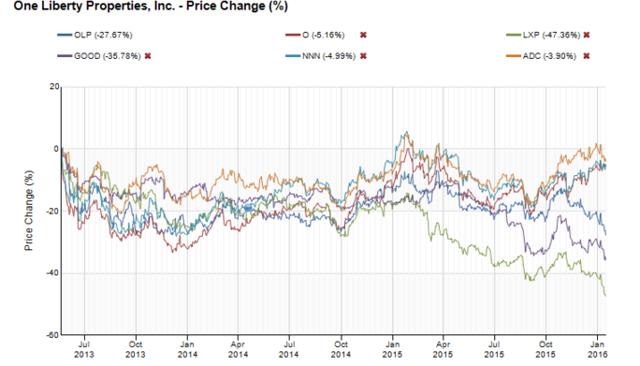 Click to enlarge
Theoretically, the locked-in revenue streams of NNN REITs could prove detrimental if interest rates were to rise rapidly. As taper tantrum round 2 hit along with the continued talks about the Fed hiking rates followed by the Fed actually hiking rates, NNN REIT market prices continued to get punished.
Mispricing comes in as the reality did not match the fear. Interest rates have not risen materially if at all. The 10-year treasury is presently at only 2.04%. Further, it seems increasingly likely that interest rates will remain low for an extended period of time as global growth is slowing and all kinds of economic difficulty seem plausible.
Fear has shifted from interest rates to economic contagion coming from China and other broken growth emerging markets which are struggling due to their heavy reliance on commodity exports. A strengthening dollar is threatening the profitability of American companies with international sales. In the widespread fear, the market seems to have forgotten about the NNN REITs which have continued to languish at abnormally wide yield spreads above the treasury and abnormally large P/FFO spreads below the REIT index.
This is a great opportunity to buy OLP which has minimal risk and very strong yield.
Secure Business
The locked-in revenue streams that were a boon during the Fed-speak are the reason OLP is a good investment today. These steady revenues make OLP nearly immune to all the fears circulating at the moment.
Strong dollar? OLP doesn't care, all of its properties are in the US, and its revenues come in dollars.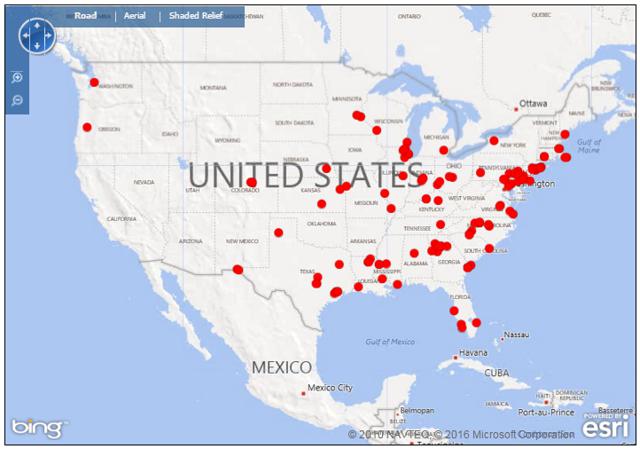 Click to enlargeData from SNL Financial
America catches the weak growth cold? Weak growth does not make a tenant default. OLP's revenues should be fine.
In fact, One Liberty Properties has demonstrated an ability to survive even the harshest economic environments with minimal damage. Looking back at the great recession, we can see that occupancy dipped only slightly but never got below 97%.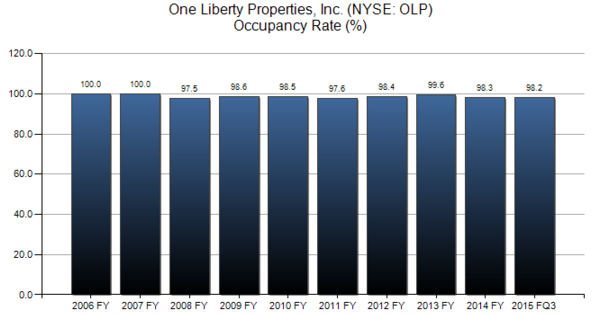 Data from SNL Financial
I have not seen any evidence to suggest that we are going into a recession, but even if we are, the chances of it being worse than the great recession are quite slim.
Oil stays low? OLP's tenants are not particularly affected.
OLP's top tenants are in home improvement, fitness and office supplies.

Click to enlargeData from OLP filings
Fundamental Outlook
Our fundamental outlook for the company is a lack of surprises. Looking at its existing leases, we can see that 3.7% of revenues expire in 2016 and 4.3% in 2017.

Click to enlargeSource: 3Q 10-Q
With minimal near-term rollover, it seems likely that OLP will be able to maintain its revenue streams. Some investment activity may even grow FFO/share slightly as OLP has acquired some new properties in the past 52 weeks. By our analysis, acquisition cap rates were adequate to achieve slight accretion.
Risks Of Investment
Fundamentally, risk lies primarily in tenant default. While we do not view this as likely, a default on one of its larger tenants could be sufficiently material to negatively impact the stock. A far greater near-term risk is that the market price continues to be decoupled from intrinsic value. We would not be surprised to see further price fluctuations even if FFO/share continues to grow. For the long-term investor, this is not an issue, but those with a shorter investment horizon may wish to take a smaller position.
Summary Of Buy Thesis
Going forward, we see OLP as low risk and high reward. Take advantage of today's pricing where we can buy OLP at only 10X forward FFO and only 69% of NAV. In a highly uncertain environment, locked-in revenue streams is a good thing, yet, it is still being priced like a risk.
Disclosure: 2nd Market Capital and its affiliated accounts are long OLP. This article is for informational purposes only. It is not a recommendation to buy or sell any security and is strictly the opinion of the writer.
Disclosure: I am/we are long OLP.
I wrote this article myself, and it expresses my own opinions. I am not receiving compensation for it (other than from Seeking Alpha). I have no business relationship with any company whose stock is mentioned in this article.