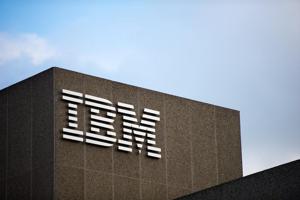 I've been fairly bearish regarding IBM (NYSE:IBM) in the past year, primarily thanks to the strength of the US dollar. Big Blue shares have tumbled thanks to currency movements heavily pressuring results. This week, the company's earnings report was highlighted by terrible 2016 guidance from management, as the rolloff of forex hedges will significantly impact profits. For those who believe shares have found a bottom, I would like to caution you.
On Thursday morning, ECB boss Mario Draghi warned that downside risks were increasing again, meaning further stimulus could be needed at the March meeting. As a result of these statements, the dollar strengthened against the Euro, falling below the $1.08 level. Further easing out of Europe could push the Dollar/Euro closer to parity, which some believe will happen this year.
The continued strength of the dollar would increase the pressure seen on IBM's results, more so than the already weak guidance we received. Currencies will likely take another 2 or 3 points off revenues this year, and management stated that operating EPS would be "at least $13.50." The street was looking for about $15, and the difference can be easily attributed to the rolloff of forex hedges. The table below shows how dramatically IBM estimates have come down in the past year, but there appears (at least on the EPS side) to be more downside coming.

(Source: Yahoo Finance analyst estimates page)
In my previous article, I discussed a valuation range based on a worst-case scenario of $14 in EPS for this year. With the situation being even worse, I feel compelled to revisit my numbers. I'm now expanding my target range to a multiple of 8 to 9 based on EPS of $13 to $14. That gives us a stock price range of $104 to $126, with a midpoint of $115. IBM shares, like the market, have bounced from recent lows, which could provide another chance to short.
I might be willing to revisit this situation in April because that month should contain two important events. First will be the Q1 earnings report, which could be ugly if the dollar strengthens further. The second is a potential dividend raise, which could give the stock an annual yield of more than 5.00%. However, I should caution IBM bulls that more money being funneled to the dividend means less money for share repurchases. While shares are lower at this point, management has said free cash flow could be hurt as well.
IBM shares continue to be in a downtrend, and I don't see that situation changing anytime soon unless we get a decent weakening in the dollar. As you can see in the chart below, the only good time for IBM shares in the past two years was when the 50-day moving average was stable and then rising. Currently, that key technical level is on the decline, which will continue for a number of weeks, and that should provide added resistance for the stock.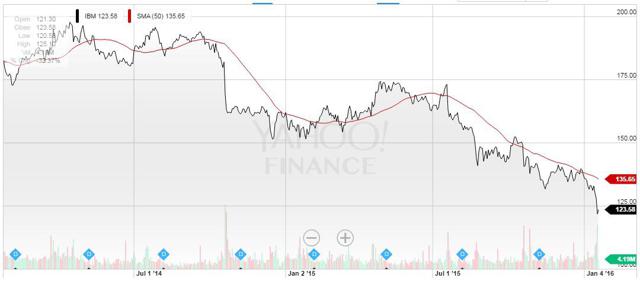 Click to enlarge
(Source: Yahoo Finance)
IBM reported another weak quarter, and that's not a surprise. The announcement out of Europe on Thursday for the potential of more stimulus should strengthen the US dollar even more. With forex hedges rolling off, a move toward parity with the Euro will add more downside pressure to IBM results. If earnings per share fall into the low teens eventually, I could see a scenario where IBM shares trade down toward $100. With the 50-day moving average providing resistance, investors might want to use any strength to sell and perhaps initiate short positions.
Disclosure: I/we have no positions in any stocks mentioned, and no plans to initiate any positions within the next 72 hours.
I wrote this article myself, and it expresses my own opinions. I am not receiving compensation for it (other than from Seeking Alpha). I have no business relationship with any company whose stock is mentioned in this article.
Additional disclosure: Investors are always reminded that before making any investment, you should do your own proper due diligence on any name directly or indirectly mentioned in this article. Investors should also consider seeking advice from a broker or financial adviser before making any investment decisions. Any material in this article should be considered general information, and not relied on as a formal investment recommendation.