Introduction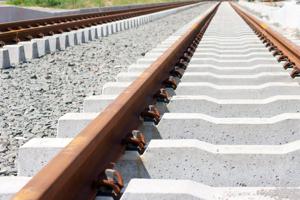 The U.S. vehicle market is one of the largest in the world and railroads play a big part in moving materials, parts, and finished vehicles. The importance of Mexico in the U.S. automotive supply chain has grown since NAFTA went into effect in 1994. New automotive factories are being built in Mexico instead of Canada because Mexico has low wages and a plethora of free trade agreements. Texas is the most direct route between auto plants in the U.S. and Mexico. Union Pacific's (NYSE:UNP) 1996 merger with Southern Pacific gave the company control of major Mexico gateways. These gateways in order of carload volume are Laredo, Eagle Pass, Nogales, El Paso, Brownsville, and Calexico. The 2014 Union Pacific fact book says that 54% of their automotive carloads were to or from Mexico. They show that 57% of their automotive carloads are finished vehicles and 43% are parts. In past years, parts were less of a factor, for example parts were just 34% in 1999.
Having 2014 automotive revenue of $2,103 million, Union Pacific is well ahead of the other U.S. railroads in this segment. CSX (NYSE:CSX), Norfolk Southern (NYSE:NSC), and Burlington Northern Santa Fe (BRK.A, BRK.B) had 2014 automotive revenues of $1,213 million, $1,004 million, and $564 million respectively.
The 2014 Fiat Chrysler (NYSE:FCAU) annual report lists 6 companies that cover about 76% of the U.S. auto industry for new vehicles. They are GM (NYSE:GM) [17.4%], Ford (NYSE:F) [14.7%], Toyota (NYSE:TM) [14.1%], FCAU [12.4%], Honda (NYSE:HMC) [9.2%], and Nissan (OTCPK:NSANY) [8.2%]. All these automotive companies have plants in Mexico.
We use UP for Union Pacific and BNSF for Burlington Northern Santa Fe.
Exports of Materials from the U.S. for Motor Vehicles
Many of the materials used to make vehicle parts come from the U.S. to Mexico via UP. Referencing UP manufacturing numbers from 2010, Emily Nohr of Omaha.com explains the process in her Mach 2013 article:
For headlights and windshields, silica sand, cullet (recycled glass), soda ash and limestone. In 2010, the average car required 94 pounds of glass and 5 pounds of soda ash. U.P. ships about 85,500 tons of soda ash into Mexico each month.

Aluminum. A foundry requires about 344 pounds of aluminum to construct a single car's engine, and each month U.P. ships 15,000 tons of aluminum into Mexico.

Plastics. One automobile requires 100 gallons or more of petroleum to make its plastic parts like seats, dashboards, roof panels, bumpers and engine components. As part of its chemical business, U.P. ships about 107,000 tons of plastics to Mexico monthly.

Steel, delivered via rail into stamping plants and rolling mills to make trunks and doors. U.P. hauls about 76,000 tons of steel sheet and 11,000 tons of mini mill steel to Mexico each month.

U.P. also hauls scrap iron, foundry brick, lime and clay, as well as rubber and carbon black, a byproduct of petroleum, to make tires, seals, hoses and other rubber parts in a car. The average car, for example, includes 200 pounds of rubber and 2,444 pounds of steel and iron.
The materials for these vehicle parts are a considerable piece of the equation when it comes to manufacturing vehicles in North America.
Exports of Vehicle Parts from the U.S.
I made a graph based on U.S. Dept. of Commerce data showing the growing percentage of vehicle parts exported to Mexico from the U.S.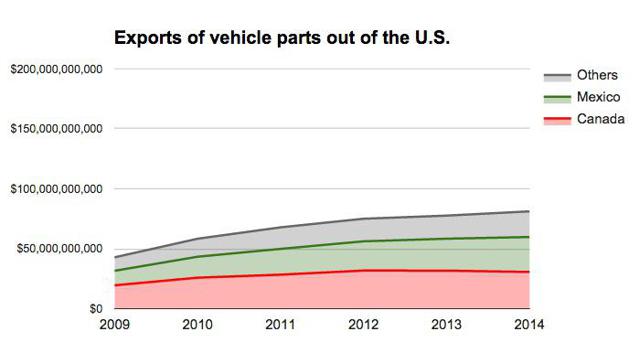 Click to enlarge
In 2014, the U.S. exported $30.7 billion worth of vehicle parts to Canada and $29.1 billion to Mexico. The amount of U.S. vehicle parts exports to all the other countries combined was only about $21.3 billion. Looking at the first 9 months of 2015, Mexico took the lead by receiving $22.6 billion in parts exports as opposed to $21.6 billion for Canada.
The U.S. Census Bureau shows that through November of 2015, the U.S. exported much more than it imported with respect to "Motor Vehicle Bodies." Globally, the vehicle body exports were $9 billion versus imports of less than $1 billion. $2.9 billion of these vehicle body exports went to Mexico and $4.4 billion went to Canada. Canada and Mexico are assembling these vehicle bodies into full vehicles and then many are imported back into the U.S. as finished vehicles.
Imports of Vehicle Parts into the U.S.
Using more data from the U.S. Dept. of Commerce, I made another graph showing the growing percentage of vehicle parts imported into the U.S. from Mexico.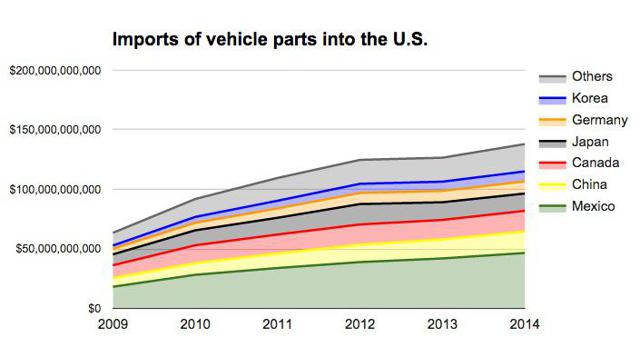 Click to enlarge
Mexico dominates with respect to the share of vehicle parts sent to the U.S. The value of parts coming into the U.S. from Mexico continues to grow as per the U.S. Dept. of Commerce which shows 2013 and 2014 values of $42 billion and $46.6 billion respectively.
Automotive Logistics talks about the way parts move from the U.S. to Mexico and then back again in a June 2014 article:
Carmakers like GM, Fiat Chrysler, Nissan and Ford move considerable material back and forth over the border. Delphi has 50 plants in Mexico that send many parts to the US, but it also imports a large amount of material and technology for Mexican production from the US. One 2011 study from the Woodrow Wilson International Center suggests that across the automotive, electronics, appliance and machinery industries, 40% of the content of Mexican imports to the US is actually of US origin (compared to only 4% American content for China imports).
Imports of Finished Vehicles into the U.S. by Value
Using data from the ITA, I made a graph showing U.S. vehicle imports by value by country.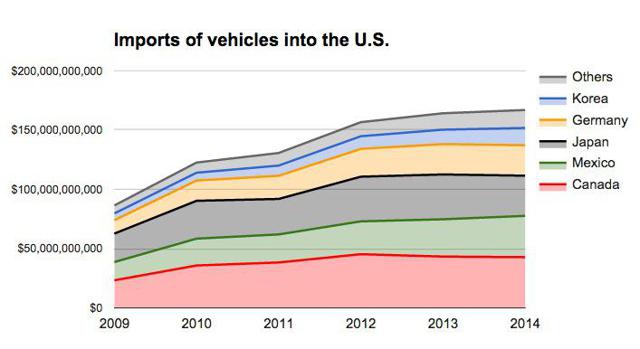 Click to enlarge
Looking at the first 11 months of 2015, Canada was ahead of Mexico in terms of value but the gap was closer at $37.8 billion versus $34.5 billion.
The 2014 value from these 5 countries was $151.7 billion and the value from all countries was $166.8 billion. Everyone is familiar with Toyota of Japan, Mercedes & BMW (BAMXY) of Germany, and Hyundai (OTC:HYMPY) of South Korea. Canada and Mexico don't have well known car companies but they provide the largest number of vehicles from outside the U.S. This is because the companies above along with the Big 3 from Detroit and others have sizable assembly plants in Canada and Mexico.
Many of the vehicles from Japan and South Korea move through West Coast ports where they are loaded on trains headed for destinations like Chicago.
Imports of Finished Vehicles into the U.S. by Units
Looking at additional ITA data, I made a graph showing U.S. vehicle imports in units by country.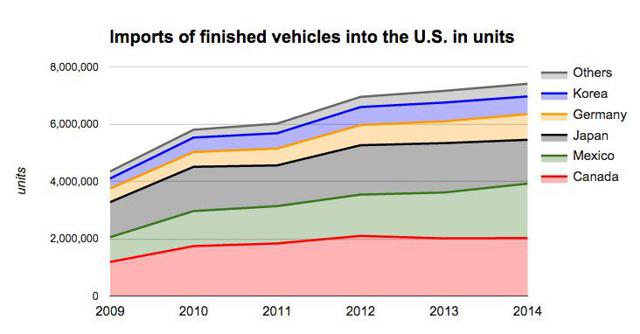 Click to enlarge
Mexico passed Canada during the first 11 months of 2015 with 1,900,080 vehicles versus 1,770,154 for Canada. Many of the high-end vehicles in North America are built in Canada whereas many of the economy cars with lower margins are built in Mexico which explains why Canada led the first 11 months of 2015 with dollar value but Mexico led with the number of vehicles/units.
Framing the above vehicles from Mexico and Canada into the overall picture of the U.S. market, their participation is significant. The Detroit Free Press shows Kelley Blue Book unit totals of new truck and car sales in the U.S. from 2009 to 2014. There were 10.4 million units in 2009 and this grew to 16.5 million units by 2014.
Volume of Auto Loads Moved by Rail To and From Mexico
The UP auto density map from the 2014 fact book is thickest at Laredo, the key connection with Mexico. The map shows high volume between Laredo and Chicago.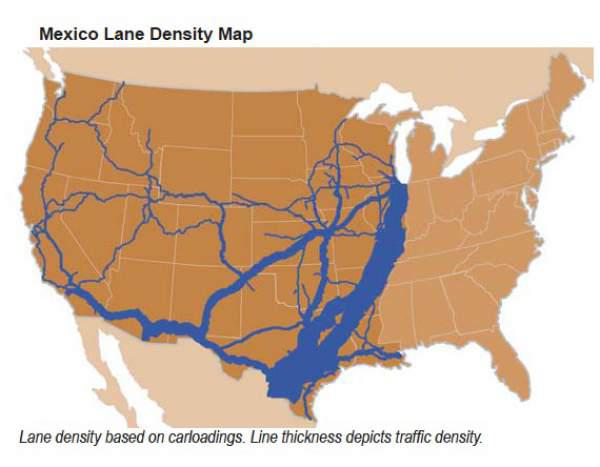 The UP automotive density map from the 2005 fact book looks a little different. Back then there was relatively more east-west movement in the area between Nebraska and Oakland: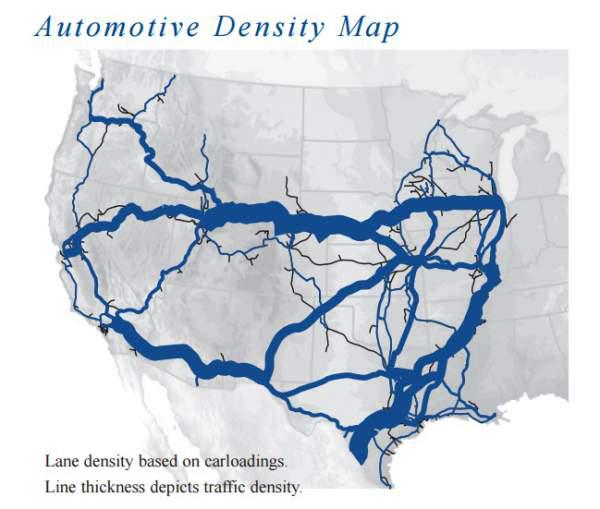 The BNSF System Map is missing independent Texas-Mexico connections apart from El Paso (orange and yellow are labeled UP/SP trackage rights). The key gateway of Laredo is missing completely on the BNSF map: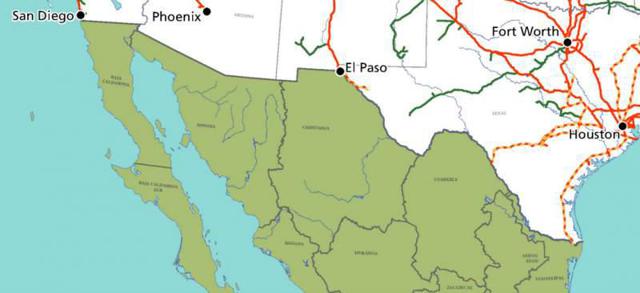 Click to enlarge
A September 2014 Bloomberg article explains that BNSF is trying to strengthen the El Paso connection into and out of Mexico but that this indirectly helps UP:
The BNSF-Ferromex route exits the U.S. at El Paso and goes to Silao in Guanajuato state, home to the Mazda Motor Corp. and Honda Motor Co. plants that opened in February [of 2014]. The trip is about 370 miles (595 kilometers) longer than via Laredo, which handled 43 percent of 2013 border truck-and-rail cargo by value, according to the statistics bureau. El Paso's share: 16 percent.

...

In working with Ferromex, BNSF indirectly backs a U.S. competitor: Union Pacific has a 26 percent stake in the Grupo Mexico unit, which began operations in 1998 after Mexico privatized its government-owned railroad.
Union Pacific and Norfolk Southern have identified Salem, Illinois as an important gateway between Detroit and Laredo.
The BNSF Employee Magazine describes their 3 interchanges to the east and both GM and Chrysler are notably absent as major customers:
All BNSF vehicle business headed east interchanges through Memphis, Tenn., Birmingham or Chicago. Major customers include Honda, Hyundai, Kia, Nissan, Toyota, Subaru, Ford, Volkswagen, Mercedes and Mazda.
The fact is that UP has been working with GM, Chrysler for years. The 1999 UP fact book says the following:
Union Pacific and General Motors reached agreement on a multi-year contract extension, with UP remaining GM's primary transportation provider in the west.

Union Pacific and DaimlerChrysler reached agreement on a breakthrough multi-year strategic alliance making UP its sole provider of rail transportation services in the West with focus on reliability, velocity and technology.
Automotive Revenue and Volume for U.S. Railroads
Looking at 10-year revenue numbers, UP has had the most automotive growth among the 4 biggest U.S. railroads. UP's automotive revenue increased from $1,273 million in 2005 to $2,103 million in 2014 for a CAGR of 5.7%. CSX increased from $844 million in 2005 to $1,213 million for a CAGR of 4.1%. BNSF went from roughly $412 million to roughly $564 million for a CAGR of about 3.6%. Norfolk Southern hardly changed from $997 million in 2005 to $1,004 million in 2014.
Automotive revenue was more sensitive to the 2009 recession than other types of railroad revenue. CSX had automobile revenue of $784 million, $511 million, and $800 million for 2008, 2009, and 2010. Meanwhile their overall revenue was $11,255 million, $9,041 million, and $10,636 million respectively. 2015 was a tough year for railroads but we didn't see problems in the automotive segment like we did in 2009.
The 2015 10-K filings are not yet out but we do have 2015 AAR automotive carload numbers and the comparisons against 2014 are favorable. UP led the way with 487,018 in 2014 up to 524,680 in 2015 for an 8% increase. Norfolk Southern went from 408,057 in 2014 to 426,887 in 2015 for a 4.6% increase. BNSF improved from 193,666 in 2014 to 200,251 in 2015 for a 3.4% increase. CSX went from 436,008 in 2014 to 449,761 in 2015 for a 3.2% increase.
Closing Thoughts
Given all the auto production east of the Mississippi, it is interesting that UP has so much revenue in the automotive segment. Other rails have direct access to major plants in Michigan, Ohio, Kentucky, Indiana, Alabama, and Tennessee but the vehicles and parts from these plants are often transferred onto UP lines.
UP is well positioned for automotive growth whether it comes from Asia through West Coast ports or from Mexico or both.
I am grateful to ITA Office of Public Affairs Director Mary Trupo for providing me with import data by country. Tim Truman and Forrest Nielsen with ITA were helpful with respect to data for vehicle parts from Mexico.
Appendix - BNSF Automotive Revenue Estimates
BNSF has been combining automobile revenue with intermodal revenue under the consumer products group since 2001. As such, the automotive revenue numbers we use for them are estimates based on the 10-K filings whereas the numbers for the other rails come directly from the 10-K filings.
Here are numbers from the 3 years before the consolidation change:
1998 to 2000 automotive from 10-K filings:
revenues: $388 million | $443 million | $493 million
cars/units: 230,000 | 250,000 | 249,000
average revenue per car/unit: $1,687 | $1,772 | $1,980
1998 to 2000 intermodal from 10-K filings:
revenues: $2,451 million | $2,507 million | $2,654 million
cars/units: 3,086,000 | 3,203,000 | 3,441,000
average revenue per car/unit: $794 | $783 | $771
1998 to 2000 percentage of revenue for automobile:
13.7% | 15.0% | 15.7%
1998 to 2000 percentage of cars/units for automobile:
6.9% | 7.2% | 6.7%
The 2009 BNSF 10-K says the following (bold and underline formatting is mine):
Automotive - The transportation of both assembled motor vehicles and shipments of vehicle parts to numerous destinations throughout the Midwest, Southwest, West and Pacific Northwest provided about 8 percent of total Consumer Products revenues. Asian and European automobile companies account for approximately 83 percent of Automotive revenue.
Given this info, the BNSF automotive revenue estimates in this article were calculated by taking 8% of the consumer products revenue.
Additional Sources
UP 10-K filings, fact books, and weekly carloads
BNSF 10-K filings and weekly carloads
CSX 10-K filings and weekly carloads
NSC 10-K filings and weekly carloads
Disclosure: I am/we are long UNP, BRK.A, BRK.B.
I wrote this article myself, and it expresses my own opinions. I am not receiving compensation for it (other than from Seeking Alpha). I have no business relationship with any company whose stock is mentioned in this article.
Additional disclosure: Any material in this article should not be relied on as a formal investment recommendation.