Background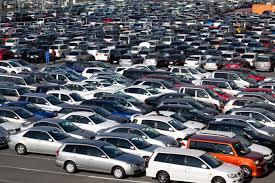 Launched May 9, 2011, the First Trust NASDAQ Global Auto Index ETF (NASDAQ: CARZ) is the only auto manufacturer ETF available. Giving investors a pure play basket of manufacturers, CARZ currently holds a basket of 37 auto manufacturers with just fewer than 40% of its holdings concentrated in the top 5.
Performance
CARZ is currently trading at 52-week lows, and it is uncertain whether or not a rebound is coming. Additionally, there has been a noticeably high volume spike as of late, showing the presence of bears.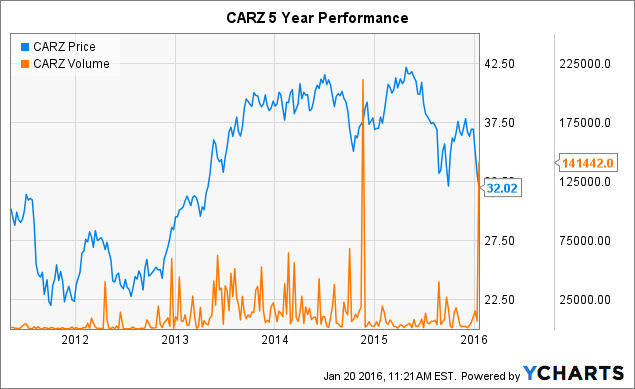 Top Holdings
Ticker

Company Name

Toyota Motor Corp.

Honda Motor Co., Ltd.

Ford Motor Co.

General Motors Co.

Daimler AG

Selected Car/Truck Brands

Toyota, Lexus

Honda, Acura

Ford, Lincoln

Chevrolet, GMC, Cadillac, Buick

Mercedes-Benz,

Freightliner

% Weight in CARZ

8.51%

8.48%

7.70%

7.58%

7.34%

Market Cap.

$175.30 Billion

$52.32 Billion

$47.50 Billion

$45.62 Billion

$74.85 Billion

P/E

9.11

11.27

10.03

10.81

8.93

Dividend Yield

3.23%

2.49%

5.01%

4.87%

4.02%
The remaining 32 auto equities all have a < 5% weighting in CARZ holdings. Selected smaller holdings include the likes of Nissan (OTCPK:NSANY), Volkswagen (OTCPK:VLKAY) and Tesla (NASDAQ:TSLA). Even Harley-Davidson, Inc. (NYSE:HOG) made the list with a 2.92% weighting, which only hurt the ETF's performance as shown below.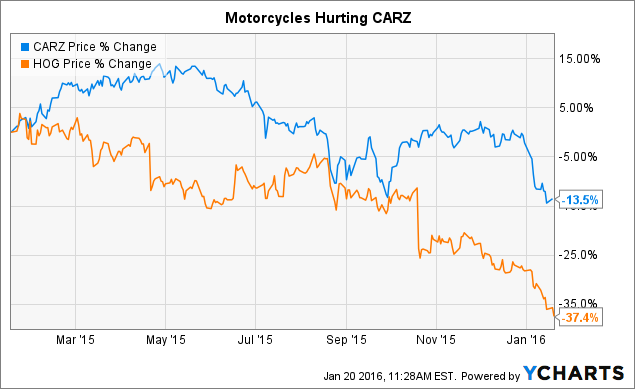 data by YCharts
Why HOGS?
While this gives investors in CARZ a little bit of exposure to motorcycles as well, this both dilutes the pure-play car exposure people are looking for, as well as has hurt performance as of late. Despite including well-known motorcycle manufacturer, HOG, there are actually a few notable automotive names that were excluded from the holdings.
What's Missing?
We found that CARZ also excluded Tata Motors Ltd. (NYSE:TTM) from its holdings. While many U.S. based readers may not have heard of Tata, it is in fact one of the largest car manufacturers in the world, and an even larger truck manufacturer. However, U.S. customers have probably heard of two brands they acquired in 2008: Jaguar and Land Rover. Additionally, we noticed unrepresented in CARZ was Fiat Chrysler Automobiles N.V. (NYSE:FCAU). In addition, recently spun off from FCAU there is luxury carmaker, Ferrari N.V. (NYSE:RACE).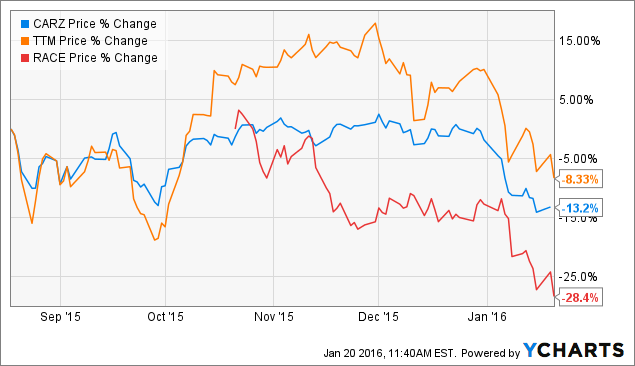 data by YCharts
Low on Luxury?
Including RACE or TTM would have been a way of giving the CARZ portfolio more exposure to the higher end automotive markets. While Daimler is certainly a luxury brand holder, CARZ lacks significant exposure to other foreign names like Bayerische Motoren Werke AG (BAMXY) (BMW) with only a 3.64% weighting. However, CARZ currently holds a 2.68% weighting in Porsche Automobil Holding SE (OTCPK:POAHY) which is the owner and manufacturer of some of Ferrari's rival brands: Lamborghini, Bentley, and even Bugatti as well.
Business is Booming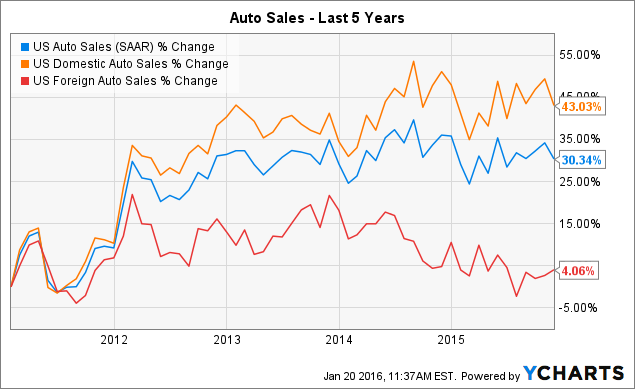 data by YCharts
It's no secret that the bulls are out to play for 2016 with regards to auto industry outlooks. At the end of 2015, Warren Buffett substantially increased Berkshire Hathaway's (NYSE: BRK.A) (NYSE:BRK.B) stake in GM by roughly 22% to a massive 41 million shares. George Soros is another notable automotive optimist with GM holdings of approximately 5 million shares.
But don't just take it from the titans, macroeconomic indicators also point to a record-setting year for the auto industry. Light truck and sedan sales in the U.S. set a record this past year with nearly 18 million vehicles sold. Many believe this year will be even higher.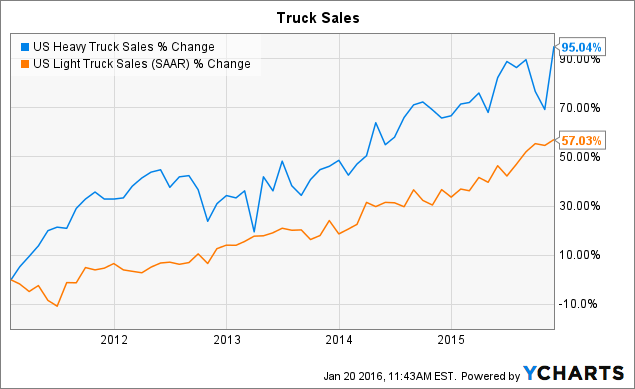 data by YCharts
Given improving labor market conditions, persistently low interest rates and especially cheap commodities from gasoline to aluminum - cars are flying off the lots. Due to the cheaper gasoline, buyers are lowering their mileage requirements as filling the tank became cheap again. We would expect this to keep trucks and SUVs especially popular for 2016.
What Goes Up Must Come Down?
Those that are skeptical of the automotive punch bowl may wonder if auto sales have been increasing for the past few years, who is left to buy? Some reports and analyses have been put forth including one by the National Automobile Dealers Association, which predicts peak sales to occur in 2016 with waning sales in 2017. The bull says drink before it's too late.
Alternative Means of Exposure
There are a few other ways to gain exposure to the booming auto industry. These include consumer discretionary ETFs such as the SPDR Consumer Discretionary Select Sector SPDR ETF (NYSEARCA:XLY) and the iShares U.S. Consumer Goods ETF (NYSEARCA:IYK).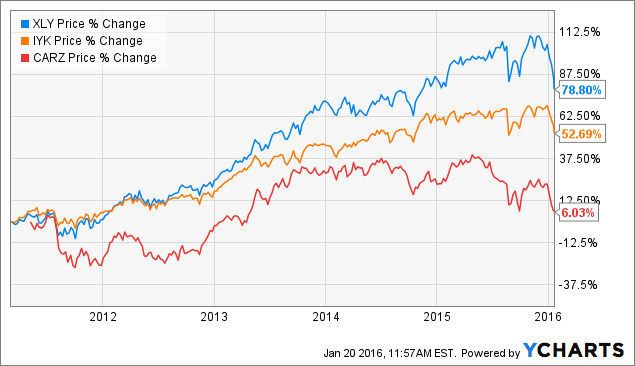 data by YCharts
Both have measurable exposure to the U.S. automobile names like Ford and GM. As for fees, both XLY and IYK have lower expense ratios relative to CARZ. Despite all this, it is important to note that these funds have over twice the holdings, a large portion of which are not auto related, therefore diluting auto industry exposure. Additionally, CARZ is diversified internationally which, depending on one's investment appetite, may be just what they are looking for. Below is a table comparing some key metrics for the ETFs.
CARZ

XLY

IYK

AUM (millions):

$33.10

$10,650.00

$659.07

Expense Ratio:

0.70%

0.14%

0.45%

Number of Holdings:

37

89

115

Select Automotive Exposures

F Weighting:

7.70%

2.21%

2.59%

GM Weighting:

7.58%

1.99%

2.28%

TSLA Weighting:

4.05%

0.00%

1.08%

ORLY Weighting:

0.00%

1.09%

0.00%

AZO Weighting:

0.00%

1.02%

0.00%

DLPH Weighting:

0.00%

0.90%

1.13%

Geographic Exposures

U.S. Exposure:

23.70%

100%

99.74%

Japan Exposure:

36.01%

0.00%

0.00%

Germany Exposure:

17.45%

0.00%

0.00%

South Korea Exposure:

8.49%

0.00%

0.00%

France Exposure:

6.78%

0.00%

0.00%

Hong Kong Exposure:

5.91%

0.00%

0.00%

Other:

1.66%

0.00%

0.26%
Additionally, XLY and IYK have exposure to the automotive industry through parts manufacturers and retailers rather than just manufacturers. These holdings include names like O'Reilly Automotive (NASDAQ:ORLY) and AutoZone Inc. (NYSE:AZO).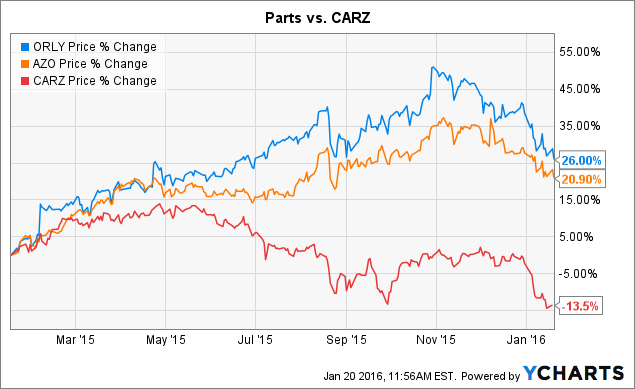 data by YCharts
With regards to geographic representation, CARZ is by far the most balanced as it is comprised of approximately 36% Japanese companies, 24% American and just shy of 18% German. As for AUM, CARZ has a surprisingly low AUM of only $33.1 million, perhaps due to its high expense ratio of .70%.
Conclusion
Nothing is a sure bet, but to gain nearly pure-play exposure to a hot industry right now, CARZ may be the right fund for this. CARZ is both shortable and optionable making it a perfect instrument to place auto market predictions with, as it is unknown whether the economy can fundamentally sustain these high sales figures.
Whether this year is or is not the end red-hot auto market, 2016 is here. We look forward to tracking the automotive stocks and industry statistics as the year progresses.
References
National Automobile Dealers Association
Disclosure: I/we have no positions in any stocks mentioned, and no plans to initiate any positions within the next 72 hours.
I wrote this article myself, and it expresses my own opinions. I am not receiving compensation for it (other than from Seeking Alpha). I have no business relationship with any company whose stock is mentioned in this article.
Editor's Note: This article discusses one or more securities that do not trade on a major U.S. exchange. Please be aware of the risks associated with these stocks.