Kinder Morgan (NYSE:KMI) wants you to know something. They want you to know it bad enough that it's sitting right at the top of their earnings release, loudly saying in bold capitalized letters "KINDER MORGAN GENERATES $4.7 BILLION OF DISTRIBUTABLE CASH FLOW FOR 2015." And if that wasn't enough, they have further reassurances directly following the above statement, not quite as loud without the caps, but still bolded, "KMI's 2015 DCF/Share Increased to $2.14, Up 7% Over 2014" and "2016 Cash in Excess of Dividend Expected to Fully Fund Growth Projects." Strong words from a company whose Net Income has declined into negative territory, coming in at -$637 million in the fourth quarter. It should also be noted that the budget for those growth projects has shrunk by $900 million from preliminary projections.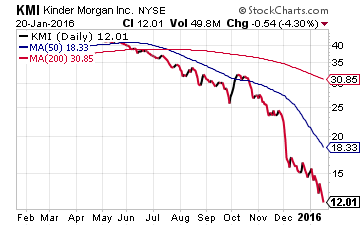 Clearly, this is lip service to worried investors who witnessed KMI's stock price drop 65% in 2015 and a further 20% to start 2016, while enduring a quarterly dividend cut from $0.51 to $0.125. But is the business really as bad as the markets are saying? CEO Steve Kean doesn't think so and the numbers, while not pretty, aren't quite as ugly as markets may be implying.
"The decision to reduce our dividend was ... a direct result of the rapid and significant disconnect between the performance of our business and the performance of our stock. We believe this bold move is in the best interest of the company and our shareholders. We expect the reduced dividend has completely eliminated our need to access the capital markets to fund growth projects in 2016"
While the reduction in the dividend is troubling, eliminating the need to attempt to access shaky capital markets is a smart move and keeps KMI in a position to withstand market turbulence, unfavorable conditions, and maybe even grow through a low price environment. According to Kean, "future cash flow exceeds our investment needs" and Kinder Morgan has budgeted $3.3 billion for growth in 2016. It should also be noted that while Net Income is -$637m for the fourth quarter and has fallen to $311 million from $1,026 million in 2015 compared to 2014, this includes a non-cash loss of $1.15 billion (Loss on impairment of goodwill) that reflects the market value decline of Natural Gas Pipeline assets, which are currently valued below book. Can investors find solace in the fact that this non-cash loss more than makes up for the decline in quarterly earnings? It's hard to imagine so with a stock price that has plunged this far.
KMI is projecting a $0.50 dividend for the full year in 2016, which is about as much as investors received quarterly in the past. They are expecting $4.7 billion of Distributable Cash Flow, resulting in $3.6 billion of excess cash after dividends are paid, leaving more than enough for their $3.3 billion in growth projects. These projections, however, are based on an average price for WTI Crude of $38 and $2.50 for Natural Gas. Your mileage may vary based on your own estimations of 2016 commodity prices and production volumes. According to KMI, every $1 change in oil prices yields a $7 million change in Distributable Cash Flow and a $0.10 change in Natural Gas prices results in a $1.2 million change. The direct exposure to prices isn't terribly great, but it's there. What's more important is how commodity prices affect Kinder's customers. For example, the Terminals segment of KMI shrank 7% in the fourth quarter of 2015 compared with a year earlier. This decline in earnings is largely attributable to two of Kinder's coal terminal customers going belly up, Arch Coal and Alpha Natural Resources. If similar events play out in other areas of the business, KMI could be heading down a rough road.
The good news is looking at KMI's earnings by segment, 70% of the business is still growing through a very challenging environment. Nat Gas Pipeline Volumes and NGL Sales Volumes are up. Total Delivery Volumes are up and the Products Pipelines segment has grown earnings by more than 25% in the past year, both on a quarterly and annual basis.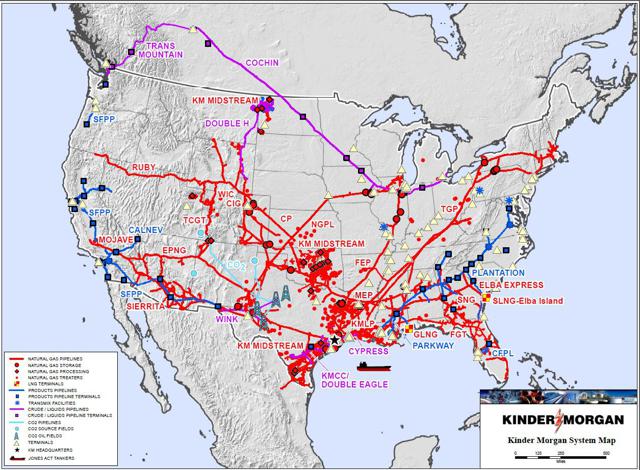 Click to enlarge
Long term it's important to remember who Kinder Morgan is and what they do. They are massive. They are diversified. More than a third of natural gas consumed in the US moves through their pipelines. They have the largest natural gas pipeline network in the US, they're the largest independent transporter of petroleum products, largest transporter of carbon dioxide, largest independent terminal operator, and they currently have the only oilsands pipeline on the West Coast. While they do have oil exposure, the majority of their business is natural gas, and natural gas demand is projected to rise 35% over the next 10 years. And commodity prices? While lower prices can hurt KMI, most of their business is fee-based, as the old "toll road" analogy goes. What is particularly important to pay attention to for Kinder is volumes, which appear to be growing. As long as their customers can stay in business and keep producing (which in the current environment is in question) and end users keep consuming, KMI should remain on solid footing. Has Kinder Morgan been hurt by the change in landscape in energy markets? Undoubtedly. Are they doomed to crash and burn, taking investors down with them? Probably not. They remain one of, if not THE strongest and best positioned players in the midstream energy space.
Disclosure: I/we have no positions in any stocks mentioned, and no plans to initiate any positions within the next 72 hours.
I wrote this article myself, and it expresses my own opinions. I am not receiving compensation for it (other than from Seeking Alpha). I have no business relationship with any company whose stock is mentioned in this article.