In a market where ETFs dominate trading volumes and short-termism is pervasive, value investing has certainly gone out of favor. The idea that individual stock selection can outperform an index over the long term seems to be contrary to the consensus opinion despite what long-term track records of many value investors proving to be the case. It is in this climate when the idea of value investing is actually most comforting. Instead of trying to call bottoms and go in and out based on charts, the value investor buys fractional shares of businesses at massive discounts to a conservative estimate of intrinsic value with a long-term perspective. The sharp decline in Bank of America (NYSE:BAC) to a recent price of $14.24 makes for one of the most compelling risk-adjusted investment opportunities of the last five years at least.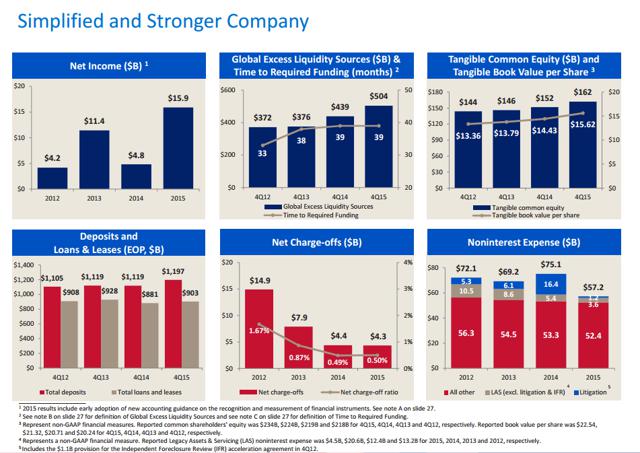 Click to enlarge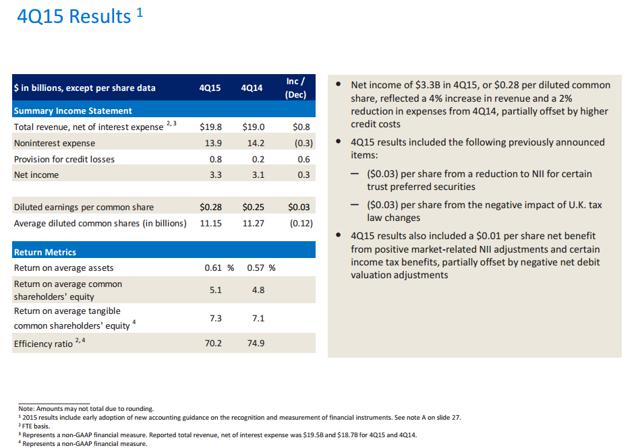 Click to enlarge
Source: BAC Fourth-Quarter 2015 Investor Presentation
On January 19th, Bank of America reported fourth-quarter net income of $3.3 billion, that was up 9% YoY, or earnings per share of $0.28, up from $0.25. Revenue, net of interest expense (FTE basis), was up 4% to $19.8 billion. Net interest income (NII) (FTE basis) was up 2% to $10.0 billion. Noninterest income was up 7% YoY to $9.7 billion. Provision for credit losses of $0.8 billion was flat sequentially, up from $0.2 billion at the same time last year. Noninterest expense declined 2% to $13.9 billion, and excluding litigation, noninterest expense declined 3% to $14.4 billion. For the full year, net income was $15.9 billion, and earnings per share were $1.31. The return on assets was 0.74%, and the return on tangible common equity was 9%. There is still a lot of room for improvement, but this was by far and away the best year for Bank of America in about a decade, and the stage is set for this progress to continue. The company was able to return $4.5 billion to shareholders this year via common dividends and stock buybacks.
In the Consumer Bank, loans were up $12 billion, and deposits were up $48 billion YoY. Brokerage assets were up 8%. Total mortgage production increased by 13%. Total U.S. credit card spending improved by 5%. In Global Wealth and Investment Management, BAC has total client balances of nearly $2.5 trillion. Long-term assets under management flows of $7 billion came in during the fourth quarter. Loans are up $12 billion, and deposits were up $16 billion on the year. In Global Banking, loans were up $37 billion, and deposits were up $16 billion. The company was number 3 in Global Investment Banking Fees. In Global Markets, fixed income was up 20% YoY, but equities were down 3%. In Legacy Assets and Servicing, noninterest expense was down 16% to $1.1 billion, and noninterest expense, excluding litigation was down 28% to $795MM. The number of 60+ days delinquent first mortgage loans was down 46% to 103,000 units. Total net charge-offs increased $212MM sequentially, with $144MM from consumer items previously reserved for and $73MM in net charge-offs from the energy portfolio. Provisions of $110MM in Q4 was flat with Q3. Reserve releases in consumer real estate and credit card were partially offset by reserved builds in commercial, which was driven by an increase in criticized exposures as well as loan growth. Delinquencies and non-performing loans continue to decline.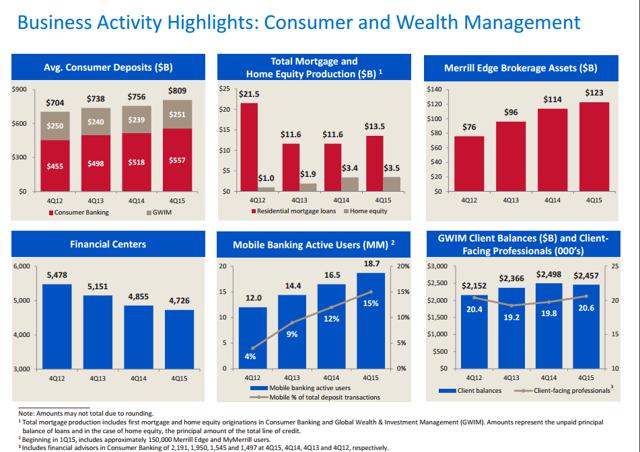 Click to enlarge
Bank of America has $21 billion of utilized exposure to the energy sector, which represents about 2% of total loan balances. Of that $21 billion, $8.3 billion or less than 1% of total loans is to borrowers in exploration and production, and oil field services. It is important to keep in mind that refiners and marketers, which constitute a chunk of these loans, are actually performing well. Of the $8.3 billion of exposure in the two higher-risk subsectors, $2.9 billion has already been downgraded to criticized, which means the company is driving a portion of the reserves for these assets. Currently, allowance for loan losses for the entire energy portfolio is approximately $500MM or 6% of the funded exposures of the two most as risk subsectors. This would imply a 12% default rate with 50% recoveries, which is quite conservative particularly on the recovery rate. Remember that these are asset-backed loans for the most part. Even in the case of bankruptcy, bank loans don't necessarily always lose money.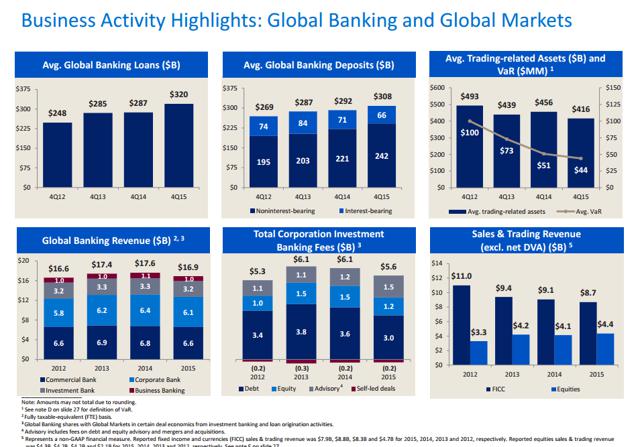 Click to enlarge
Vertically integrated energy companies constitute $5.8 billion of the overall portfolio, which should hold up much better over this depression in the industry. Nearly 100% of those companies has a market capitalization above $10 billion or more, and the average company has a market capitalization greater than $60 billion. The company estimates that if oil stays around current prices for the next nine quarters, the potential losses on the portfolio would be roughly $700MM. The answer on the conference call was not the clearest, but basically I took it to mean that if energy prices persisted near current levels for nine quarters, only another $200MM would be required to cover that portfolio. Think of that in the context of BAC's earnings power and the tens of billions of penalties and additional costs it has gotten past over the last seven years. People aren't putting any weight into the benefits of lower energy prices. Each time consumers fill up their cars, they are saving money, as are many manufacturers, etc. in their energy prices to run their factories.
Bank of America's balance sheet is in very good shape. The CET 1 ratio on the advanced approach was 9.8%, and on the standardized approach, was 10.8%. Tangible book value per common share grew to $15.62, up from $15.50 and $14.43 from the third quarter and fourth quarter of 2014, respectively. Book value per share grew to $22.54, up from $22.41 and $21.32 from the third quarter and the fourth quarter of 2014, respectively. Intrinsic value continues to grow, yet the stock price has declined dramatically. Bank of America has $504 billion of Global Excess Liquidity Sources, which means the time to required funding is 39 months. Bank of America has a very strong SLR ratio of 6.4% for the holding company and 6.9% for the bank.
While the outlook for future rate hikes might be cloudy, positive economic data could potentially ameliorate some of those concerns. If this does occur, BAC is very asset sensitive and would expect net interest income to improve by $4.3 billion if basis points went up by 100 points. Who knows when this will happen, but eventually it will and that can certainly provide considerable earnings upside potential. While some of the other banks that were healthier coming out of the Great Recession are almost done seeing reserve releases related to their legacy real estate assets, BAC can still benefit from more as long as housing stays stable. BAC also has the most room for improvement from an efficiency standpoint; each quarter, the Legacy Asset Servicing business continues to wind down, reducing costs. Management has been aggressive in purchasing costly financings at a premium, which causes short-term lumpiness in earnings but will ultimately lead to improved net interest income.
At $14.24, BAC trades at only 91% of tangible book value. Bank of America's wealth management franchise is incredibly valuable and would trade at a very large premium to book value. The company has an undeniably stronger balance sheet than it has had in over a decade. Costs are coming down, revenue growth is going to be slow until we see a more favorable rate environment. At the same time, high-quality loan growth is picking up dramatically, and the declines from the legacy assets are providing less headwinds than over the last few years. Management will likely focus on a small dividend increase and stock buybacks in the next CCAR process. I believe the CEO Moynihan has to become more demanding in terms of setting efficiency and return on equity goals, with reasonable time frames so that there is more accountability. With that said, Bank of America at current prices is one of the best buys you can find. Time will tell that this is not the beginning of some huge downturn in credit, but instead is a continuing slog of a weakly performing economy that has been the hallmark of the last seven years. Where energy once led, now it lags. The enterprising investor must drive through the smoke to get to the other side.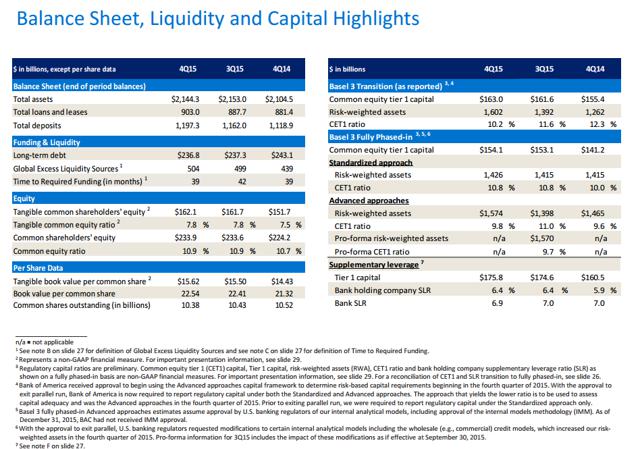 Click to enlarge
Source: BAC Fourth-Quarter 2015 Investor Presentation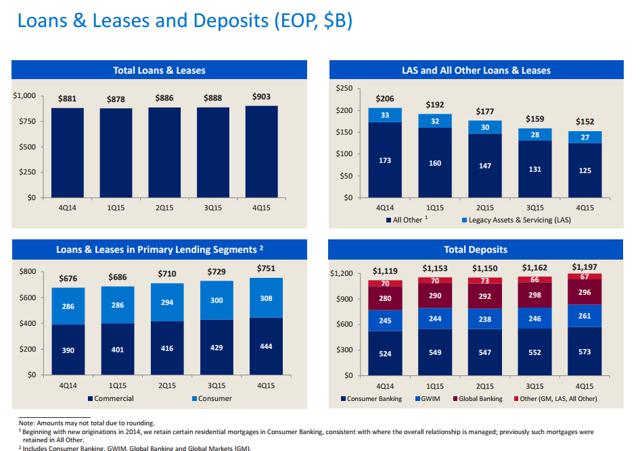 Click to enlarge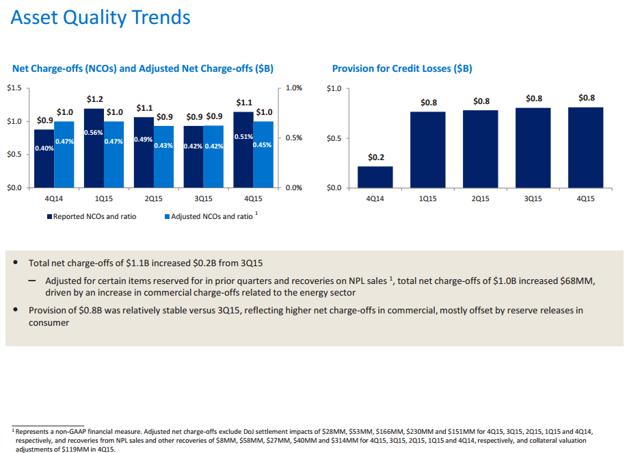 Click to enlarge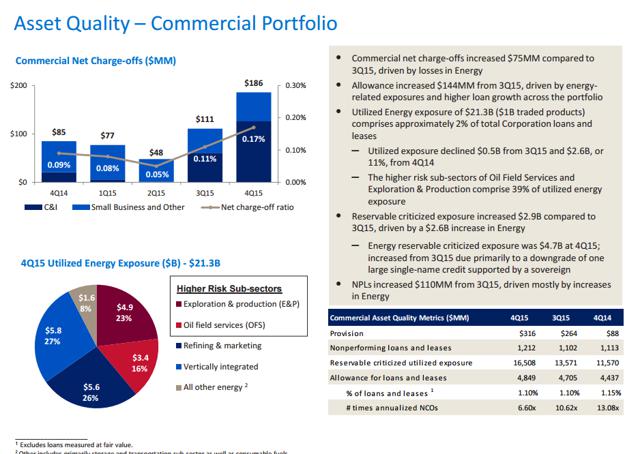 Click to enlarge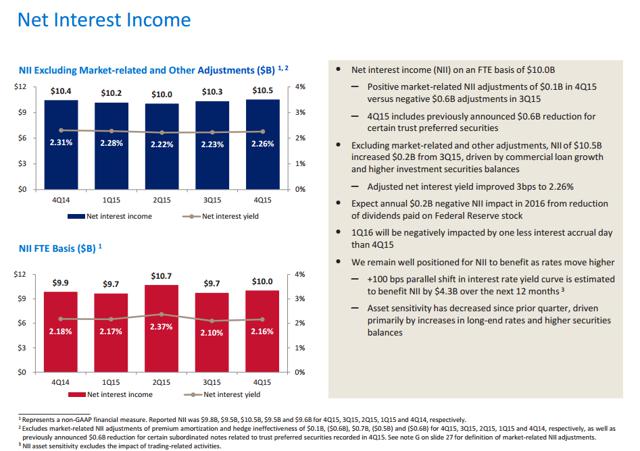 Click to enlarge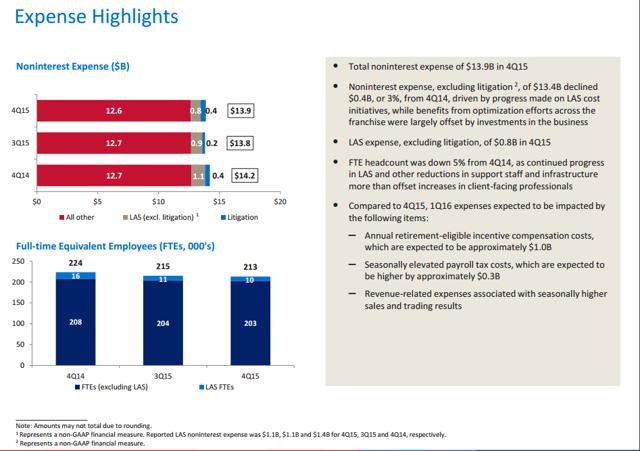 Click to enlarge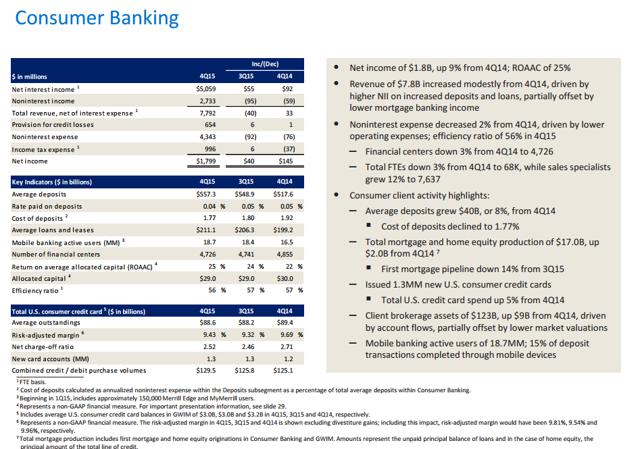 Click to enlarge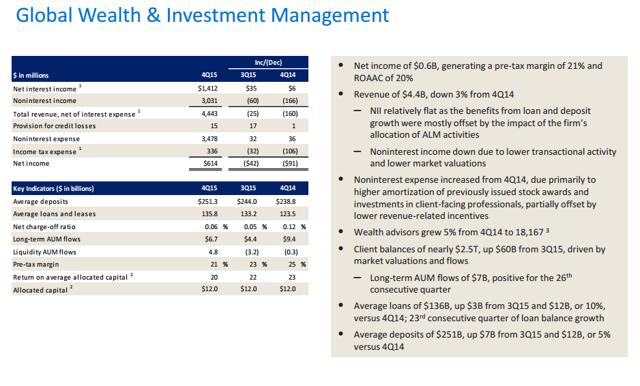 Click to enlarge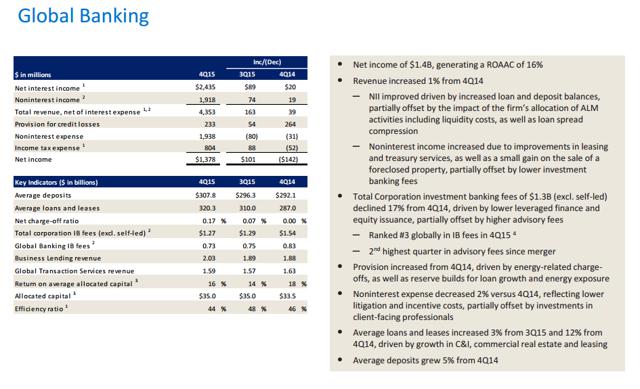 Click to enlarge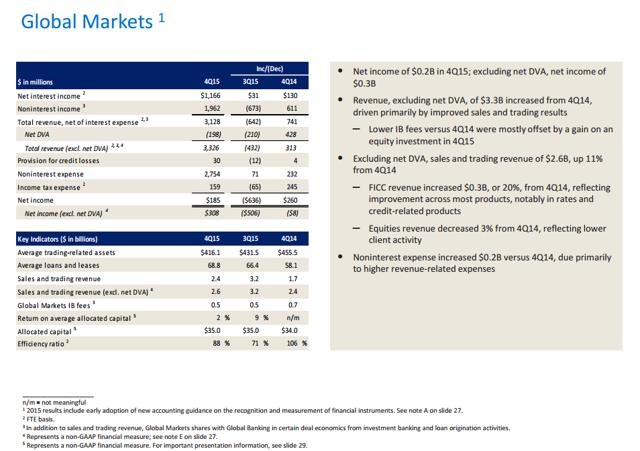 Click to enlarge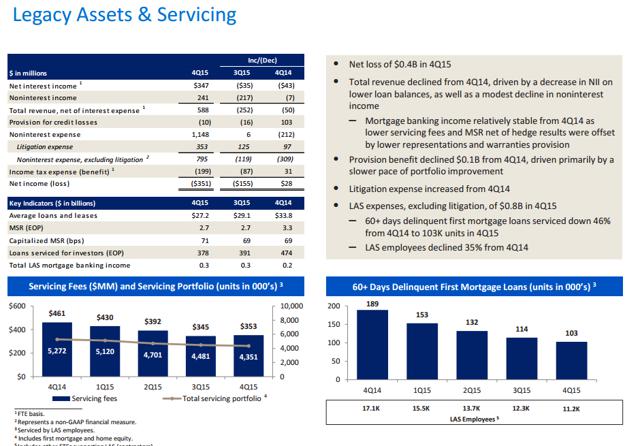 Click to enlarge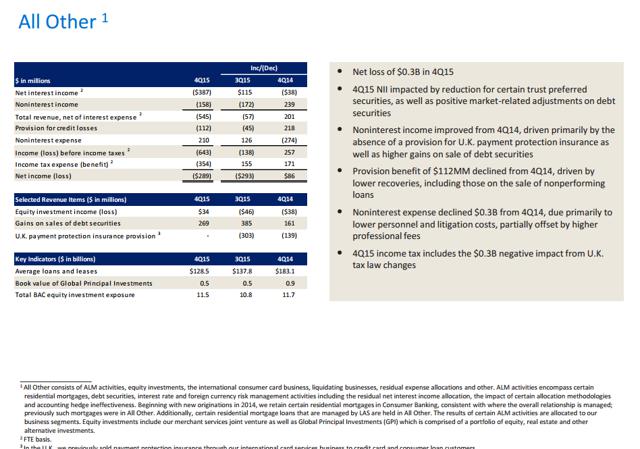 Click to enlarge
Disclosure: I am/we are long BAC.
I wrote this article myself, and it expresses my own opinions. I am not receiving compensation for it (other than from Seeking Alpha). I have no business relationship with any company whose stock is mentioned in this article.