During past few months, while the whole biotech sector has been melting down, Endocyte (NASDAQ:ECYT) has been no exception. Its market cap dipped more than 25% below its current cash and cash equivalents of about $170 million. Keep in mind that Endocyte is the same company which fetched a whopping $120 million upfront from pharma giant Merck in 2012 when both entered into a partnership for development and commercialization of Endocyte's drug candidate Vintafolide. Unfortunately, the drug didn't succeed and Merck backed off from the deal, leaving Endocyte with a huge amount of cash enough to enable Endocyte develop new improved version of drug candidates on their own.
Stock Snapshot (as of 20th January, 2016)
Share Price: $2.93
Shares Outstanding (fully diluted): 42 million
Market Cap: $123 million
Cash balance (year-end 2015): ~ $170 million
Debt: None
Cash Burn in 2015 (Q1/Q2/Q3/Q4): $10.9/10.6/10/~10 million
Expected Cash Burn for 2016: $50-60 million in 2016 (increase expected due to progress of drug through clinical trials)
Cash runway: ~ 3 years
The Wall Street Goes Insane
Market is surprisingly grossly undervaluing this biotech not just by trading it below cash level, but also by assigning absolutely no value to its product pipeline. Market clearly seems to forget that Endocyte has had some big and quality partners (Bristol Myers Squibb, Merck) on highly attractive deal terms so far which explains the deep interest of biotech giants in its technology. The stock has been severely punished since the Phase III failure of lead drug candidate Vintafolide (EC145) in 2014, but that's not the end at all.
Here is a quick comparison of the Endocyte-Merck deal with Pharmacyclics-Janssen deal just to highlight the quality and size of valuation Endocyte's technology can create with new drug candidates based on it's platform technology:
Deal

Drug

Ibrutinib

Vintafolide

Indication

Non Hodgkin's Lymphoma, Chronic Lymphocytic Leukemia and Multiple Myeloma

Ovarian Cancer + 5 Other cancers

Deal announcement date

Dec. 8, 2011

Apr. 16, 2012

Upfront Payment

$150 million

$120 million

Milestones

Development and Regulatory milestones:

$825 million

development, regulatory and commercialization milestones:

$880 million

Development Cost Sharing

40/60 throughout development.

Endocyte to bear majority of the cost of first Phase III trial (PROCEED trial).

Merck to bear all other development costs.

Commercialization terms in US

Pharmacyclics to lead.

Profits/losses to be shared 50/50.

Endocyte to get 50% share in profit.

Endocyte retains right to co-promote.

Commercialization terms outside US

Janssen to lead.

Profits/losses to be shared 50/50.

Endocyte will get double-digit percentage royalties

Trial Status

Successful

Fail (Failed to beat the control arm)

Company Valuation

Acquired by AbbVie for $21 billion

Trading below cash

(negative valuation)
Failure Or sheer bad luck ?
Here's what happened with Endocyte's first generation lead drug Vintafolide in ovarian cancer clinical trials:
Placebo + PLD

(control arm)

Vintafolide + PLD

(treatment arm)

Improvement over control arm

Remarks

Phase II (Progression Free Survival in FR +ve patients)

1.5 months

5.5 months

260 %

Patients with folate receptor positive lesions exhibited the most benefit. Mechanism of action of Folate-conjugate got a big validation. Triggered Merck partnership.

Phase III (Progression Free Survival in FR +ve/FR100 patients)

~5.5 months *

~5.5 months *

~ 0 %

Control arm performed much better than Phase II / historical average from other trials. Trial was stopped upon DSMB recommendation. Merck terminated the partnership.

* Estimated numbers based on CEO's remarks and publicly available data, exact numbers are not available.

FR +ve patients - Folate receptor positive patients.
It's worth noting that Vintafolide+PLD arm performed similarly both the times. However, the control arm significantly out-performed its own historical performance in Phase III. Hard luck Endocyte.
The Failure……Can be the key to success:
Endocyte, after being left alone by Merck, has been up to some exciting scientific stuff. Utilizing the learning from failure of first-generation drug EC145 (Vintafolide), the company is currently running phase I clinical studies using a second generation drug EC1456 (Folate-Tubulysin) which has shown improved efficacy in animal models and improved safety profile in humans so far. Have a glance: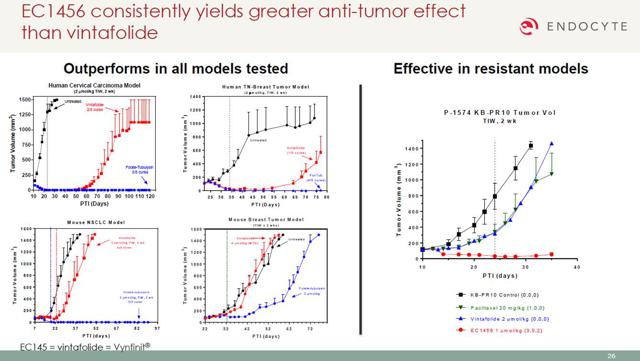 Click to enlarge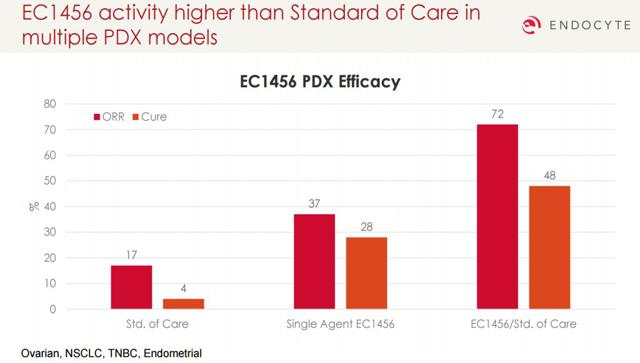 Click to enlarge
The last slide intrigues me the most. Patient derived xenografts (PDX) are created when cancerous tissue from a patient's primary tumor is implanted directly into an immunodeficient mouse. PDX models are providing solutions to the challenges that researchers face in cancer drug research such as positive tumor responses in mouse models but not translating over when the study is implemented in humans. Key advantage with PDX models is that they retain the histological characteristics of the parental patient tumors. In addition, PDX models preserve mutation profiles as well as the response patterns to targeted cancer therapies, and Endocyte has produced some excellent results in these models which weigh more positively than conventional cancer models.
EC1456 is progressing well in the Phase 1 dose escalating human trial, and surprisingly, it's yet to reach maximum tolerated dose, which is a very positive sign. Some detailed efficacy data are expected at ASCO in June 2016, which I believe can turn out to be a big catalyst if EC1456 is able to produce even a small fraction of what it does in pre-clinical animal models.
Early stage pipeline apart from EC1456 also holds a big promise and no one in their right mind can value it negatively. However, the stock is trading far below cash balance and thus leaves very little room for downside at this level even if the upcoming results turn out not to be stellar or worse, a failure. But the street doesn't seem to get that right now. And there lies a great opportunity, let me know if there is a better one right now in biotech!
Disclosure: I am/we are long ECYT.
I wrote this article myself, and it expresses my own opinions. I am not receiving compensation for it (other than from Seeking Alpha). I have no business relationship with any company whose stock is mentioned in this article.