On January 18, 2016 the Working Group for the Economic and Fiscal Recovery of Puerto Rico (Working Group) released an updated version of its Fiscal and Economic Growth Plan (FEGP) to demonstrate that things are worse then the Working Group originally thought and that creditors must now accept a greater haircut.
Ironically, this attempt by the Working Group to justify debt renegotiation and Commonwealth access to Chapter 9 provides some of the clearest evidence against that case and in favor of imposing a Federal Financial Control Board (FFCB). An FFCB like the one proposed in a Bill proposed by Senators Hatch, Grassley and Murkowski (HGM Bill) in December 2015 provides the only practical solution to the Commonwealth's fiscal crisis. The text of the HGM Bill can be found here and a summary here. The FEGP's projections demonstrate clearly that
the root of Puerto Rico's problems is an inability to match spending with revenues, providing the clearest possible argument for imposing an FFCB; and
despite its attempts to correct some misrepresentations in prior publications, the Commonwealth cannot be trusted to publish accurate data regarding its financial condition, a secondary issue that the HGM Bill addresses.
The discussion below focuses on three tables found on pages 6, 29 and 35 of the FEGP:
If Expenditures Grow Faster Than Revenues…
Page 29 of the FEGP provides a projection of revenues and expenditures to support the projected Financing Gap. This projection is reproduced below.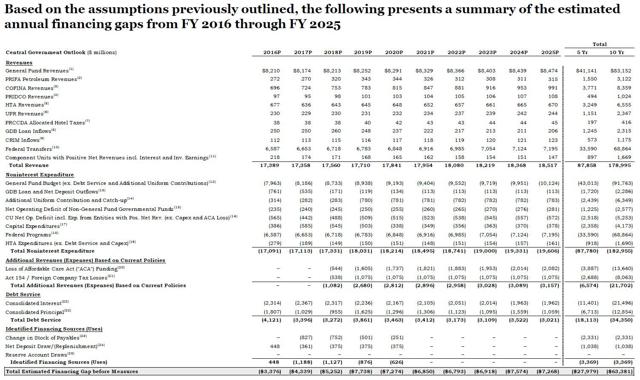 (Source: Puerto Rico Fiscal & Economic Growth Plan dated January 18, 2016)
The ERGP projects General Fund revenues will grow from $8.21 billion in 2016 to $8.47 billion in 2025. This is an increase of 3% over 9 years which amounts to a 0.35% compound annual growth rate ("CAGR").
Over this same period, the FEGP projects that General Fund budgeted expenditures excluding debt service and additional uniform contributions to the pension systems will increase from $7.96 billion to $10.12 billion-a 27% increase or 2.7% CAGR. General Fund expenditures before debt service or pension contributions are therefore expected to grow nearly 8 times faster than revenues.
It should not come as any surprise that growing expenditures at a rate that is 8 times faster than the rate of expected revenue growth would produce yawning deficits. These metrics exclude any impact from debt service; so the Commonwealth's debt burden has nothing to do with these numbers. This demonstrates the root of the fiscal crisis: an unwillingness to align expenditures with revenues. This is precisely why a Federal Financial Control Board is necessary. The government of Puerto Rico has exhibited a chronic inability or unwillingness to achieve fiscal balance. When its own reports issued to support its case for debt renegotiation show no understanding of what it means to align expenditures with revenues, the budget process is surely beyond rehabilitation without extraordinary intervention.
These projections also clearly demonstrate that the current Administration has no intention of reforming its budgeting practices, which is one reason investors have lost faith in the government's credit.
Debt Service as a Percentage of Revenues
To make its case that the Commonwealth's debts are "unpayable" Page 6 of the FEGP presents measures of revenues and debt service that purport to show debt service is 36% of Commonwealth revenues in 2016, falling to 24% in 2025.

(Source:
Puerto Rico Fiscal & Economic Growth Plan dated January 18, 2016)
As discussed more fully here the Commonwealth seems determined to manipulate debt service and revenue numbers to inflate this measure of debt sustainability. Specifically, the Administration's calculation that debt service represents 36% of revenues in 2016 uses debt service of $4.121 billion as the numerator and $11.313 billion as the denominator. The following table summarizes the baseline calculations in the FEGP.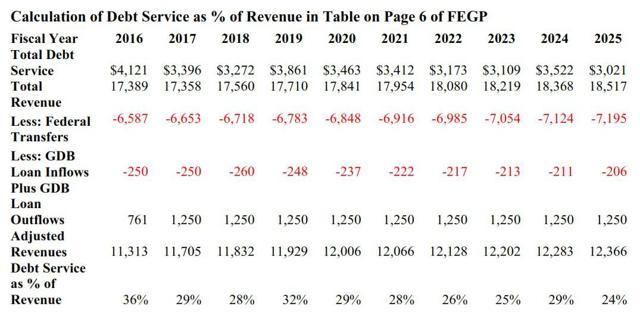 (Source: Author, using information from Puerto Rico Fiscal & Economic Growth Plan dated January 18, 2016 & Commonwealth Financial Report dated November 6, 2015)
Following are the techniques used by the Working Group to arrive at these inflated percentages.
1. They Inflate Commonwealth Debt Service by over $1 Billion
The table below compares the FEGP's numbers for Commonwealth debt service (page 35 of the FEGP) to the numbers that reflect the Commonwealth's true obligations.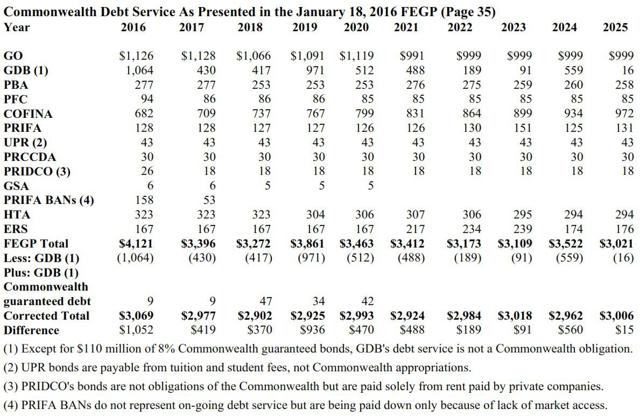 (Source: Author, using information from Puerto Rico Fiscal & Economic Growth Plan dated January 18, 2016 & Commonwealth Financial Report dated November 6, 2015)
The FEGP debt service projection includes debt service payable by the Government Development Bank for Puerto Rico (GDB), which is not guaranteed by the Commonwealth. GDB does hold about $7 billion of Commonwealth debt, but these obligations have very weak security and like the Public Finance Corporation bonds on which the Commonwealth recently defaulted with impunity, default would likely impose no adverse consequence on the Commonwealth.
Conflating GDB's debt service with the Commonwealth's obligations raises a key factor in the fiscal crisis: GDB's conflict of interest with the Commonwealth. As the holder of $7 billion of Commonwealth debt and as the obligor on $3.7 billion of "deposits" from the Commonwealth and public corporations, which at this point may be worthless, GDB should not be empowered to make financial decisions for the Commonwealth or its other subdivisions.
GDB also receives PRIFA Petroleum tax revenues currently totaling over $270 million per year and expected to rise to over $340 million in 2019. This direct subsidy to GDB should be terminated immediately, and the funds should be retained by the Commonwealth to support the obligations to its own stakeholders rather than supporting GDB.
Given the Commonwealth's liquidity position, GDB's institutional interests in its own survival are highly likely to be in direct conflict with the interests of the Commonwealth and its other stakeholders. The situation is exacerbated by Melba Acosta's unprecedented dual role as the Commonwealth's Chief Financial Officer and President of the GDB. This conflict cannot be resolved, and Ms. Acosta should resign at least one of these positions immediately.
2. They Exclude Federal Transfers from Revenue
Federal transfers total $6.6 billion in 2016. Excluding these transfers from Commonwealth revenues is arbitrary. The point of measuring debt service as a percentage of revenues is to observe how much of the government's revenues are being consumed by its need to repay capital compared to the provision of current services. Federal transfers are available to provide current services and should not be excluded simply because they are not used to repay debt.
3. They Use Net Revenues Rather than Total Revenues for Certain Units
The 11th line in the table on Page 29 presents net income for certain government units in the revenue totals rather than the total revenue of those units. This understates revenue by approximately $900 million per year. In the absence of recent audited financials it is not possible to precisely reconcile the Commonwealth's numbers, but the table below from the most recent audit provides the best available estimate of the total revenue generated by these profitable Component Units.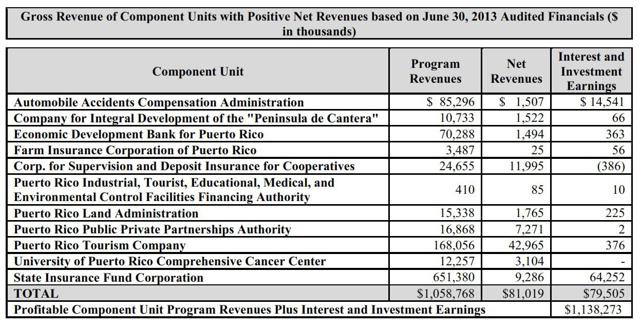 (Source: Author, using information from Commonwealth Audited Financial Statements for FY2013)
The table below corrects the calculation of debt service as a percentage of revenues presented in the FEGP. It reduces debt service to eliminate GDB's debt other than Commonwealth guaranteed GDB debt and it eliminates all GDB loan and deposit inflows and outflows to avoid conflating these with the Commonwealth's cash flows. Finally these numbers subtract the net revenue number used in the FEGP for profitable Component Units and adds back the total revenue number derived above for these units.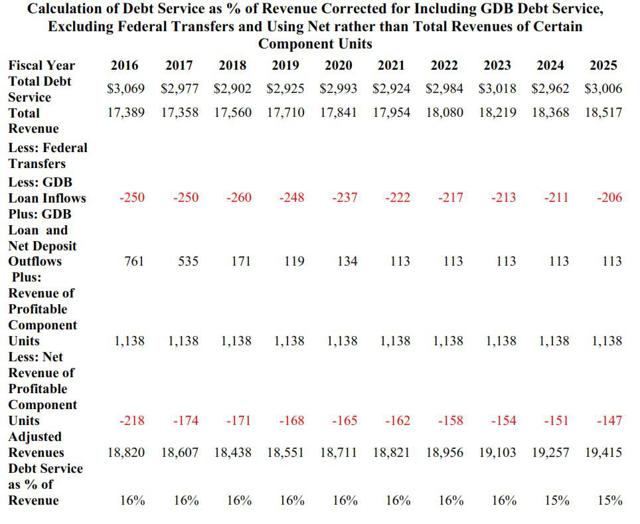 (Source: Author, using information from Puerto Rico Fiscal & Economic Growth Plan dated January 18, 2016 & Commonwealth Financial Report dated November 6, 2015)
The effect of correcting for the manipulations of data contained in the FEGP is to cut debt service as a percentage of revenue by more than half from 36% to a stable 16% to 15%. This is not out of line with other urban jurisdictions, especially considering that Puerto Rico provides most of the functions of a local urban government including such capital-intensive enterprises as transportation, water and sewer and primary education.
Over 84% of the Commonwealth's revenues are available to pay for current operations. It is simply not credible to claim that debt service is interfering with the government's ability to meet the needs of its residents. What is undeniably true is that the capital markets have stopped enabling deficit spending. However much the Governor may denigrate the Commonwealth's creditors, he will not be able to force lenders to lend more money into a black hole. His attempts at debt negotiation, which are focused on significant deferrals of debt service, are essentially new "scoop and toss" refundings. Debt deferral is another means of achieving debt refinancing, and Puerto Rico has exhausted this means of avoiding difficult financial decisions.
Why Debt Renegotiation Is Not Working
The kinds of distortions described above have contributed to the market's loss of faith in the Commonwealth's credit and have exacerbated the liquidity crisis. They have convinced Puerto Rico's bondholders that this Administration is not negotiating in good faith but hopes instead to win a public relations war against its creditors whom it has taken to referring to as "vultures". Lack of market access and lack of cooperation from creditors go hand in hand. If the debtor is not perceived as acting transparently and in good faith both avenues are foreclosed.
Puerto Rico's current government has also lost credibility with its own people. After his approval ratings fell nearly to single digits, the Governor's party refused to back him for reelection. It seems doubtful that he will be able to lead the Legislature controlled by his own party to implement any measures he is proposing. Even ratification of the deal his team negotiated with the Puerto Rico Electric Power Authority's creditors may be in doubt.
Until Puerto Rico's government regains the confidence of its residents and investors, it will not have access to credit at reasonable interest rates and will not be able to fund its capital needs. It seems unlikely this could happen before this Governor leaves office a year from now. In the meantime, it seems foolish to trust a government whose approval rating is below 15% to negotiate and implement a relief pact with its creditors who trust the Administration even less than the voters.
The Only Realistic Solution
The only realistic solution to Puerto Rico's fiscal crisis is a Federal Financial Control Board. The Garcia Padilla Administration is calling for an amendment to Chapter 9 of the Federal bankruptcy code as if this will provide a meaningful solution to the problem. I have consistently stated that I believe Puerto Rico should have access to Chapter 9 on the same basis as a US state. I also happen to believe that Puerto Rico should be granted statehood. However, the real issue right now is whether Chapter 9 would provide any meaningful benefit in the current situation. Those seek passage of Chapter 9 for Puerto Rico, seem to think this is the key solution to Puerto Rico's fiscal challenges, while ignoring more pressing needs including :
Providing immediate liquidity to operate the government,
Regaining access to capital markets to fund vital infrastructure,
Encouraging economic recovery on the Island, and
Achieving spending and budget reforms.
The HGM Bill would address these more immediate needs and impose a control board framework that has been used to restore financial stability to the District of Columbia, New York City and many other distressed governments in the US. In contrast to a control board, a judge in Chapter 9 has no power to reform a government's budget and spending practices.
The table below summarizes the impact of Chapter 9 on the Commonwealth's credits. It demonstrates the very limited applicability of Chapter 9 to Puerto Rico's outstanding obligations. In many cases, Chapter 9 could even have significant adverse unintended consequences. Chapter 9 is not the panacea or orderly road map the Garcia Padilla Administration's advisors claim it is. Municipal bankruptcies are much more rare than Chapter 11 filings, and there are far fewer legal precedents to help predict outcomes for debtor or creditor. As a consequence Puerto Rico's attempt to use this tool is fraught with risk to the Commonwealth.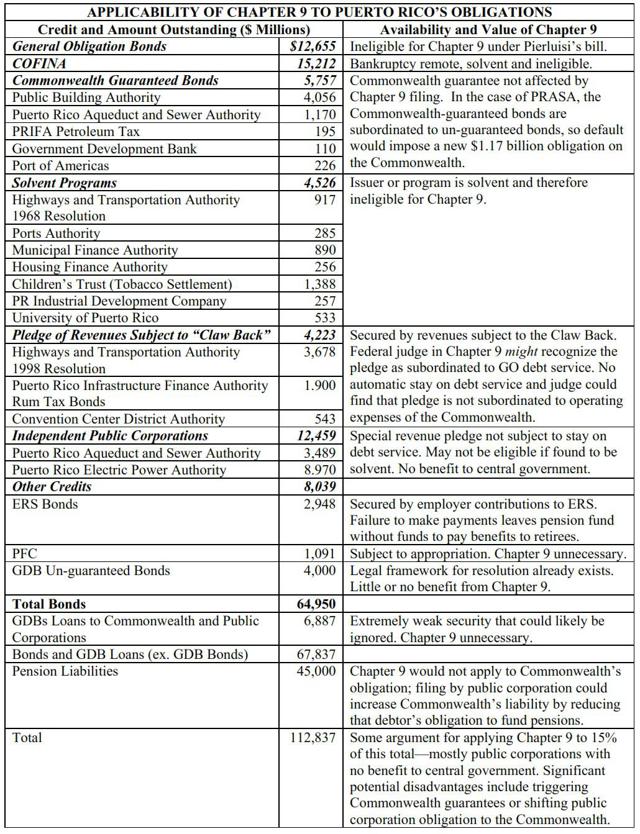 (Source: Author, using information from Commonwealth Financial Report dated November 6, 2015 and offering documents for individual issuers)
Republicans in Congress might coalesce around some form of legislation that would impose a control board on Puerto Rico and provide some form of immediate financial relief. Emergency managers and control boards are rarely popular among the political leaders whose powers they restrict. Their imposition on DC and Detroit were greeted with widespread protests. However, when political leaders demonstrate an inability to provide financial stability-a basic requirement of government-financial control boards have a long, proven record of success in re-establishing fiscal balance. If Puerto Rico's current leaders fail to engage with the practical, achievable solutions available to them, they risk being irrelevant or even detrimental to the Commonwealth's ultimate recovery.
The HGM Bill provides a mechanism to segregate and pledge revenue to allow the Commonwealth to borrow under the oversight of a Federal Fiscal Control Board. This mechanism has been used successively many times in the past by distressed jurisdictions like New York City (Municipal Assistance Corporation or MAC) and Nassau County (Nassau Investment Finance Authority or NIFA).
Some observers have suggested that using Chapter 9 Puerto Rico could avail itself of a borrowing mechanism similar to debtor-in-possession (DIP) financing widely used in Chapter 11 bankruptcies. Proponents of this view are misinformed, biased by their own interest in negotiating such an arrangement or both. In contrast to public bond issues, DIP financings are expensive, complex, time-consuming, arcane arrangements dominated by a few select financial institutions. The institutions with expertise in the bankruptcy process favor DIP financing for its ability to achieve strong credit features and earn a very high return relative to the risk. In Chapter 9, where there are virtually no precedents for a DIP-type arrangement, this approach will certainly be even more costly, complex, time-consuming, arcane and limited in its investor audience.
In contrast, financings by distressed jurisdictions backed by segregated revenue streams supervised by a fiscal oversight board, such as MAC or NIFA, have a long, well-documented history of successfully providing market access at very low interest rates. The major disadvantages of this approach compared to a DIP-type financing are lower legal fees and broader investor acceptance-but these are disadvantages to professional advisors, lawyers and bankers, not to the government borrower.
Disclosure: I/we have no positions in any stocks mentioned, and no plans to initiate any positions within the next 72 hours.
I wrote this article myself, and it expresses my own opinions. I am not receiving compensation for it. I have no business relationship with any company whose stock is mentioned in this article.
Additional disclosure: I am long bonds of the Puerto Rico and certain subdivisions