The commodity rout of the past 12-18 months has crashed producers and left many investors burned. The reasons are well known: oil oversupply, China, emerging markets economies and currencies, the dollar and China again.
Any market rout or bubble tends to bring its own craziness and create abnormal pricing situations that become stories to be told many years later. One that may represent an ideal candidate as an example of this irrational behavior is the historical level reached by the platinum gold spread, standing right now at about-270/285 USD, for a ratio of about 1.34 ounces of platinum required to buy an ounce of gold, the largest ever.
Historically platinum (PPLT) has traded at a premium over gold (GLD)
Historically platinum has traded at a premium about 90% of the time, with the remaining 10% typically overlapping with recessions and financial panic.
Before the recent decline, the previous negative record for the spread has been the -210 USD level reached in 2011/2012, when it was touched two times, both with gold at record levels and elevated financial fears, due to the Greek crisis ,the general situation in the global economy and in particular in the key European auto market.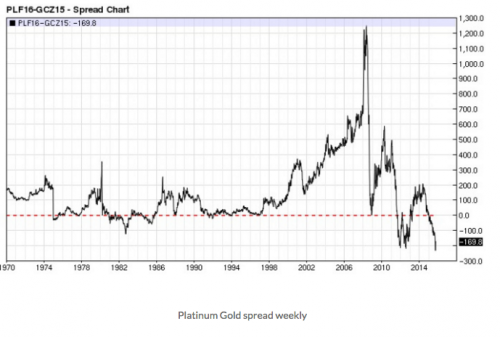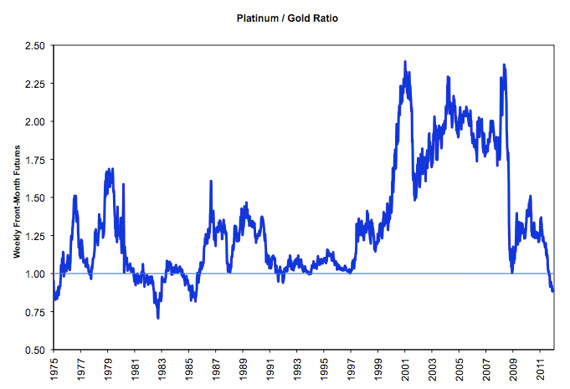 Why it happened
Platinum semi-industrial nature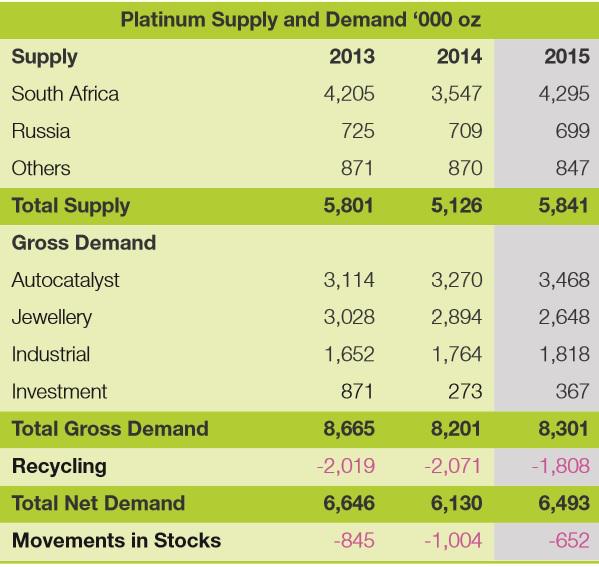 Source : Johnson Matthey May 2015 Market report
As can be seen in the above table the majority of platinum demand can be traced to industrial uses. This comes in strike contrast to gold, and makes the metal follow the price of nickel, copper and other industrial metals far more closely than its yellow cousin. Therefore, it comes to no surprise that the recent rout in metal prices has engulfed platinum, while leaving gold relatively unscathed.
Currencies
Over 70% of the world's platinum supply comes from South Africa, making the metal susceptible to the USD/rand exchange rate fluctuations. A weaker rand makes platinum less expensive to produce in the short-term and while in the medium-term inflation will inevitably catch-ups through higher wages, electricity and other expenses, the currency depreciation has certainly helped producers stay in business in the last few months.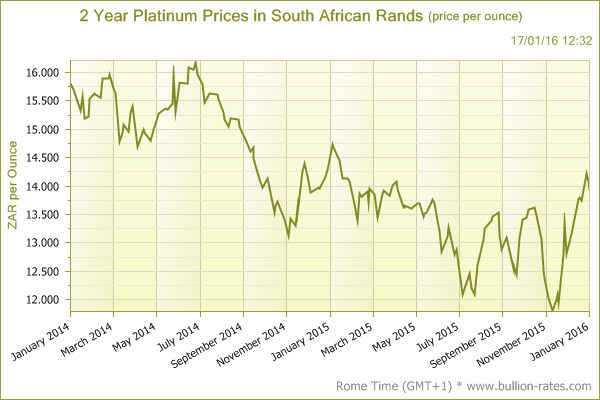 Source: bullion-rates.com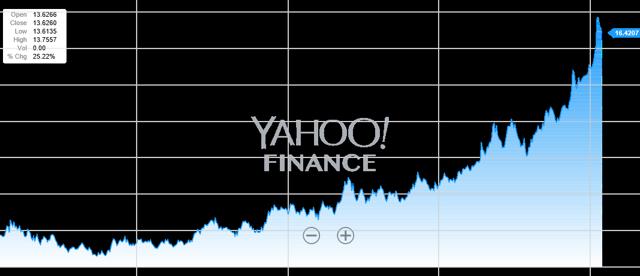 Click to enlarge
USD/RAND source: yahoo finance
ETF liquidation
Similar to palladium liquidation from physically backed ETF has been an important source of supply during the past year, with money managers dumping 345,000 ounces. However, it is easy to understand that this can be only a short-term situation, as holding are relatively modest and demand from investors is likely to return positive once sentiment changes.
Demand Fears
During the past year emerging markets weakness and the Volkswagen scandal have heightened markets fears on platinum demand.
The metal has many industrial uses, with the lion share owned to catalytic converters manufacturing, particularly in diesel engines. In an environment already plagued by weak demand for all industrial metals, deflationary fears and general lack of confidence in the global economy, the Volkswagen scandal has represented an authentic stab in the back for platinum prices. In the days following, many have claimed that Europe will switch from diesel to gasoline, something that is frankly unlikely and certainly unsupported by sales data.
Supply and Demand Balance
According to Johnson Matthey November 2015 report, a recovery in platinum supplies from South Africa following the prolonged 2014 strikes will be partly offset by a drop in auto-catalyst recycling, leaving the market in a fundamental deficit of 652,000 oz.
In addition, South Africa platinum unions and producers will go into wage negotiations later this year, with unions likely to ask for wage increases at least capable of covering inflation. While I do not expect this to generate nearly as much turmoil as the 2014 events, as union and workers are certainly aware of the industry current situation, it will nonetheless represents a risk to supply in Q3/Q4.
Producers burning money, but outright mine closures unlikely
Producers are in dire strain with 70% of the world's mines likely to be cash negative. Lonmin, the world's third biggest producer, has recently undergone a share sales at 97% discount, practically a new IPO, that no mentally sane investor would subscribe and the white knight being represented by the South Africa public pension fund, evidently happy to burn pensioners savings for the sake of jobs and political motives. Other producers are only in a marginally better situation, with share return in the sector averaging -90%. However, outright mine closures are unlikely , as the South Africa social and political environment is deeply hostile to any kind of workforce reduction or reorganization.
Nonetheless, I expect overall production to remain stable or decline slightly, with temporary supply shocks due to strikes always possible given their frequency in the past 30 years.
Risks
Worsening global economic conditions and a spike in volatility are essentially the biggest risks. This spread is unfortunately a "risk on" position on the market, particularly in the short-term. Events perceived as increasing financial risk or depressing the global economic outlook drive investors to buy gold and sell industrial and semi-industrial metals like platinum, making the prices diverge. The already extreme pricing provides strong protection, but we all know that the market is capable of practically anything in the short-term .
In conclusion
Taking into consideration the available information, I expect to see platinum recover its traditional premium over gold in a 12-24 months timeframe.
Disclosure: I am/we are long THE PLATINUM-GOLD SPREAD PROPOSED IN THE ARTICLE.
I wrote this article myself, and it expresses my own opinions. I am not receiving compensation for it (other than from Seeking Alpha). I have no business relationship with any company whose stock is mentioned in this article.