In a Bloated Market, Value Lurks Unseen
With the market as it is, finding value is difficult. With the S&P 500 trading at a PE ratio of 21.63, nearly everything seems overpriced. Granted, 2016 earnings estimates currently put the PE for next year under 16, but I'll believe that when I see it. For the sake of my retirement fund I hope earnings continue to grow as predicted. However, if one wants to own a true value stock without falling victim to a value trap, one needs to look very hard. You may need to look for companies that do not have a great deal of coverage. In fact, the company I am bringing up today has zero Seeking Alpha articles (and zero articles anywhere else from what I could find). This is one of those stocks that simply isn't talked about or noticed - until now.
First Savings Financial Group, Inc. (NASDAQ:FSFG)
First Savings Financial Group, Inc. is a community bank with 14 offices based in Indiana. The bank has been incredibly successful since its IPO. Shares are up 247.5% since the IPO in 2008. The stock is up nearly 34% this past year alone while the rest of the market is in the red or black. Does such an increase in price mean this company is overvalued? That's the best part - it's still undervalued at these levels - which I will provide more detail on throughout this article. I only wish I found the company sooner.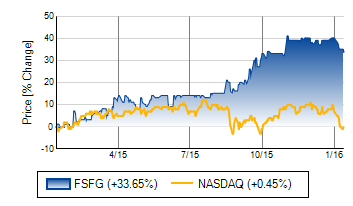 (FSFG Investor Relations)
A Steadily Increasing Book Value
Unlike many other banks that have had stagnating shareholder equity (book value), FSFG has been steadily growing its book value.

(FSFG 10k)
Shareholder equity back in September of 2015 stood at $94.35 million. In 2011, shareholder equity was $76.60. Book value increased 23.17% during the time frame, averaging 5.42% per year. The current market cap is $77.46 million. If the stock traded at book value shares would rise 21% to roughly $42 a share. This growth in book value, combined with the growth in earnings and dividends, make FSFG a steal at current prices.
A True Value Stock
I can hear the commenters now; "Bank stocks trade at lower multiples, why is this any different?" This is true, community banks do trade at lower multiples than the broad market. So let's put FSFG to the test. The First Trust Nasdaq ABA Community Bank ETF (NASDAQ:QABA) tracks the NASDAQ OMX® ABA Community Bank Index. This fund's valuation information is a very useful tool to measure how much of a value this company is in comparison with its peers. Let's start with book value. The price/book ratio for the fund of 150 different community banks is 1.37 (First Trust Fund website). The price/book ratio of FSFG is 0.82. FSFG is trading at a 40% discount to its peers in terms of book value. The price/earnings ratio of its peers stands at 16.62 (First Trust Fund website) while FSFG trades at a price/earnings ratio of 11.64. FSFG is trading at a 30% discount to its peers in terms of price/earnings ratio. This should alleviate any worry that this bank stock is cheap because other bank stocks are cheap. Yes, bank stocks are cheap, but this one is substantially cheaper than other bank stocks which are its peers.
Banks Currently a Safer Investment than Before the Recession
After the near collapse of the banking system during the relatively recent recession and market crash, many people are afraid to buy bank stocks. While this is less-so the case today, many still remember vividly the perilous situations of many banks. With the Dodd Frank Act of 2010 (2,300 pages of regulations!), banks are now in a much more secure position. Government agencies are now constantly monitoring the banks and ensuring adequate liquidity, which was a major issue. The Financial Stability Oversight Council and Orderly Liquidation Authority has the power to increase bank reserves in order to ensure a negative liquidity event occurs. As a result of this, many banks have taken steps to increase their reserves voluntarily. With each financial crisis new regulations are put in place and the banks arguably learn from their past mistakes, which in theory makes banks a safer investment as time passes.
Banks to Benefit from Rising Interest Rates
Have you noticed that as the FED raised interest rates, your savings account didn't raise its rates in tandem? Banks sure noticed. And they love it. Banks nearly instantly raised the rates on their loans which in turn means the difference comes out as profit. Must be nice to be a bank, right? As rates rise, the loan spread also improves which aids with profitability. Another factor that corresponds with rising rates that increases profitability is the fact that rates are rising because the economy has higher employment which means loans are more likely to be paid off. For some good articles on how banks have acted to increase profit from rising rates, please click here or here.
FSFG is Growing and a Solid Value
FSFG has solid, growing earnings and a growing dividend. In 2013 the dividend was 10 cents a quarter; it is now currently 12 cents a quarter. At the same time, the dividend payout ratio has decreased; meaning the ability to increase the dividend in the future has been improving. Return on average equity and return on average assets, have both been improving as well. Net income has been improving year over year as well.

(FSFG 10k)
With the valuation metrics FSFG has, one would expect nearly no growth or some sort of scandal. Neither of which apply to FSFG. I believe this to be a case of an inefficient market due to lack of information. This is a small bank under 100 million dollars in market cap with very little coverage. While I have been moving away from trying to pick stocks and outperform the market, placing most of my funds into Vanguard index funds, I couldn't help myself with FSFG. The company has a broad range of products and is thriving. This company is a great value and I personally have broken my rule of no more individual stocks to invest in it directly.
Disclosure: I am/we are long FSFG.
I wrote this article myself, and it expresses my own opinions. I am not receiving compensation for it (other than from Seeking Alpha). I have no business relationship with any company whose stock is mentioned in this article.
Editor's Note: This article covers one or more stocks trading at less than $1 per share and/or with less than a $100 million market cap. Please be aware of the risks associated with these stocks.